Discover the ultimate collection of mouthwatering fried chicken sides! From classic to creative, explore the 20 best accompaniments to elevate your crispy chicken game.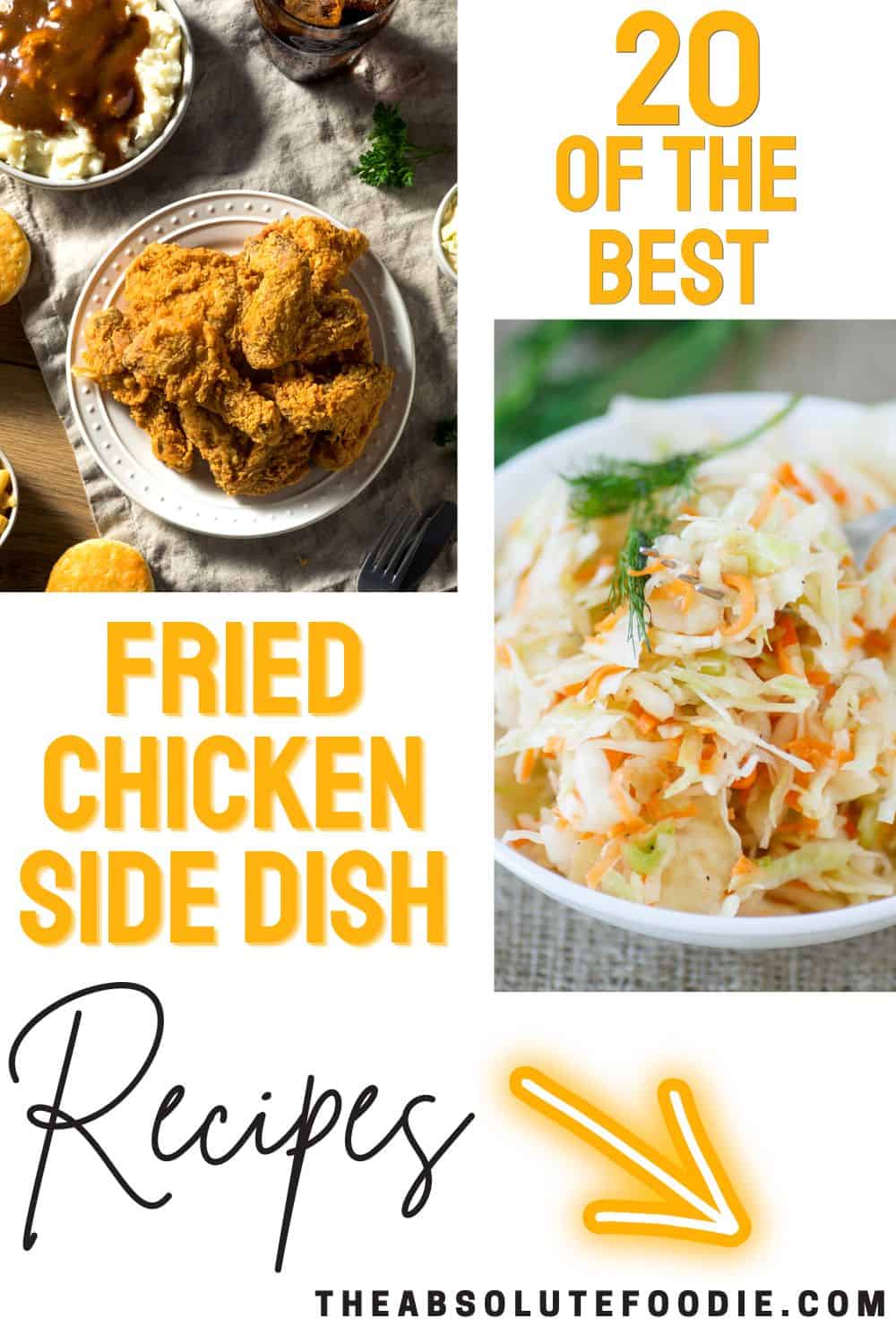 Fried chicken is a favorite for many of us. Who can resist that crispy outside crust that surrounds a tender and juicy piece of chicken? Fried chicken is like the perfect comfort food and can be served anytime throughout the year. It is a popular choice for family gatherings and weeknight dinners.
Jump to:
Looking for a few delicious sides that will go well with your fried chicken? We have you covered! From traditional fried chicken sides to those that may be a little more unusual, these are some of the best fried chicken sides. Serve these up with your fried chicken dinner or make a big batch so everyone at the gathering can enjoy them!
20 Fried Chicken Side Dishes
A good helping of mac and cheese can go with just about any main. Fried chicken is one of the most common. There is just something about the savory flavors that go so well with fried chicken!
Flaky, buttery, and delicious, these buttermilk biscuits will compliment your fried chicken. Split them in half and add some butter, honey, or jam for some extra flavor. Hands down, one of the best side dishes!
Fresh corn kernels are cooked up with bacon, onions, seasonings, and a bit of maple syrup to create this wonderful side. It's a delicious side dish that will make your taste buds happy!
A comforting side dish to go with your fried chicken, these roasted potatoes, carrots, and green beans are delicious.
An easy side dish that is almost always served with fried chicken is coleslaw. This recipe is easy to make and delicious.
You can never go wrong with one of the classic side dishes, and these classic mashed potatoes are easy to make. Mashed potatoes are probably one of the most popular fried chicken side dishes you will ever find.
These fluffy bites are easy to make. The garlic parmesan spices that are sprinkled on top give them an extra boost of flavor.
Baked beans are an easy side dish that you can serve with fried chicken. We like this recipe because it's a mess-free way to enjoy those delicious baked beans.
Nothing beats chowing down on fresh sweet corn that has been buttered! Corn is a perfect side dish for fried chicken and corn on the cob is always a family favorite.
These sauteed green beans only need a few ingredients and a few minutes to cook up. Serve these tasty vegetables alongside fried chicken and you have a tasty meal.
Mix up your traditional mashed potato side dish and go with potato gratin for an extra texture boost to your fried chicken dinner.
Enjoy a few pieces of sweet cornbread, fresh from the oven, with your fried chicken and you have the perfect combination.
Serving up fried green tomatoes with your chicken has been a tradition for many over the years. If you like fried green tomatoes, this is a popular recipe to enjoy. One of the great sides!
Macaroni salad is one of the great side dishes and almost a staple at family gatherings and it goes so well with fried chicken.
Just like macaroni salad, potato salad is another popular veggie dish for fried chicken, family dinners, and gatherings.
Bye, bye fries! A kid's favorite side to a fried chicken meal, baked potato wedges are crispy, flavorful, and delicious.
Sauté up some fresh corn and chunks of zucchini for a delicious dinner side to go with your fried chicken.
Sliced and cooked until perfectly tender, roasted sweet potatoes are an easy side dish the whole family will enjoy with their fried chicken.
Nothing beats a flavorful baked potato that is crispy on the outside and fluffy on the inside. You can enjoy them plain or topped with your favorite toppings, like sour cream, pepper and cheddar cheese.
A creamy pasta salad is always a good choice to pair with your fried chicken. We love this creamy pasta salad. The sauce is divine!
The Goods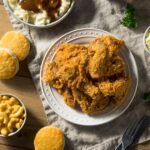 20 Fried Chicken Sides
We appreciate you taking the time to rate!
Discover the ultimate collection of mouthwatering fried chicken sides! From classic to creative, explore the 20 best accompaniments to elevate your crispy chicken game.
Recipes
Homemade Mac and Cheese

Buttermilk Biscuits

Southern Fried Corn

Roasted Potatoes Carrots and Green Beans

Cole Slaw

Classic Mashed Potatoes

Quick & Easy Garlic Parmesan Knots

Slow Cooker Bourbon Baked Beans

Corn on the Cob

Sautéed Green Beans

Potatoes Gratin

Sweet Cornbread

Fried Green Tomatoes

Macaroni Salad

Old-Fashioned Potato Salad

Baked Potato Wedges

Fresh Corn and Zucchini Saute

Roasted Sweet Potatoes

Baked Potato

Creamy Pasta Salad
Instructions
Choose a recipe to try.

Gather the ingredients needed.

Cook and enjoy!