If you are looking to change up your Thanksgiving meal to include a mix of your favorite classic Thanksgiving dishes and Indian favorites, we've found some flavorful Indian Thanksgiving recipes that you can cook up.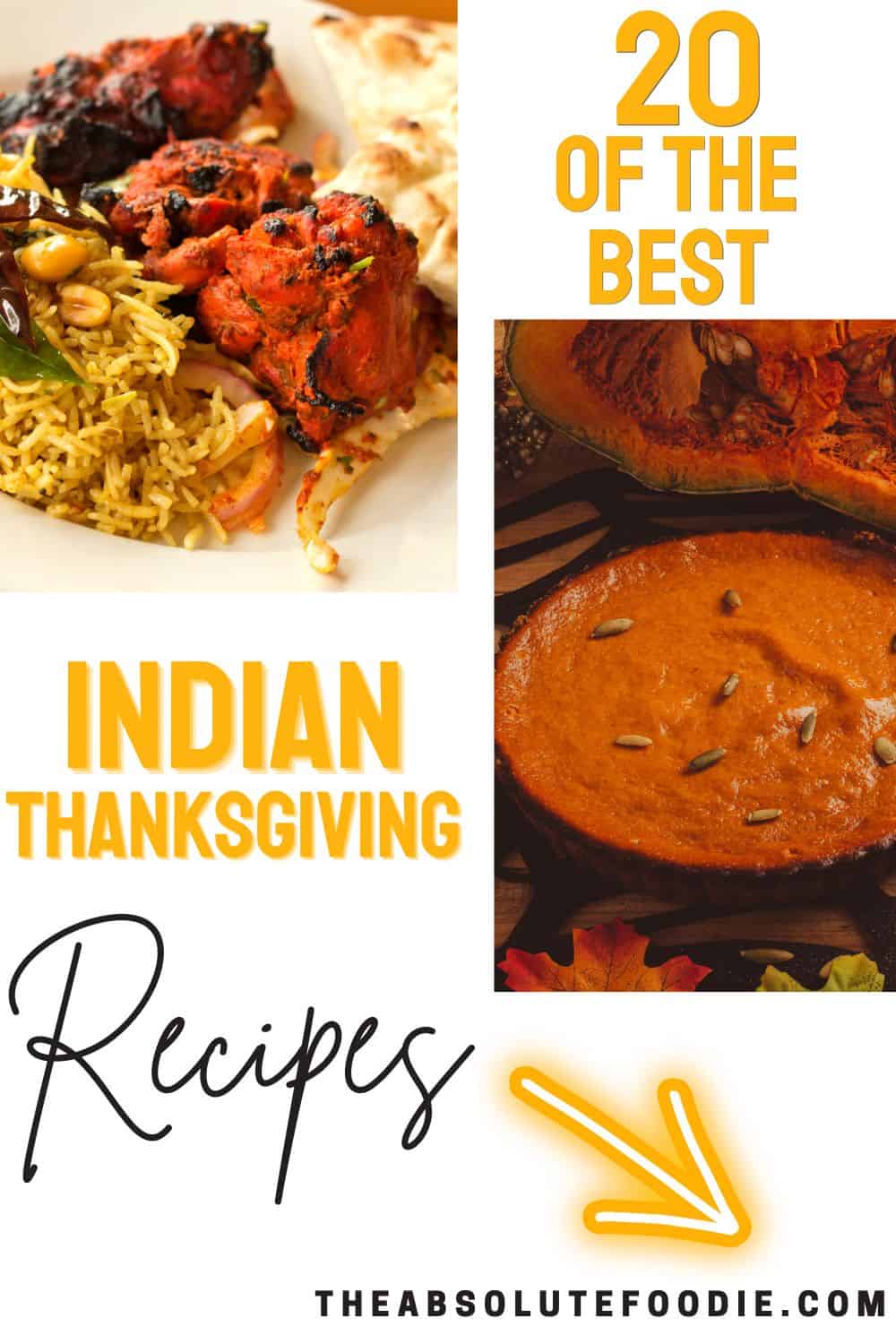 This list of Indian Thanksgiving recipes includes everything from Indian desserts and appetizers to flavorful sides and main dishes. Even if you want to serve chicken instead of turkey, we've found a delicious tandoori chicken that will steal the show. And if you're vegetarian or vegan, there's no shortage of Indian dishes fit for your Thanksgiving menu.
Jump to: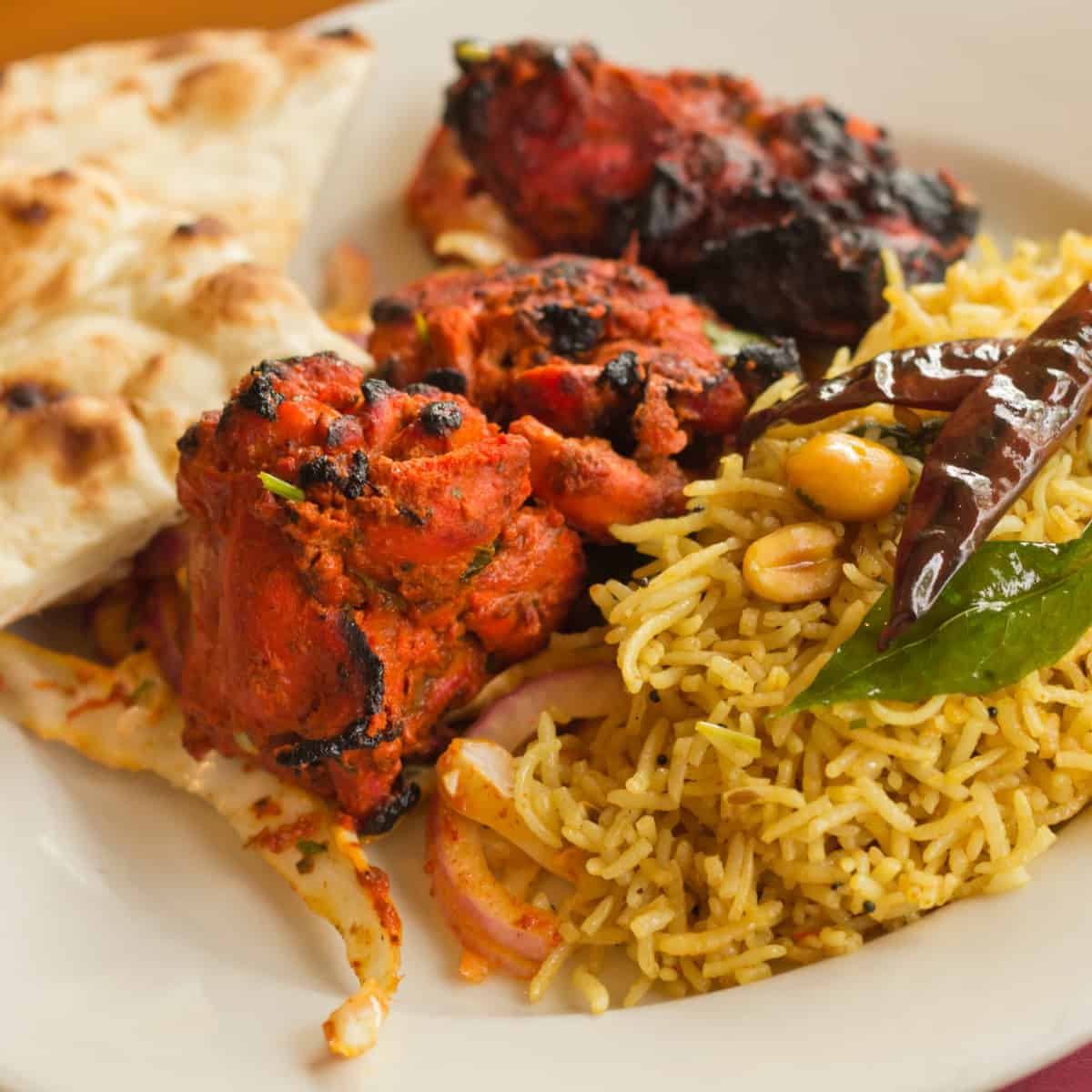 Friends and family will love the spices and flavors that these dishes bring to the table so if you're looking to serve some Indian Thanksgiving dinner recipes this year, these easy-to-make dishes will be perfect.
20 Indian Thanksgiving Recipes
Flavorful and juicy, this masala turkey will be the star of your happy Thanksgiving Day meal. The turkey is seasoned with dried curry leaves, coriander powder, cumin, dark brown sugar, and a collection of other spices to give you a flavorful main dish.
No Thanksgiving meal would be complete without a pumpkin pie and this chai masala pumpkin pie brings all of the sweet Indian flavors to your table.
Topped with pomegranate, sev, and papdi, this dessert has layers of chole, salsa, tamarind chutney, and cilantro chutney. Friends and family will enjoy this flavorful appetizer. Who needs cranberry sauce??
Spiced with garam masala, this sweet potato casserole will be a delicious side dish to serve on Thanksgiving. The pecan topping and roasted marshmallows will be a hit.
While many like to enjoy this Indian rice pilaf during Diwali, it's actually a popular dish that's also served on Thanksgiving.
Interested in serving up something other than mashed potatoes? If so, these masala smashed potatoes are a spicy and tangy side dish that's flavored with Indian spices.
This is a 10-minute basic riata recipe that's made with fresh vegetables and chilled. It's a healthy dish that's made with fresh veggies and spices.
This sweet potato masala curry is rich and full of flavor. It's also packed with nutrition and will make a filling side dish for the Thanksgiving table.
Layers of cheesecake, crushed boondi ladoo, and a parle-g crust will give you a delicious dessert for Thanksgiving.
If you want to skip the roast turkey this year and go for chicken, you can't go wrong with this delicious roasted tandoori-style chicken.
A spicy Indian version of baked cauliflower, this dish is prepared with thick yogurt and spices for a flavorful and delicious side dish or appetizer. This makes a great alternative to the more classic Brussel sprouts.
Use a cast iron skillet for the best results and you will have delicious and easy-to-make naan bread that'll be just like you get from an Indian restaurant. Who needs cornbread??
Spice up the appetizer selection with this tasty cheese masala corn dip. Serve with sliced baguette or tortilla chips and friends and family will enjoy it.
A warm potato side dish that's full of spices and flavor. Friends and family will love these spicy Indian potatoes during the Thanksgiving feast.
This tasty side dish brings a lot of your favorite Indian flavors. You can enjoy it warm or cold and it's made with an irresistible Indian sauce.
A spicy twist to your traditional turkey, this tandoori turkey is roasted to perfection and served with a spicy cranberry mango sauce.
You'll love the sweet crunch of the carrots and the rich Indian spices that come together to create this easy side dish for your Thanksgiving meal. You'll find yourself skipping the green beans!
While the family waits for the meal and catches up with the family, they'll love snacking on this tasty Indian-style grazing board.
This stir fry brings carrots and peas together with a combination of Indian flavors that friends and family will love. It's a side dish that's easy to make and perfect for Thanksgiving. This makes a great alternative to any butternut squash dish!
A simple combination of ingredients brings you a magical and flavorful side dish. This Indian spiced okra will wow everyone at the dinner table.
The Goods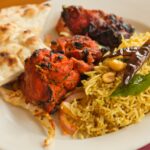 20 Indian Thanksgiving Recipes
We appreciate you taking the time to rate!
If you are looking to change up your Thanksgiving meal to include a mix of your favorite classic Thanksgiving dishes and Indian favorites, we've found some flavorful Indian Thanksgiving recipes that you can cook up.
Recipes
Masala Turkey

Chai Masala Pumpkin Pie

Indian Chaat Dip

Masala Sweet Potato Casserole

Indian Rice Pilaf

Masala Smashed Potatoes

Indian Raita

Sweet Potato Masala Curry

Motichoor Ladoo Cheesecake Jars

Roasted Tandoori Chicken

Tandoori Cauliflower

Naan Bread

Cheese Masala Corn Dip

Aloo Masala

Tikki Masala Pasta Salad

Tandoori Turkey with Spicy Cranberry Mango Sauce

Indian Spiced Sesame Carrots

Indian Grazing Board

Gajar Mutter

Carrot Peas Stir Fry

Bhindi Masala
Instructions
Choose a recipe to try.

Gather the ingredients needed.

Cook and enjoy!