These beef tenderloin recipes are here to help serve up something that will impress your family when it comes to dinner or parties.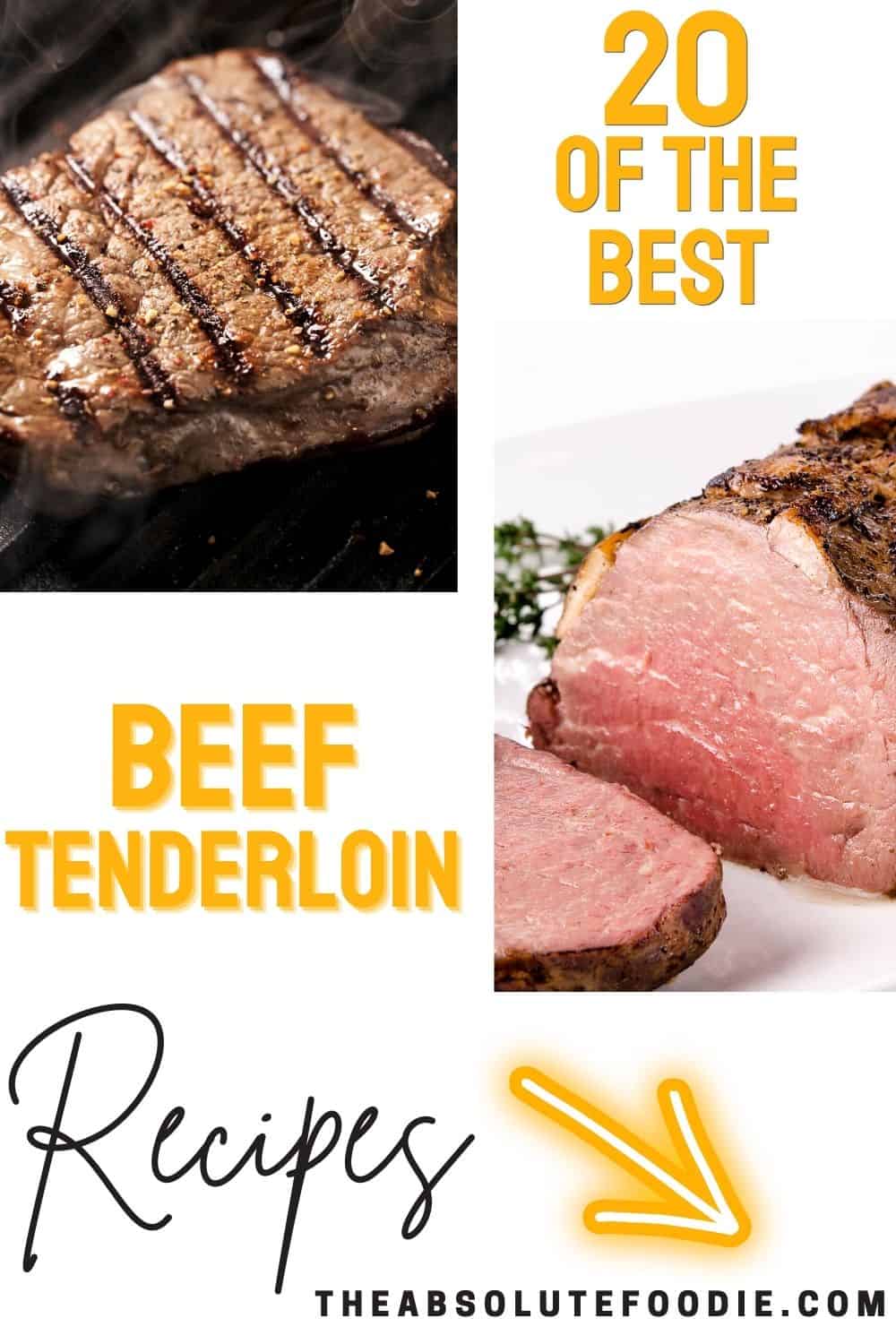 Jump to:
It seems like many of us are often intimidated by cooking beef tenderloin. It's an expensive cut of meat that we don't want to ruin. Thankfully, beef tenderloin is the most tender cut of beef, and serving up a delicious beef tenderloin is easier than you may think.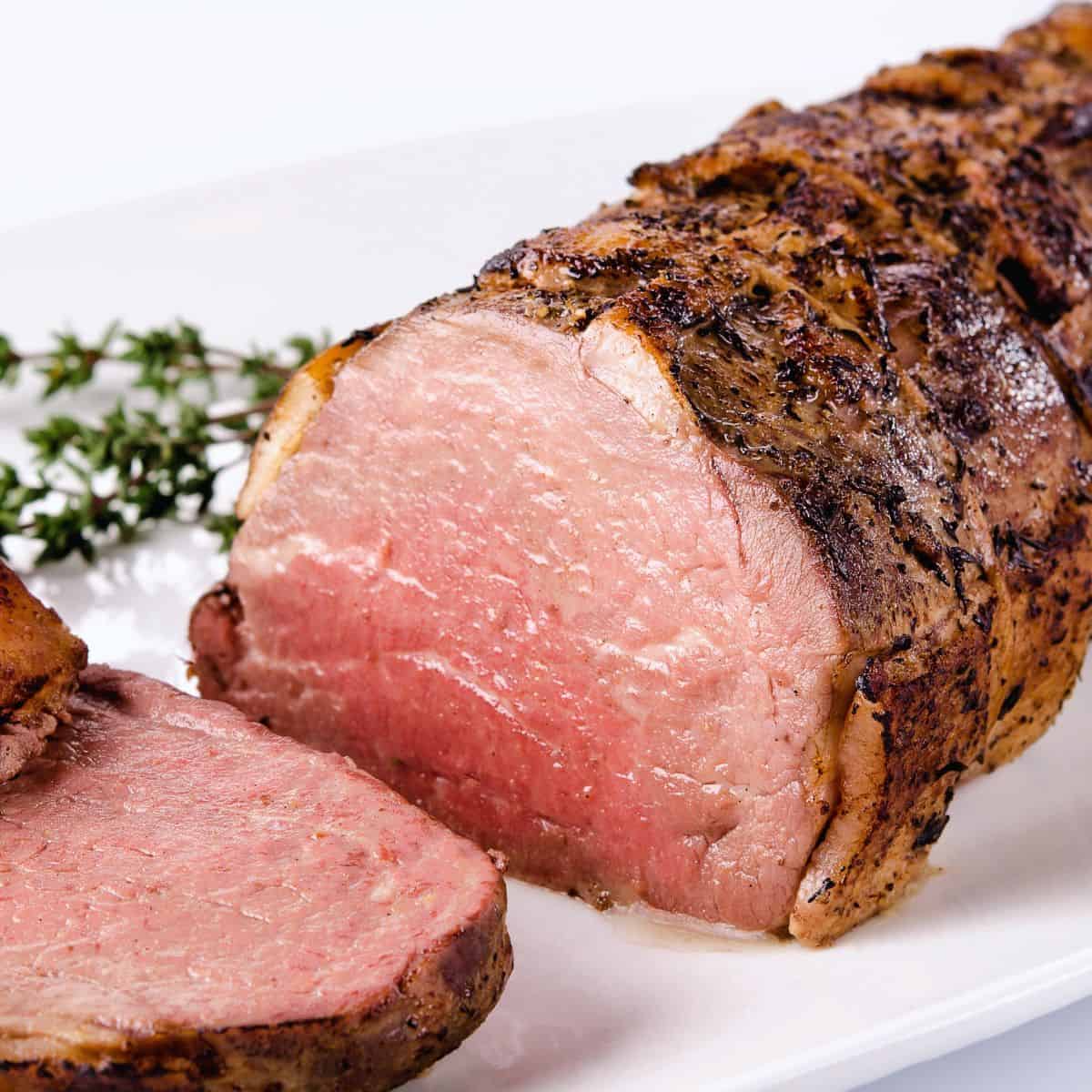 We've collected some of the best beef tenderloin recipes. These recipes are here to help you impress the family with a delicious beef tenderloin that stars as the main dish or can be used to create a tasty party or holiday appetizer.
20 Beef Tenderloin Recipes
Made in the oven, this beef tenderloin retains its delicious juices, slices like a dream, and is an easy dinner idea that you can make when the family is hungry and wants a filling dinner.
Drizzled with a merlot sauce and stuffed with Gorgonzola and mushrooms, this stuffed tenderloin is sure to be a hit.
Impress guests or families with these easy and delicious beef tenderloin fillets with Bearnaise sauce. Serve with veggies or potatoes, and top off with fresh herbs and you have a full meal.
An appetizer dish that you can serve up during the holidays or when you want to wow guests! This beef tenderloin appetizer is easy to make and delicious.
Covered in savory mushroom gravy, these beef tenderloin tips are an easy weeknight dinner that you can make in under 30 minutes.
Easy and delicious, you can't go wrong with pairing up a beef tenderloin with a French onion au jus sauce!
The blue cheese topping on these beef tenderloin steaks gives the dish some extra flavor and will make an easy dinner or appetizer dish.
Made and cooked in a simple garlic brown butter sauce, this roasted beef tenderloin is a melt-in-your-mouth dish everyone will enjoy. Serve with vegetables and dig in!
Cooking beef tenderloin in the air fryer is easy and this recipe shows you how to cook a juicy tenderloin for a quick weeknight dinner.
Roasted to perfection, this herb and cracked pepper-crusted beef tenderloin is a delicious dish that you can enjoy throughout the week or for special occasions.
If you are really looking to impress, try out this million-dollar beef tenderloin that's easy to prepare and easy to make.
Serve as a party appetizer or when you want sliders for dinner! These beef tenderloin sliders can be served with a side of creamy horseradish sauce.
Impress and delight friends and family when it comes to dinner or main dish for special occasions with this spinach and mushroom stuffed beef tenderloin.
Small pieces of beef tenderloin are combined with a delicious mushroom filling and wrapped in a puff pastry to create an appetizer that is sure to impress.
A flavorful and tender beef tenderloin that's served with a delicious wine sauce when you want a show-stopping main dish everyone will savor. Serve with broccoli or asparagus and enjoy!
Topped with a variety of different spices that create sort of a crusty top to the beef tenderloin, this dish is easy and delicious.
Topped with caramelized onions and blue cheese, these tasty tenderloin bites are sure to impress during parties and events.
Create a tasty red wine sauce and top it on your roasted beef tenderloin for a delicious weeknight dinner or main dish for any party.
Use beef tenderloin with this recipe and you have an easy 30-minute dinner idea that's peppery, garlicky, and spicy. It makes excellent leftovers, too!
Cooked in a wild mushroom cream sauce, this rosemary beef tenderloin pairs well with a salad or potato side that everyone will enjoy.
The Goods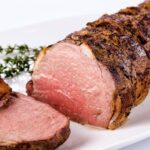 20 Beef Tenderloin Recipes
We appreciate you taking the time to rate!
These beef tenderloin recipes are here to help serve up something that will impress your family when it comes to dinner or parties.
Recipes
Simple Oven Beef Tenderloin

Gorgonzola and Mushroom Stuffed Beef Tenderloin

Beef Fillet with Bearnaise Sauce

Beef Tenderloin Rumaki

Beef Tenderloin Tips with Mushroom Gravy

Roasted Beef Tenderloin with French Onion Au Jus

Beef Tenderloin Steaks with Blue Cheese

Garlic Brown Butter Roasted Beef Tenderloin

Air Fryer Beef Tenderloin

Herb Crusted Tenderloin

Million Dollar Beef Tenderloin

Beef Tenderloin Sliders

Spinach and Mushroom Stuffed Tenderloin

Beef Wellington Bites

Beef Tenderloin Roast with Wine Sauce

Herb Crusted Beef Tenderloin

Tenderloin Bites with Blue Cheese and Caramelized Onions

Roasted Beef Tenderloin with Merlot Shallot Sauce

Cajun Butter Steak and Peppers

Rosemary Beef Tenderloin with Mushroom Cream Sauce
Instructions
Choose a recipe to try.

Gather the ingredients needed.

Cook and enjoy!