Wondering what to do with that can of cream of chicken? Look no further than this collection of easy cream of chicken recipes!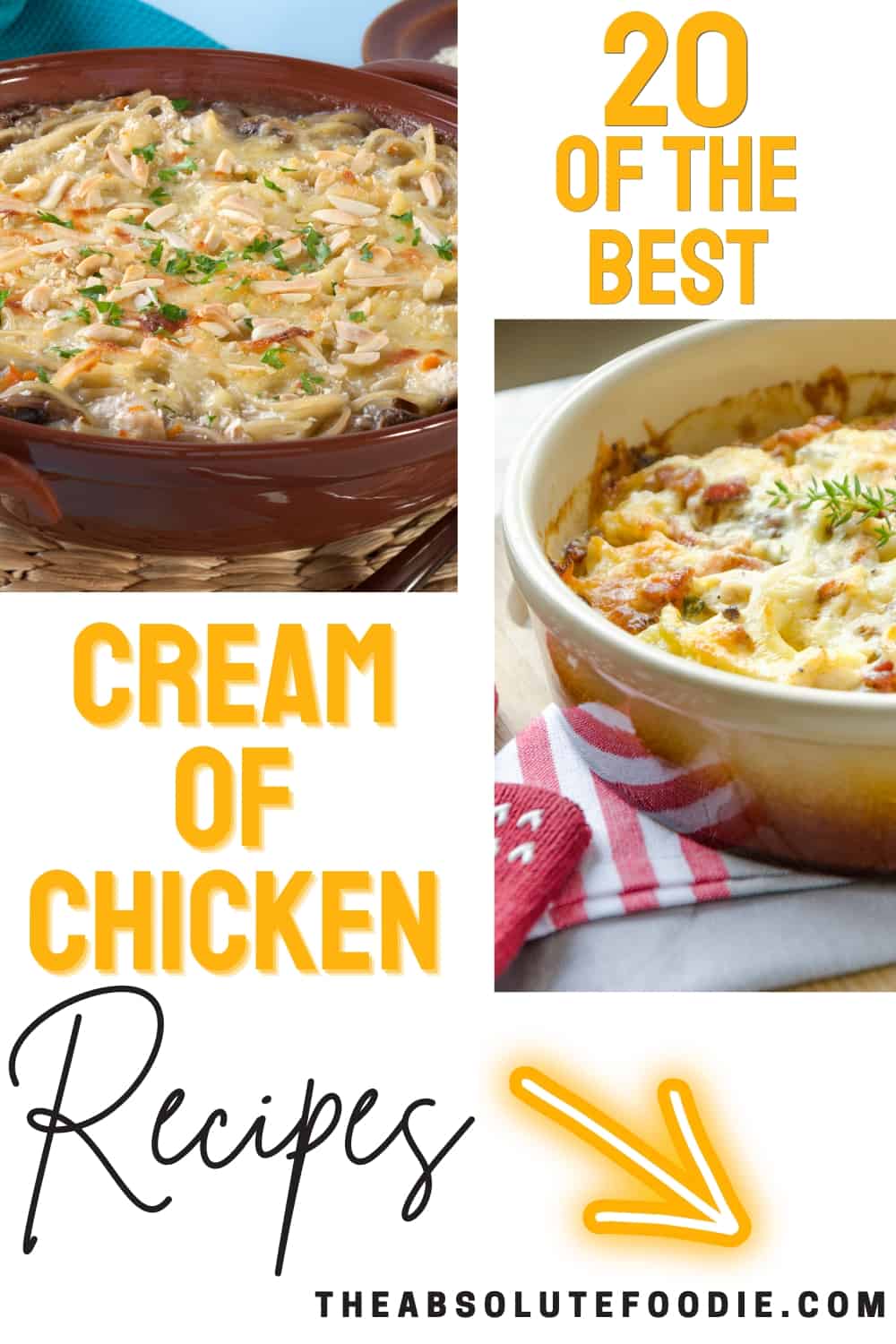 Cream of Chicken is something that we can easily stock up on and use in just about any dish that calls for a can of condensed soup. The soup stores for a long time on the shelf so you can easily save those cans for when you need them. It's an excellent pantry staple to have on hand.
Jump to:
Trust me, those condensed soups can come in pretty handy when you're scrounging for ingredients to make dinner or have just a few ingredients to use.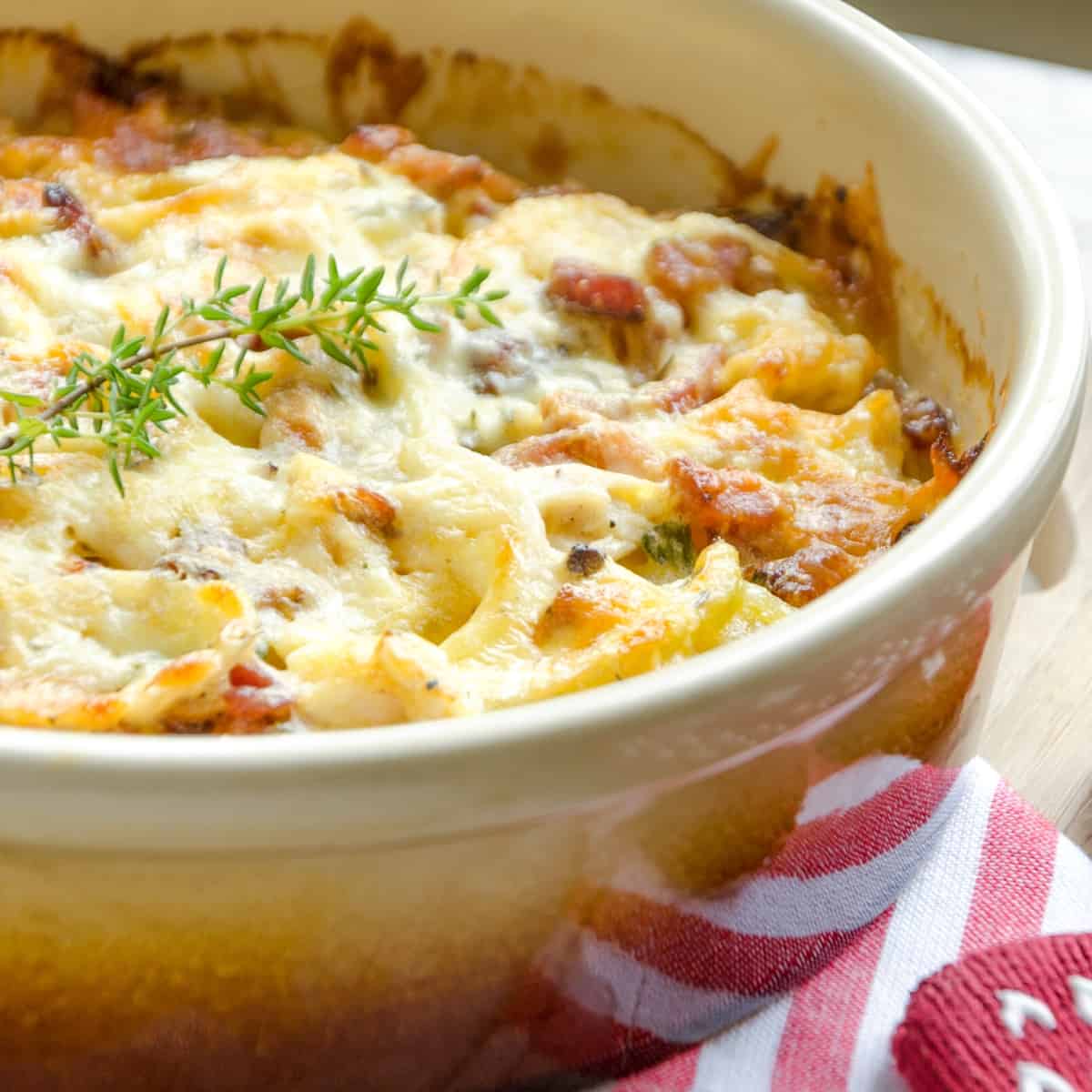 These cream of chicken recipes all use a can of condensed cream of chicken soup to make flavorful dishes that you can enjoy anytime.
20 Cream of Chicken Recipes
This chicken dish is cooked in a delicious and creamy sauce that's made with cream of chicken for a delicious dinner.
Easy to make and filling, these homemade sour cream chicken enchiladas are paired with your favorite veggie or rice sides.
Chicken tetrazzini is a filling dish that we all love to enjoy. It's comfort food at its best and this tasty meal is something everyone in the family will enjoy.
Another cream of chicken dish that's perfect for when you are craving some comfort food, this cheesy baked chicken is filling, and delicious.
Baked chicken and rice is a quick dinner that you can fix during those busy weekdays. It's easy to make, delicious, and filling.
Bring a bit of the southern flavors to your home with this homemade chicken pot pie recipe that isn't short on taste and perfect for dinner tonight!
This slow cooker creamy ranch chicken has tender chicken that sites ni a creamy ranch gravy and is full of flavor.
Rach seasoning, salad dressing mix, and cream of chicken come together to create this tasty baked bacon ranch and pasta dish that is packed protein.
A cheesy chicken dish that's ready in only 30 minutes, this 5 ingredient dish is a simple meal that even the kids will enjoy.
The perfect weeknight meal, this chicken and broccoli casserole is filling. It's also delicious and easy to make and perfect for getting those veggies in!
A tasty pin on the popular million-dollar chicken dish, this one adds rice a roni for extra flavor and texture.
Made in the slow cooker, this creamy chicken and corn chowder is the perfect meal when you want a warm and cozy dinner at home.
A homestyle southern recipe that screams comfort, this creamed chicken and biscuits is cheesy and delicious.
Shredded chicken, cheese, cream of chicken soup, taco seasoning, and Rotel are served over Doritos for a filling meal.
This poppy seed chicken casserole is an easy dinner idea that's loaded with flavor. It's sure to be a family favorite.
Creamy, cheesy, and easy to make, this hashbrown potato casserole gets its flavor from the cream of chicken soup.
Buttery Ritz crackers and rotisserie chicken are used to create a delicious and filling weeknight dinner idea that everyone in the family will love.
A side dish that's both easy to make and delicious, this cheesy onion casserole is full of flavor and only takes 30 minutes to make.
Chicken and dumplings is a go-to meal for many when they seek comfort food. This recipe turns that into a delicious casserole everyone will enjoy.
This creamy garlic chicken meal is made with tender chicken thighs, cherry tomatoes, spinach, and parmesan cheese. It's cooked on a skillet for a one-dish meal.
The Goods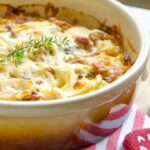 20 Cream of Chicken Recipes
We appreciate you taking the time to rate!
Wondering what to do with that can of cream of chicken? Look no further than this collection of easy cream of chicken recipes!
Recipes
Creamy Chicken Bake

Chicken Enchiladas

Chicken Tetrazzini

Cheesy Baked Chicken

Baked Chicken and Rice

Skillet Chicken Pot Pie

Slow Cooker Creamy Ranch Chicken

Baked Bacon Ranch Chicken Pasta

Chicken Roll Ups

Chicken Broccoli Pasta

Million Dollar Chicken Casserole

Creamy Chicken Corn Chowder

Creamed Chicken and Biscuits

Mexican Chicken Casserole

Poppy Seed Chicken Casserole

Hashbrown Casserole

Ritz Chicken Casserole

Cheesy Onion Casserole

Chicken and Dumplings Casserole

Creamy Garlic Chicken Skillet
Instructions
Choose a recipe to try.

Gather the ingredients needed.

Cook and enjoy!