Looking for some sweet inspiration? Check out these Dessert Quotes for 20 deliciously inspiring phrases that are perfect for any occasion. From cakes to chocolates, these quotes will satisfy your sweet tooth and lift your spirits.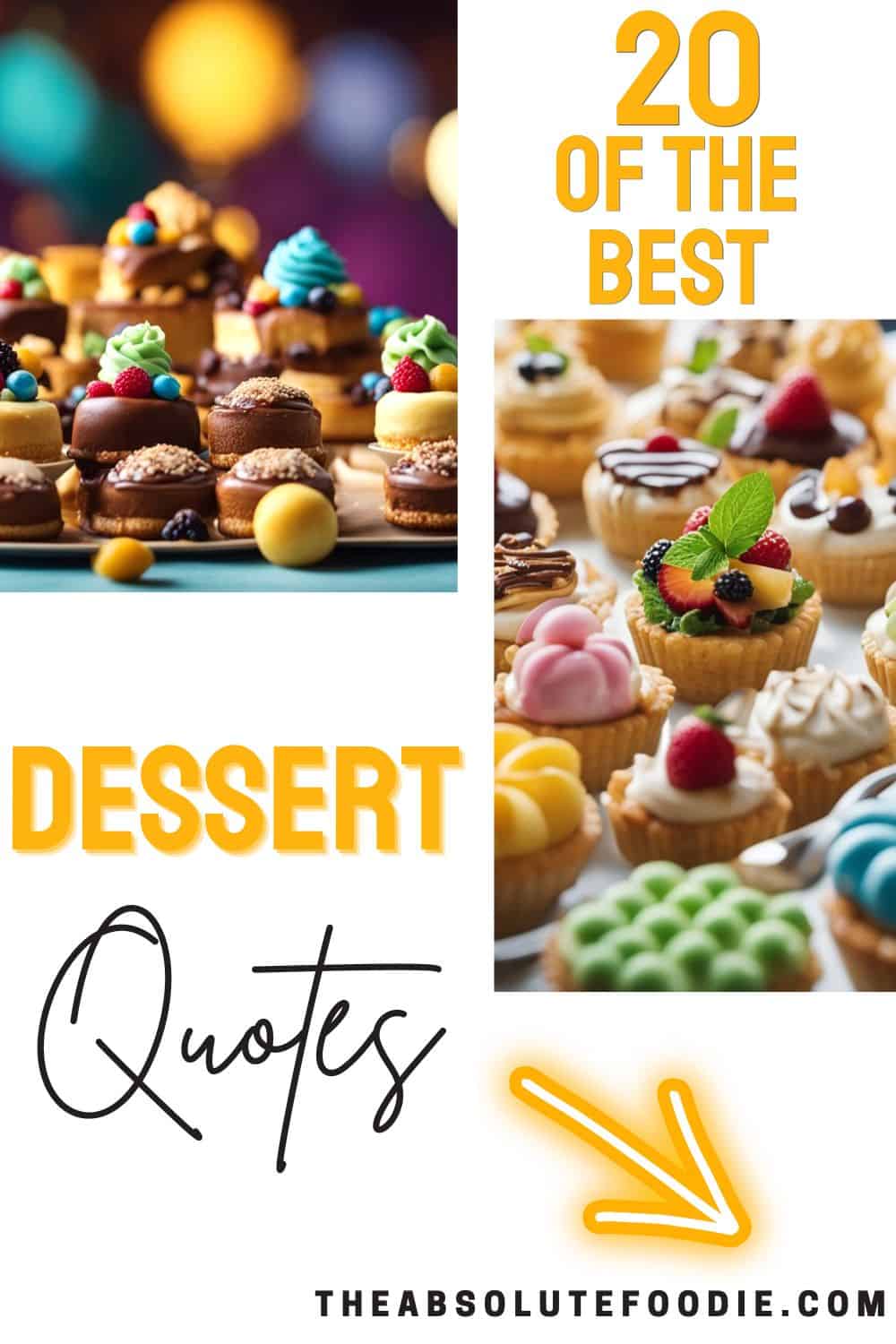 Desserts are the ultimate indulgence. Whether it's a slice of cake, a scoop of ice cream, or a warm chocolate chip cookie, there's something about dessert that can brighten up even the gloomiest of days. But desserts are not just about taste and texture; they are also a source of inspiration for many. Dessert quotes have been around for ages, and they continue to inspire people to this day.
Jump to:
From famous chefs to poets, everyone has something to say about desserts. Dessert quotes are a great way to express your love for all things sweet and decadent. These quotes can be used as captions for Instagram photos, as a way to express your feelings about dessert, or simply as a way to make your friends and family smile. Whether you're a professional baker or just someone who loves dessert, there's a dessert quote out there that will resonate with you.
Dessert is the most important stage of the meal, since it will be the last thing your guests remember before they pass out all over the table.

– William Powell
So, why are dessert quotes so popular? For one, they capture the essence of what makes desserts so special. Desserts are not just about satisfying your sweet tooth; they are also about indulging in something that brings joy and happiness. Dessert quotes remind us of the simple pleasures in life and encourage us to take a moment to enjoy them. Whether you're feeling down or just need a little pick-me-up, a dessert quote can help brighten your day and remind you that life is sweet.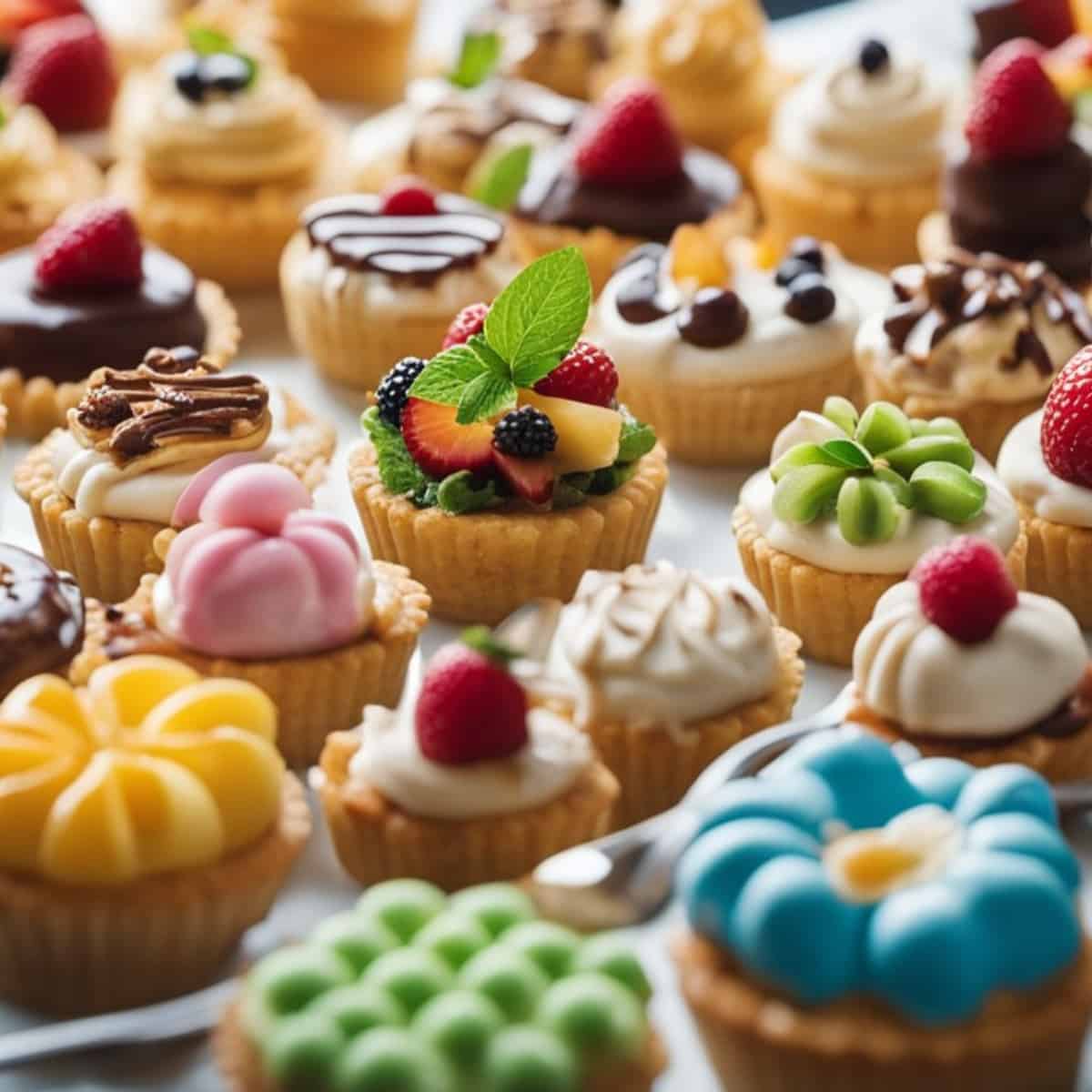 The Joy of Desserts
Desserts are more than just a sweet treat. They bring joy and happiness to people's lives. Life is too short to not enjoy the simple pleasures, and dessert is definitely one of them. As the saying goes, "Eat dessert first."
There is something about the passion and creativity that goes into making desserts that makes them so special. From the intricate designs to the delicious flavors, desserts are truly a work of art. It's no wonder why so many people have a sweet tooth and love indulging in their favorite treats.
There is no better way to bring people together than with desserts.

– Gail Simmons
Sweet dessert quotes, dessert captions and dessert sayings capture the essence of what makes desserts so special. Whether it's a classic chocolate cake or a trendy dessert like macarons, there is a dessert out there for everyone to enjoy.
Quotes about dessert remind us to savor the moment and enjoy the little things in life. They remind us that happiness can come from the simplest of pleasures, like a warm slice of apple pie. Sweets quotes also inspire us to be creative and try new things in the kitchen.
In conclusion, desserts are more than just a sugary indulgence. They bring joy, happiness, and creativity into people's lives. So the next time you're feeling down, treat yourself to a delicious dessert and savor the moment.
It's the last impression. A bad dessert can ruin the meal.

– Anne McManus 
Sweet Love for Desserts
Desserts are the perfect way to end a meal, and for many people, they are the highlight of any dining experience. Whether it's a slice of chocolate cake or a scoop of ice cream, desserts are a sweet indulgence that people simply can't resist.
Love for Chocolate
Chocolate is one of the most beloved dessert flavors, and for good reason. It's rich, decadent, and satisfies the sweet tooth in a way that few other flavors can. From dark chocolate truffles to milk chocolate bars, there's a chocolate dessert for every taste preference. Some popular chocolate desserts include chocolate lava cake, chocolate mousse, and chocolate-covered strawberries.
Dessert is a necessity of life.

– Adrienne Posey 
Ice Cream Delights
Ice cream is another dessert that people can't get enough of. Whether it's a simple scoop of vanilla or a complex sundae with hot fudge, whipped cream, and sprinkles, ice cream is the perfect sweet treat for any occasion. Some popular ice cream flavors include chocolate chip cookie dough, mint chocolate chip, and Rocky Road.
Cake Cravings
Cake is a classic dessert that has been enjoyed for centuries. From birthday cakes to wedding cakes, there are countless variations of this beloved dessert. Some popular cake flavors include carrot cake, red velvet cake, and chocolate cake. For those who prefer a lighter dessert, angel food cake or sponge cake may be the perfect choice.
No matter what type of dessert people prefer, there's no denying that they bring joy and happiness to those who indulge in them. Whether it's a slice of pumpkin pie or a creamy flan, desserts are a sweet reminder of the good things in life.
Desserts in Life's Kitchen
Desserts are an integral part of life's kitchen. They bring people together, add flavor and spice to meals, and can evoke fond memories of childhood.
Baking Desserts
Baking desserts is a popular activity for many people. It can be a relaxing and satisfying way to spend an afternoon. As Julia Child once said, "A party without cake is just a meeting." Baking desserts can also be a way to experiment with new ingredients and flavors. For example, zucchini bread is a delicious and healthy alternative to traditional bread.
Seize the moment. Remember all those women on the 'Titanic' who waved off the dessert cart.

– Erma Bombeck 
Desserts and Meals
Desserts can be an excellent addition to meals. They can complement the flavors of the main course and provide a sweet and satisfying end to a meal. Hot fudge sauce is a classic dessert that pairs well with ice cream, coffee, and pastry. It is also a versatile sauce that can be used in a variety of ways, such as drizzling it over vegetables for a sweet and savory dish.
Guests and Desserts
Desserts can be an excellent way to impress guests. A beautiful and delicious dessert can make a lasting impression on guests and leave them feeling satisfied and happy. As a host, it is essential to consider the preferences and dietary restrictions of guests when choosing desserts. Offering a variety of options, such as gluten-free or dairy-free desserts, can make guests feel welcome and included.
In conclusion, desserts play an essential role in life's kitchen. Whether baking, adding to meals, or impressing guests, desserts can bring people together and add sweetness to life. As the saying goes, "Life is uncertain. Eat dessert first."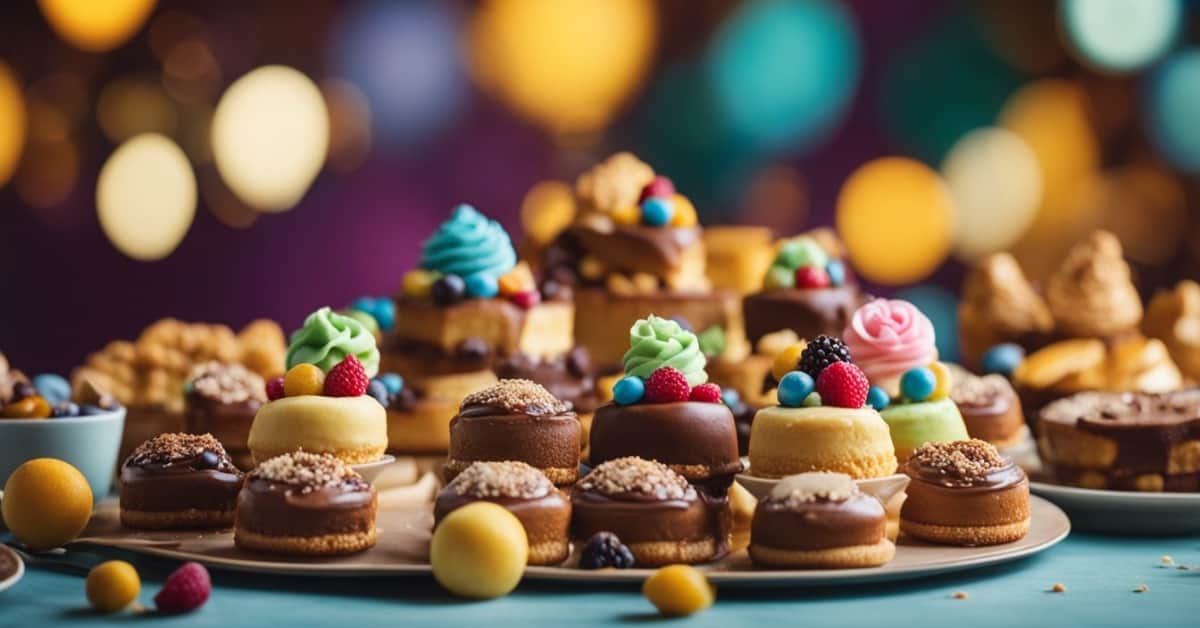 Desserts and Emotions
Desserts are not just about satisfying your sweet tooth, they can also evoke different emotions in people. Here are some of the ways desserts can make you feel:
Stress and Desserts
When life gets overwhelming, many people turn to desserts for comfort. As Terri Guillemets once said, "Stressed spelled backwards is desserts." Desserts can provide a momentary escape from the stress of daily life and offer a sense of relaxation and indulgence.
That's what dessert means to me: a dollop of sweet love in an otherwise cold world.

– Sarah Strohmeyer
Desserts and Happiness
Desserts can also bring happiness and joy to people. As Charles M. Schulz once said, "All you need is love. But a little chocolate now and then doesn't hurt." Desserts can be a source of celebration, whether it's a birthday cake or a special dessert for a romantic dinner.
A spoonful of sugar helps the medicine go down.

– Mary Poppins 
Dessert Puns and Humor
Desserts can also be a source of humor and puns. Barbara Johnson once said, "The only thing that will make a soufflé fall is if it knows you're afraid of it." Dessert puns and funny dessert quotes can add a lighthearted touch to any occasion. Some popular dessert puns include "Life is uncertain, eat dessert first." (Ernestine Ulmer) and "I'm a better person when I have less on my plate." (Sarah Ockler).
In conclusion, desserts can evoke a wide range of emotions, from stress relief to happiness and humor. As Jim Davis once said, "Vegetables are a must on a diet. I suggest carrot cake, zucchini bread, and pumpkin pie." Desserts can be a delicious and enjoyable part of life, but it's important to consume them in moderation.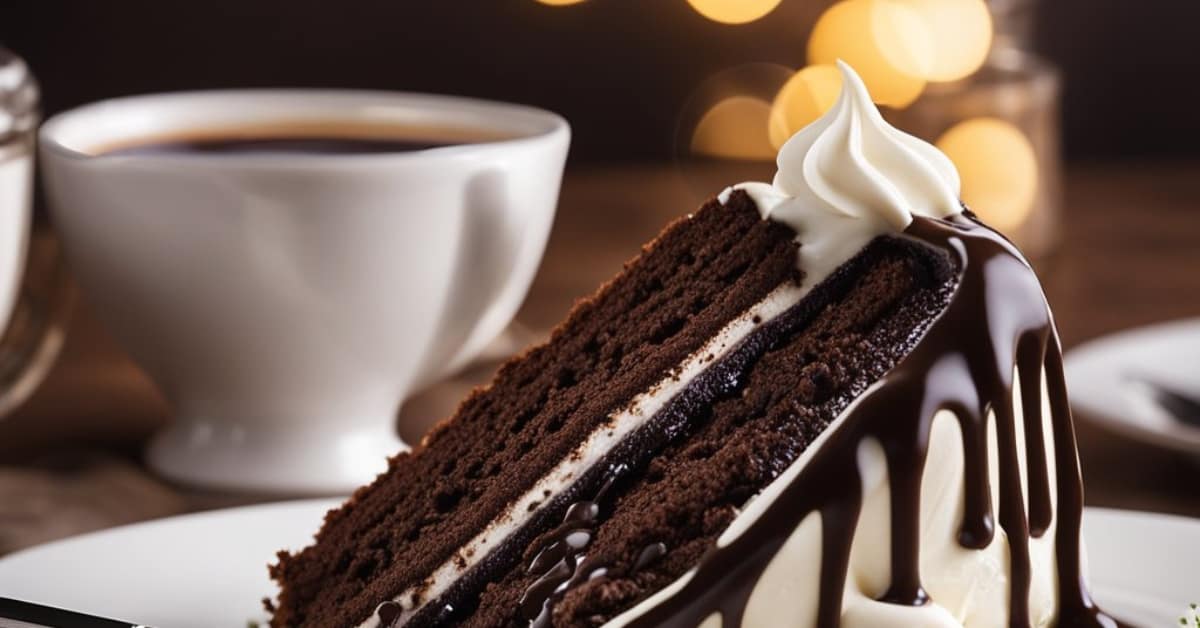 Dessert Quotes from Notable Figures
Desserts are not only delicious but also a source of inspiration for many famous people. Here are some dessert quotes from notable figures that will make your mouth water and your heart sing.
Quotes from Authors
"Life is uncertain. Eat dessert first." – Ernestine Ulmer
"Baking cookies is comforting, and cookies are the sweetest little bit of comfort food. They are very bite-sized and personal." – Sarah Ockler
"Vegetables are a must on a diet. I suggest carrot cake, zucchini bread, and pumpkin pie." – Jim Davis
"I don't share blame. I don't share credit. And I don't share desserts." – Beverly Sills
"I want to have a good body, but not as much as I want dessert." – Jason Love
"The most dangerous food is wedding cake." – Judith Olney
"We must have a pie. Stress cannot exist in the presence of a pie." – David Mamet
"Without ice cream, there would be darkness and chaos." – Don Kardong
Quotes from Chefs
"Dessert is like a feel-good song, and the best ones make you dance." – Chef Edward Lee
"Desserts are the fairy tales of the kitchen, a happily-ever-after to supper." – Rebecca Gober
"Desserts are like mistresses. They are bad for you. So if you are having one, you might as well have two." – Alain Ducasse
"Cakes are like books: there are new ones you want to read and old favorites you want to reread." – Ellen Rose
Quotes from Celebrities
"Candy is childhood, the best and bright moments you wish could have lasted forever." – Dylan Lauren
"Cookies are made of butter and love." – Norwegian Proverb
"Let them eat cake." – Marie Antoinette
"I have a love affair with butter. It's not a relationship I want to analyze too deeply, as it might spoil the romance." – Julia Child
"I don't think I've ever met a chocolate dessert that I didn't like." – Linda Grayson
From pie quotes to chocolate quotes, these dessert quotes from famous authors, chefs, and celebrities are sure to satisfy your physical appetites and inspire your creative ones.