A collection of the best low-carb and keto chicken thigh recipes! These keto chicken thighs make a great easy meal the whole family will love.
Chicken thighs are juicy and flavorful, and they are pretty easy to work with when you are looking to make a flavorful meal the whole family can enjoy. Plus, they are often cheaper than the other cuts of chicken so you can save a little money at the grocery store. It's a win-win!
Jump to: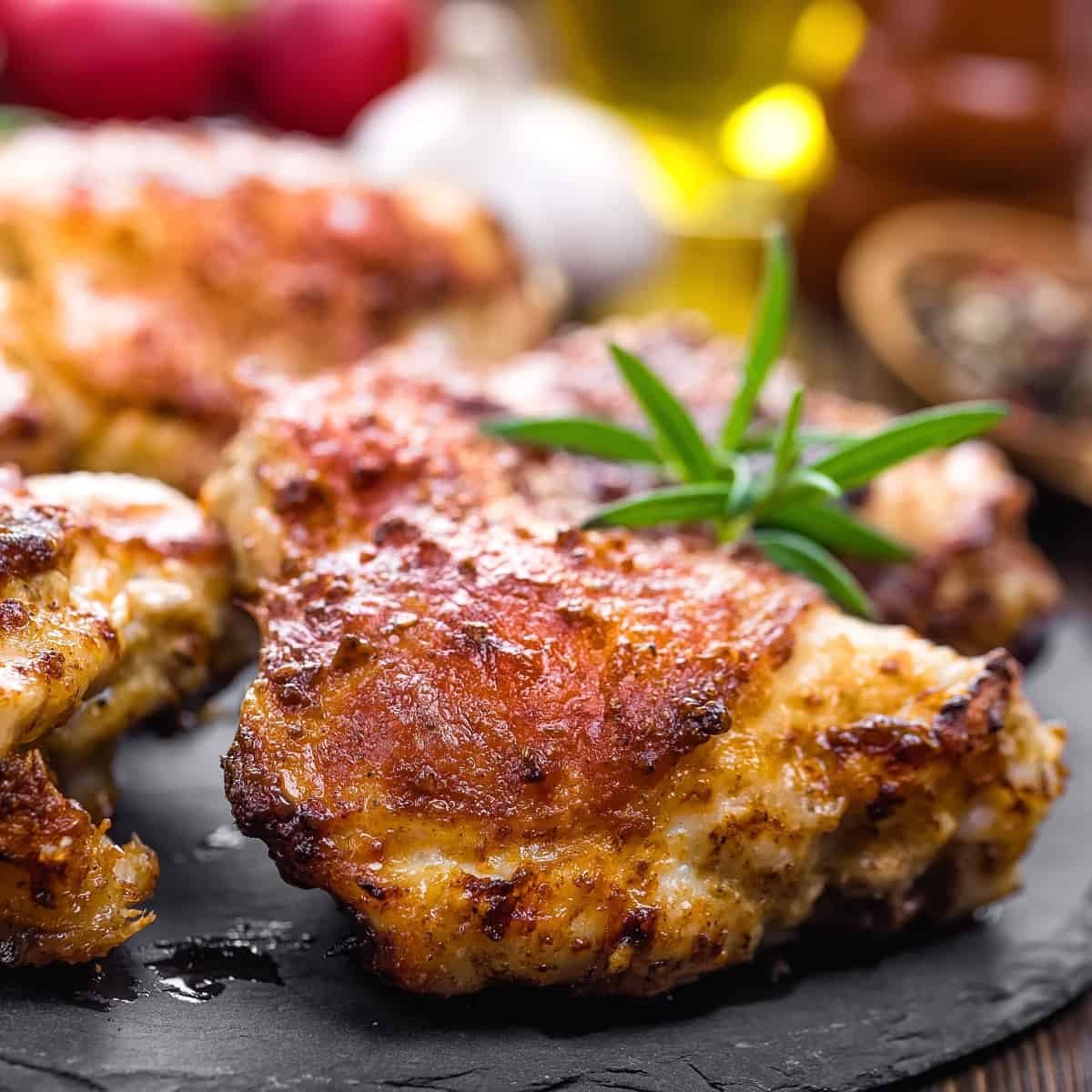 If you are following the keto diet, these chicken thigh recipes are easy to make and full of flavor. They will be so delicious that you won't even know they are keto-friendly. You will love enjoying the crispy outside and juicy inside of these keto-friendly chicken thigh recipes! Serve with a good cauliflower mash or cauliflower rice, and dinner is served!
17 Keto Chicken Thighs
Easy to make, these chicken thighs are cooked with creamed spinach for a keto-friendly dinner idea you will love.
A one-pan dish that everyone in the family will love, this keto Tuscan garlic chicken meal with a hint of fresh basil, will be a hit at the dinner table.
These chicken thighs are cooked in bacon fat and heavy cream and then topped with a creamy mushroom and parmesan cream sauce with fresh lemon juice.
These boneless skinless chicken thighs are full of flavor and easy to make. They are made in a savory honey mustard sauce that gives them extra flavor. What a fabulous chicken recipe!
A 30-minute meal that's easy to make and made in one pan on the stovetop, these creamy sun-dried tomato chicken thighs are juicy and delicious.
Not only does the sauce in this gluten-free chicken thigh dish contain the tasty combination of mushrooms and bacon, but it also adds parmesan cheese for extra flavor. You season chicken thighs with salt and pepper, saute, and then add the other ingredients for a creamy sauce delight!
You can never go wrong with bacon and the flavor of juicy chicken thighs which is why this keto recipe is a must-try. So tender, and holds all those delicious juices in!
These chicken thighs have a crispy chicken skin that's packed with protein and keto-friendly for an easy dinner idea.
Cook these dairy-free chicken thighs in the air fryer and you have a super easy and delicious meal that can be made in just a few minutes.
This combination of Caesar salad flavors, garlic powder and chicken thighs baked in the oven creates a delicious and easy-to-make dinner the family will love.
Mouthwatering and easy to make, these baked chicken thighs are made with sour cream gravy for a delicious keto-friendly meal.
Cream cheese, bacon, olive oil, baby spinach, and ranch dressing are what make these keto bone-in chicken thighs so delicious!
A one-skillet dinner that packs a ton of flavor, these keto chicken thighs are cooked in a roasted red pepper sauce for a delicious dinner idea.
Crispy pan-fried skin-on chicken thighs are topped with bacon, mushrooms, green onions, and a creamy sauce.
Another one-pan dinner meal that's keto-friendly and delicious, this chicken thigh recipe is easy and enjoyable.
Stuffed with a delicious pesto mixture for added nutrition, these chicken thighs are easy to make, flavorful, and keto friendly.
Garlic and parmesan go hand in hand which is why these chicken thighs are such a flavorful dish to make and enjoy.
The Goods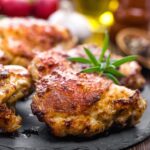 17 Keto Chicken Thigh Recipes
We appreciate you taking the time to rate!
A collection of the best low-carb and keto chicken thigh recipes! These keto chicken thighs make a great easy meal the whole family will love.
Recipes
Keto Chicken Thighs with Creamed Spinach

Keto Tuscan Garlic Chicken

Bacon Chicken Thighs in a Garlic Cream Sauce

Honey Mustard Chicken Thighs

Creamy Sun Dried Tomato Chicken Thighs

Keto Chicken Thigs with Creamy Mushroom Garlic Sauce

Bacon Wrapped Chicken Thighs

Keto Crispy Chicken Thighs

Keto Adobo Air Fried Chicken Thighs

Keto Caesar Baked Chicken Thighs

Keto Baked Chicken Thighs with Sour Cream Gravy

Creamy Skillet Keto Crack Chicken

Keto Chicken Thighs in Roasted Red Pepper Sauce

Keto Smothered Chicken Thighs

Keto Dijon Chicken Thighs

Keto Pesto Stuffed Chicken Thighs

Garlic Parmesan Keto Chicken Thighs