Ever wonder what to serve with duck? Look no further than this collection of easy side dishes for duck!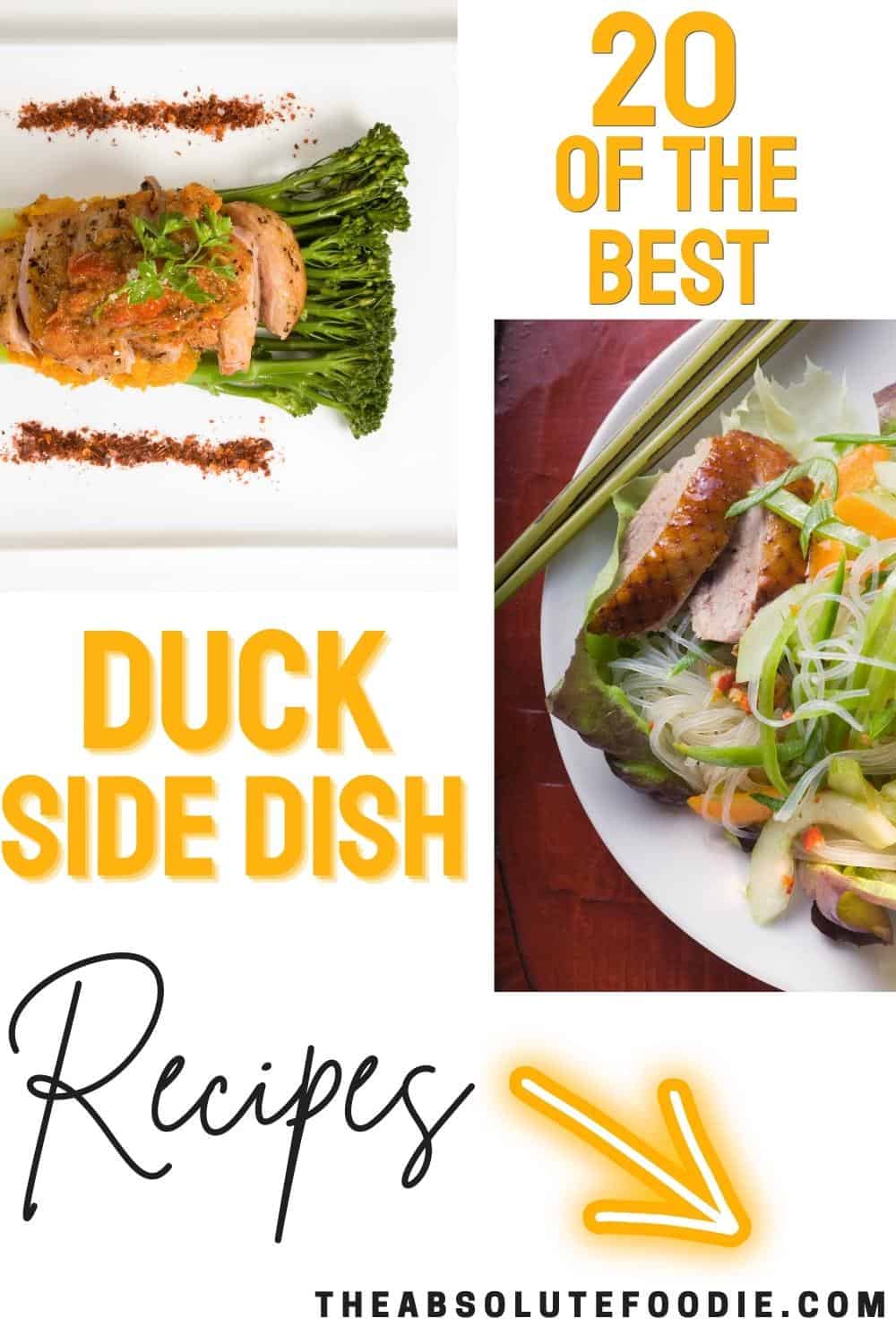 Wondering what sides to serve with duck? If you have never had duck, specifically duck breast, you are missing out. When cooked correctly, the texture of duck is tender and juicy on the inside and has a bit of a crunchy outside.
When it comes to enjoying duck as a meal, you want some delicious side dishes for a duck main dish to help balance and compliment it. Luckily, duck can go with a variety of different sides and veggies so you don't have to look hard for a side that will pair well.
Jump to:
Whether you are cooking duck for the family or for guests, these side dishes for duck will complete the meal and have your guests thanking you for a delicious dinner.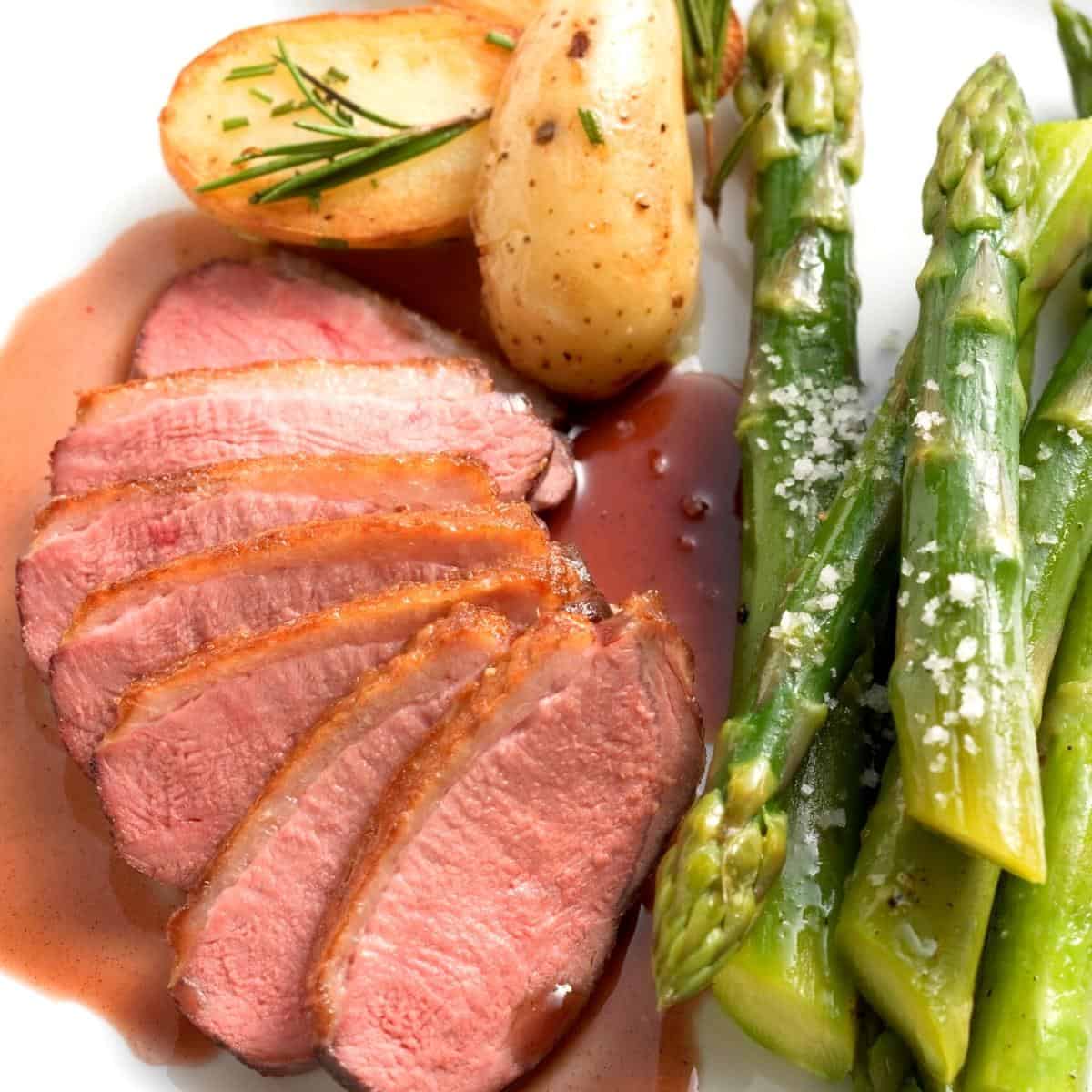 20 Duck Side Dishes
Arugula salad is a light and refreshing side that you can serve with your duck meat meal. This recipe has a splash of lemon zest paired with arugula, parmesan, and balsamic dressing.
A super healthy vegetable dish that can be stir-fried, watercress is a healthy and delicious green with great fiber, that can be added to the table.
Baked potato wedges are a healthy potato side dish that you can serve with duck. These are lightly seasoned with garlic and beat fries any day!
An easy side dish that's healthy and delicious, this mixed vegetable rice will pair perfectly with your roasted duck.
The sweetness of these glazed carrots will compliment your duck dish. The glazed carrots are cooked until tender, with a perfectly sweet taste.
Served on a bed of baby arugula, this roasted beets salad is a delicious and healthy side that is full of flavor. With fresh herbs and cheese – it really hits the spot!
A simple side that everyone in the family will love, these mashed potatoes pair well with just about every main dish, including duck.
If you want to go with something a little healthier, instead of regular potatoes, make these savory mashed sweet potatoes.
Sometimes considered a dessert, try pairing your duck with roasted plums instead of plum sauce, and you have a sweet and filling meal to enjoy.
This mushroom and spinach salad is a warm salad that you can serve on the side. The greens and veggies are delicious.
Delicious and crispy, these green beans are tossed with potatoes and herbs for a flavorful side dish.
Roasting these potato cakes in the oven until the outside of the potatoes are nice and crispy, these mashed potato cakes are delicious.
Since duck pairs so well with an orange sauce, try serving it up with this orange salad with pomegranate seeds for a tasty meal.
Green beans get kicked up a notch by adding in some fresh lemon zest, lemon juice, and sauteed shallots (perfect for Thanksgiving, too!).
A healthy salad that's packed with antioxidants, this spinach and pomegranate salad is an easy and delicious side dish, that also packs a protein punch.
With it's nutty flavor and hint of lemon, this lemon herb farrow bowl is an easy side that'll go well with your duck main dish.
A classic side dish that can be made in a pot or skillet, this homemade rice pilaf is packed full of flavor.
Rolls work for any meal and these dinner rolls are soft and homemade. Top them with some butter and you have a tasty side.
Roasted with a balsamic and honey mixture, these brussels sprouts will pair well with your duck.
Made with layers of potatoes and a rich creamy sauce, these scalloped potatoes are delicious, easy to make, and beat au gratin potatoes any day!
The Goods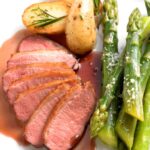 20 Side Dishes for Duck
We appreciate you taking the time to rate!
Ever wonder what to serve with duck? Look no further than this collection of easy side dishes for duck!
Recipes
Arugula Salad

Stir Fried Watercress

Baked Potato Wedges

Mixed Vegetable Rice

Glazed Carrots

Roasted Beet Salad

Mashed Red Potatoes

Mashed Sweet Potatoes

Roasted Plums

Mushroom and Spinach Salad

Herb Roasted Green Beans and Potatoes

Mashed Potato Cakes

Orange Salad with Pomegranates

Green Beans Almondine

Spinach Pomegranate Salad

Lemon Herb Farro Bowl

Homemade Rice Pilaf

Homemade Dinner Rolls

Roasted Brussels Sprouts

Cheesy Scalloped Potatoes
Instructions
Choose a recipe to try.

Gather the ingredients needed.

Cook and enjoy!