Explore a world of fiery flavors and mouthwatering pumpkin creations in this collection of 20 delectable spicy pumpkin recipes.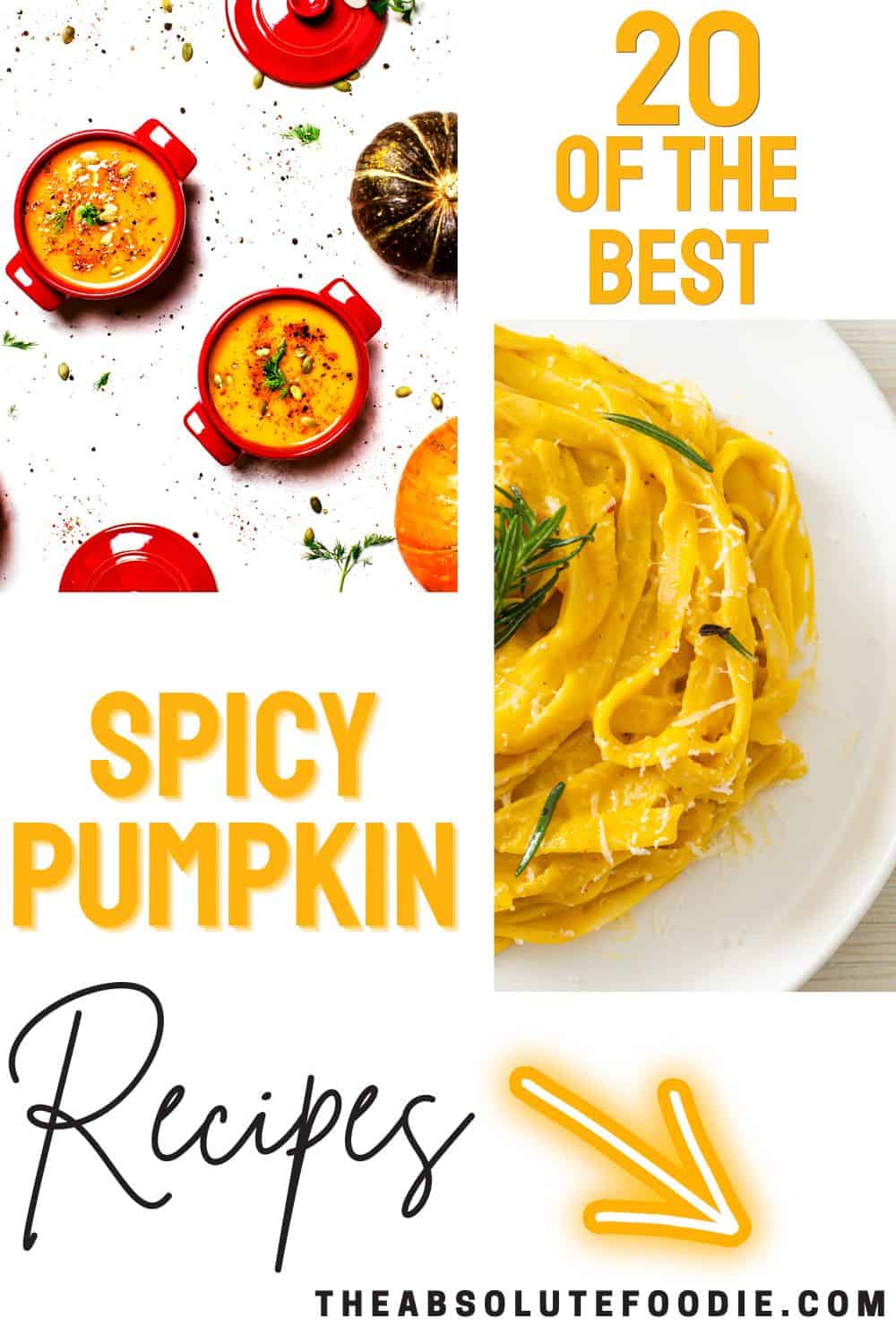 Fall has arrived and so has pumpkin season which means that we can incorporate pumpkin flavors into our favorite dishes and drinks. While we all love pumpkin (pumpkin spice latte, anyone?), one of the best ways to enjoy a pumpkin dish is with a little heat to it.
Jump to:
Adding some extra spiciness to any dish is great for those who want an extra kick to their snacks or meals. It brings even more flavors to the table.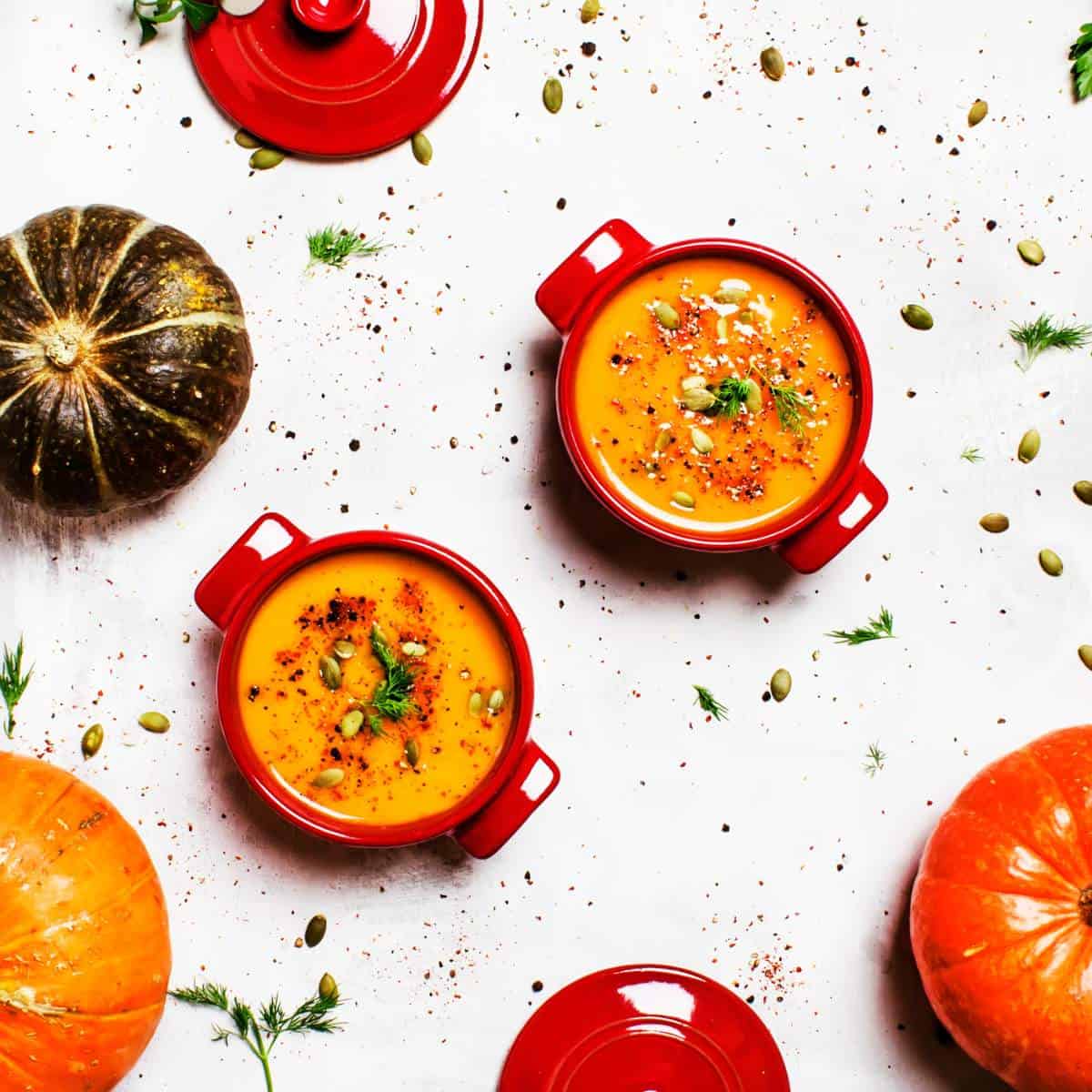 These spicy pumpkin recipes bring your favorite pumpkin flavors to the table and add a little heat for those nights when you want to kick it up a notch.
20 Spicy Pumpkin Recipes
Bold flavors are what you will find in this pasta dish. The bold flavors from the pumpkin cream sauce, and spicy Italian sausage, are then kicked up a notch by adding some Calabrian chili pepper paste.
Combining the flavors of ginger, red chili flakes, and turmeric with quinoa and pumpkin creates a delicious spicy pumpkin quinoa bowl that's plant-based, hearty, and filling.
Made with miso paste and coconut milk, this savory and creamy dairy-free spicy pumpkin soup is perfect for chilly days when you need to warm yourself up.
These crispy spicy pumpkin fries are savory and spicy and make the perfect snack to enjoy during the fall season. You can even serve them with burgers and other fall-flavored meals.
Creamy and flavorful, this Thai pumpkin curry is full of healthy veggies and flavor thanks to its special spice blend. It's the perfect fall recipe if you enjoy the flavor of pumpkin and want a dish with a little bit of kick to it.
Craving the fall flavors but want some Italian flavors too? This spicy pumpkin and pesto cheese stuffed shells dish will be a flavorful addition to your weeknight dinner lineup.
Loaded with pumpkin puree, gooey mozzarella cheese, and plant-based meat crumbles, this pasta bake is comfort food that the whole family can enjoy this fall.
A cozy pumpkin and carrot soup makes the perfect fall dinner idea. The pumpkin makes this soup super creamy and the spices blend together well making it a delicious dish.
If you are looking for a light lunch, snack, or party appetizer with some pumpkin flavor to it, you can't go wrong with this pumpkin focaccia bread that's topped with some spicy cheese. It's smells amazing coming fresh from the oven!
Chili is always a favorite and if you love the flavors of pumpkin, you're going to love this easy-to-make spicy pumpkin chili. You'll want to grab a large bowl for this one!
Creamy coconut milk and red curry paste are the secret ingredients of this tasty ramen. Throw in some chicken or another favorite protein, mushrooms, or butternut squash and you have a comforting meal perfect for fall.
If you haven't tried spicy pumpkin pickles, this is definitely something you should do. You can serve the pickles as a side, pair it up with some cheese, or enjoy it over coconut rice for a full meal. Grab some jars and get pickling!
Best enjoyed as a snack or a side, this roasted pumpkin dish gives you those sweet flavors with a little heat to make a tasty dish. This is a great way to enjoy the nutrients found in pumpkin, including potassium, fiber and Vitamin C.
Soup is the perfect way to enjoy a nice cool fall night. Bacon adds a little extra flavor when you mix it in which makes this spicy pumpkin soup worth trying.
Combine the flavors of pumpkin, roasted garlic, and sage with some spicy fried pumpkin seeds and you have a soup that's flavorful and delicious.
With a slightly smokey flavor, this spicy pumpkin queso is delicious. Serve with spiced pepitas and you have a tasty chip and dip that's perfect for fall.
Filled with sweet and spicy aromas, this Moroccan pumpkin stew is a tasty dinner idea that will wake your tastebuds up.
This a quick dinner idea that brings all of your favorite fall flavors to the table and a little extra heat with the spicy pumpkin sauce.
Give your pumpkin a zesty twist with "chershi kara'a," a tangy and spicy pumpkin spread originating from Libyan Jews and now beloved by Israelis. Crafting this flavorful delight is a breeze!
A tasty appetizer that takes only a few minutes to whip up, this smokey, spicy, and sweet pumpkin hummus is sure to be a hit.

The Goods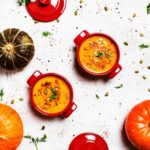 20 Spicy Pumpkin Recipes
We appreciate you taking the time to rate!
Explore a world of fiery flavors and mouthwatering pumpkin creations in this collection of 20 delectable spicy pumpkin recipes.
Recipes
Spicy Pumpkin Vodka Pasta

Spicy Pumpkin Quinoa Bowl

Spicy Miso Coconut Pumpkin Soup

Spicy Pumpkin Fries

Thai Pumpkin Curry

Spicy Pumpkin and Pesto Cheese Stuffed Shells

Spicy Pumpkin Pasta Bake

Spiced Pumpkin and Carrot Soup

Pumpkin Focaccia Bread with Spicy Cheese

Spicy Pumpkin Chili

Spicy Pumpkin Curry Ramen

Spicy Pumpkin Pickles

Spicy Honey Roasted Pumpkin

Spicy Pumpkin Soup with Bacon

Roasted Garlic Sage Pesto Pumpkin Soup with Spicy Fried Pumpkin Seeds

Spicy Pumpkin Queso

Moroccan Pumpkin Stew

Rigatoni with Spicy Pumpkin Sauce

Cherisi Kara's Pumpkin Spread

Spicy Chipotle Pumpkin Hummus
Instructions
Choose a recipe to try.

Gather the ingredients needed.

Cook and enjoy!