A collection of delicious and easy vegan orzo recipes to make the best use of this fun rice-shaped pasta.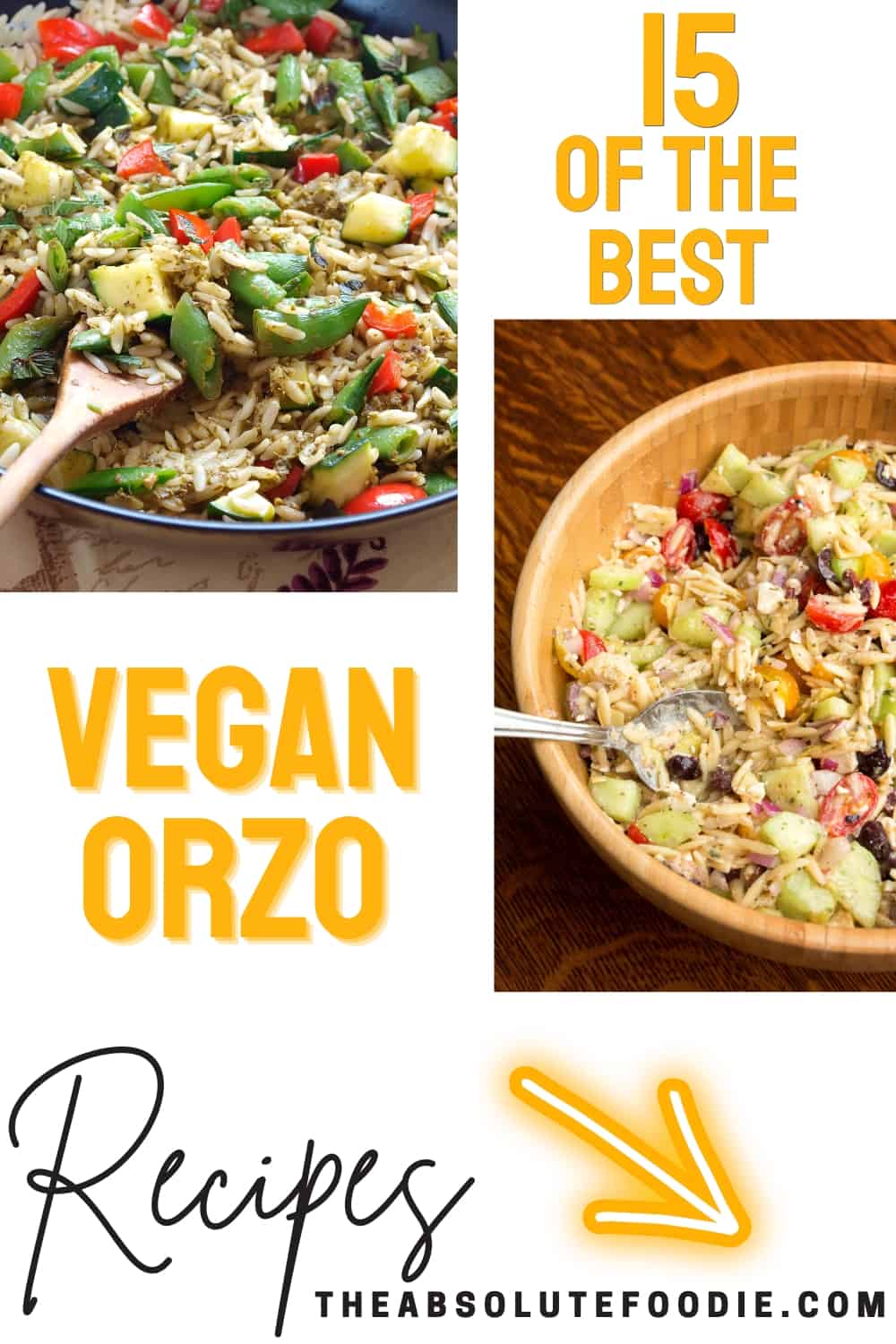 Orzo is a favorite for many vegans. If you are unfamiliar with orzo, it is a thin rice-shaped pasta that is usually served like rice.
One thing we love most about orzo is that it takes very little time to cook so you can have a filling dinner on the table in no time. It's also versatile allowing you to create flavorful meals and sides to suit your tastes.
Jump to: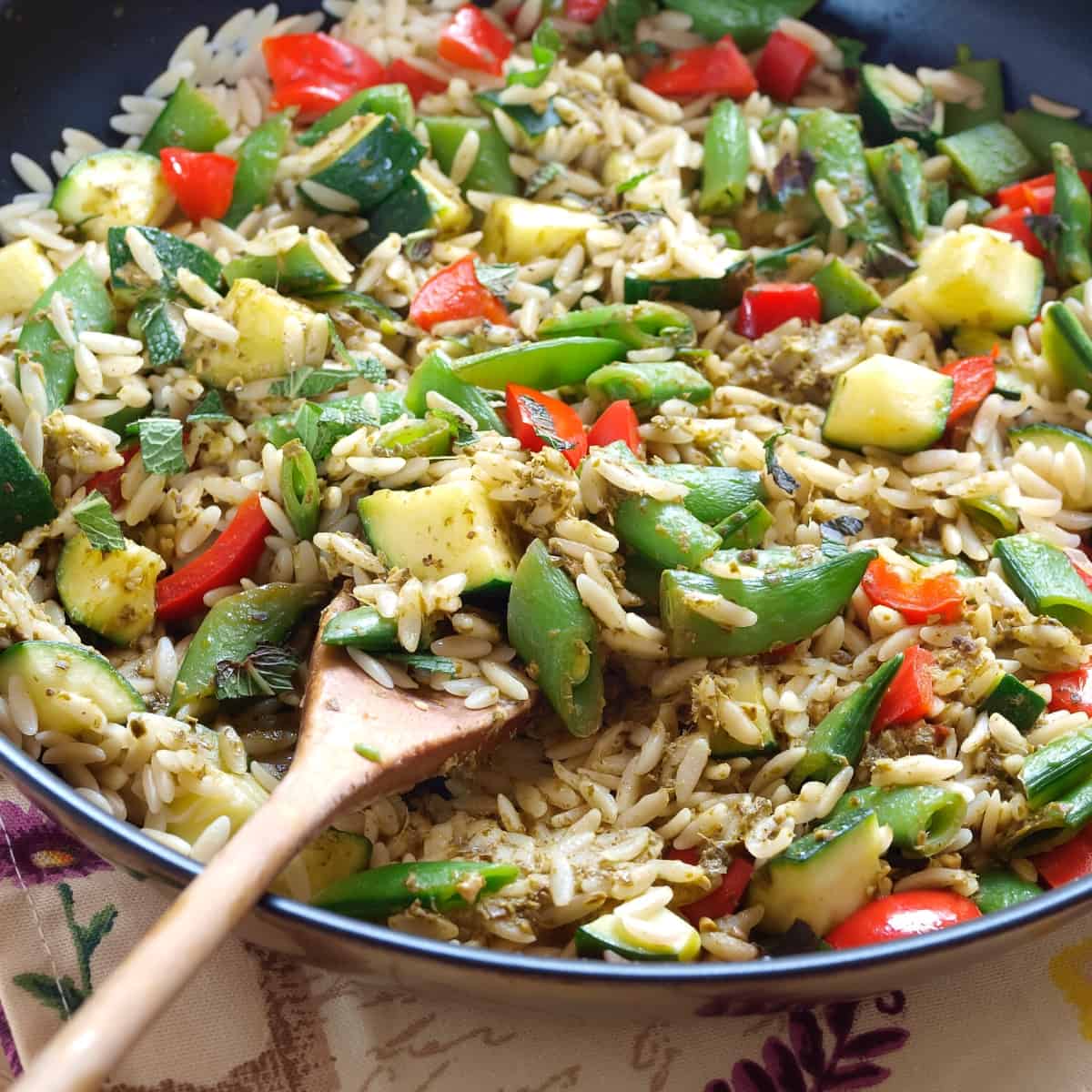 These vegan orzo recipes are easy to make, filling, and delicious. They can be enjoyed as a side dish along with dinner or make any of these as a main dish for a filling meal.
15 Vegan Orzo Recipes
Made with sun-dried tomatoes, spinach, and tofu, this impressive and flavorful creamy vegan orzo is a main dish that everyone will enjoy.
Baked eggplant is filled with delicious orzo pasta, tomatoes, onions, mushrooms, and spinach and topped with vegan cheese to make a tasty side or dinner. Talk about a one-pot meal!
A cozy dish that's perfect for cooler nights, this lemon curry-flavored orzo is easy to make, dairy-free, and delicious.
Loaded with those delicious Mediterranean flavors, this baked dish is made in one pan and is the perfect comfort meal.
A skillet dinner the family will love, this vegan orzo bake is a flavorful dish that is sure to impress.
Perfect for weeknights when you want an easy-to-make dish that will fill the family up, this creamy Dijon orzo skillet will be a favorite.
An easy one-pan vegan spinach cannellini bean orzo recipe. Simple and quick. Works well as a side dish or main entree.
Enjoy the magic of orzo…a humble, but delicious little pasta that looks like rice combined with mushrooms and asparagus.
The creamiest Vegan Tuscan Orzo recipe filled with sun-dried tomatoes, spinach, orzo pasta, cannellini beans, and Italian spices!
Baked Vegan Orzo Recipe is an easy, throw-it-all-in, one-pot wonder featuring tender orzo, cherry tomatoes & veggies topped with melty vegan cheese!
This easy lemon pepper orzo recipe is a one-pot meal that is the perfect weeknight dinner. With lemony orzo, black pepper, green olives, and the crunchiest crispy chickpeas. This dish almost eats like a super hearty salad!
Creamy and easy to make, this lemon orzo is delicious and makes the perfect light lunch or side dish that's full of lemon flavor and packed with vegetables.
An easy one-pan meal that everyone in the family will enjoy, this Caprese pest orzo bake is full of flavor and delicious. The only swap to make it vegan is to use vegan mozzarella cheese over conventional.
Warm, creamy, and rich in umami flavors, this mushroom and orzo dish will become a new family favorite.
Bursting with garlic flavor, this one-pot garlic orzo will give you a creamy dinner or side that can't be beaten!
The Goods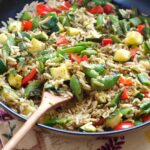 15 Vegan Orzo Recipes
We appreciate you taking the time to rate!
A collection of delicious and easy vegan orzo recipes to make best use of this fun rice-shaped pasta.
Recipes
One Skillet Creamy Orzo

Stuffed Eggplant with Orzo Pasta

Vegan Lemon Curry Orzo

Baked Vegan Mediterranean Chick'n and Orzo

White Bean and Sundried Tomato Orzo Bake

Creamy Dijon Orzo Skillet with Vegan Paprika Chick'n

Spinach Cannellini Bean Orzo

Mushroom Asparagus Orzo

Creamy Vegan Tuscan Orzo

Baked Vegan Orzo

Toasted Lemon Pepper Orzo with Crispy Chickpeas

Vegan Lemon Orzo

One Pan Caprese Pesto Orzo Bake

Creamy Mushrooms and Orzo

One-Pot Creamy Garlic Orzo