In need of some Bentgo Lunch Ideas? Look no further! This collection of Bentgo lunch box ideas and recipes are perfect for kids and adults alike.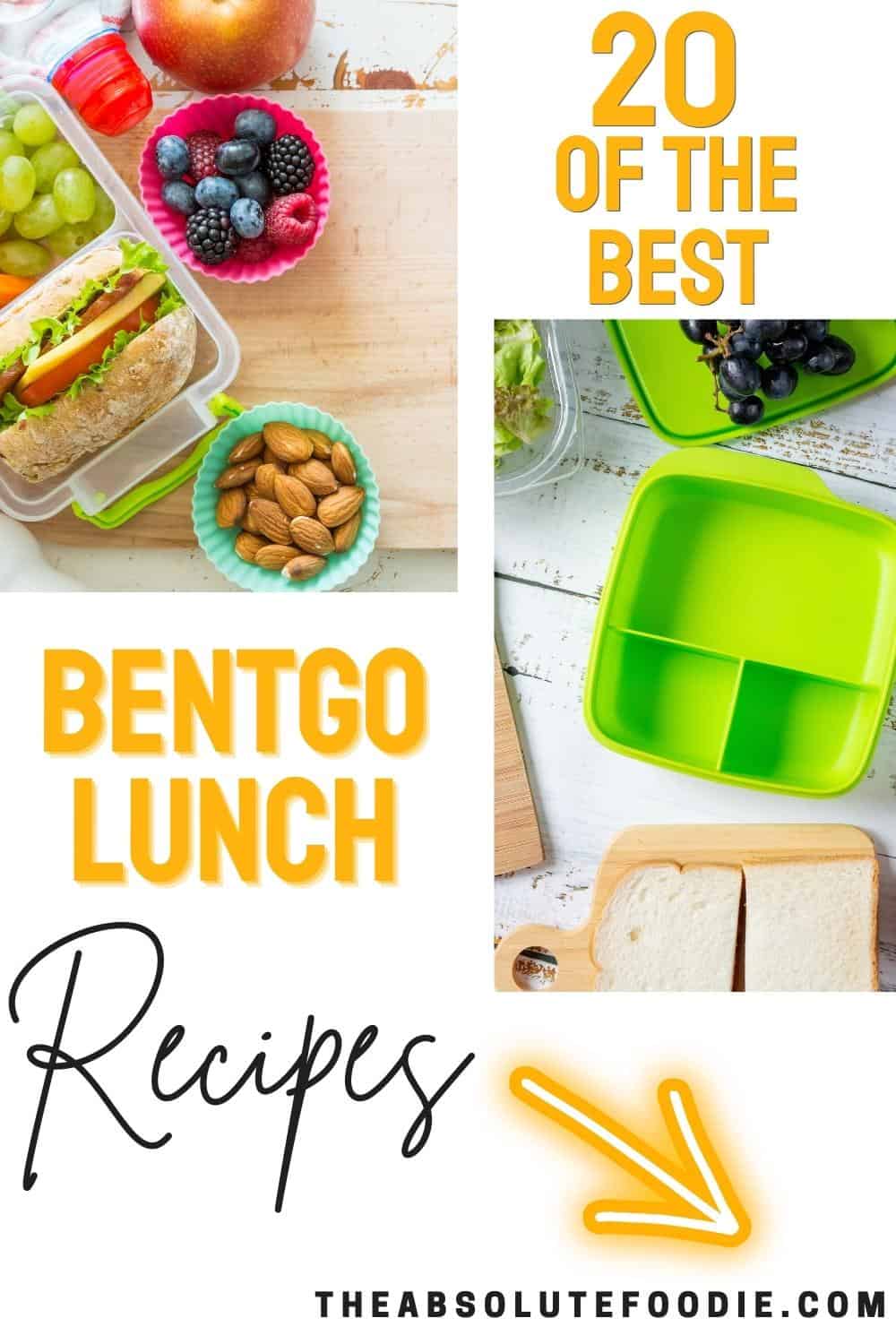 Gone are the days of having to pack a simple sandwich and chips for lunch! Bento box lunch ideas are perfect for a variety of different things.
Jump to:
For one, packing a Bento box lunch makes meal prep easy and saves you a ton of time throughout the week. You won't have to worry about what you will have for lunch that day because it's packed and ready to go.
The second most popular reason we love Bento lunches is that it's kid friendly. The kids can easily take it with them and enjoy a delicious and healthy lunch at school or wherever they go.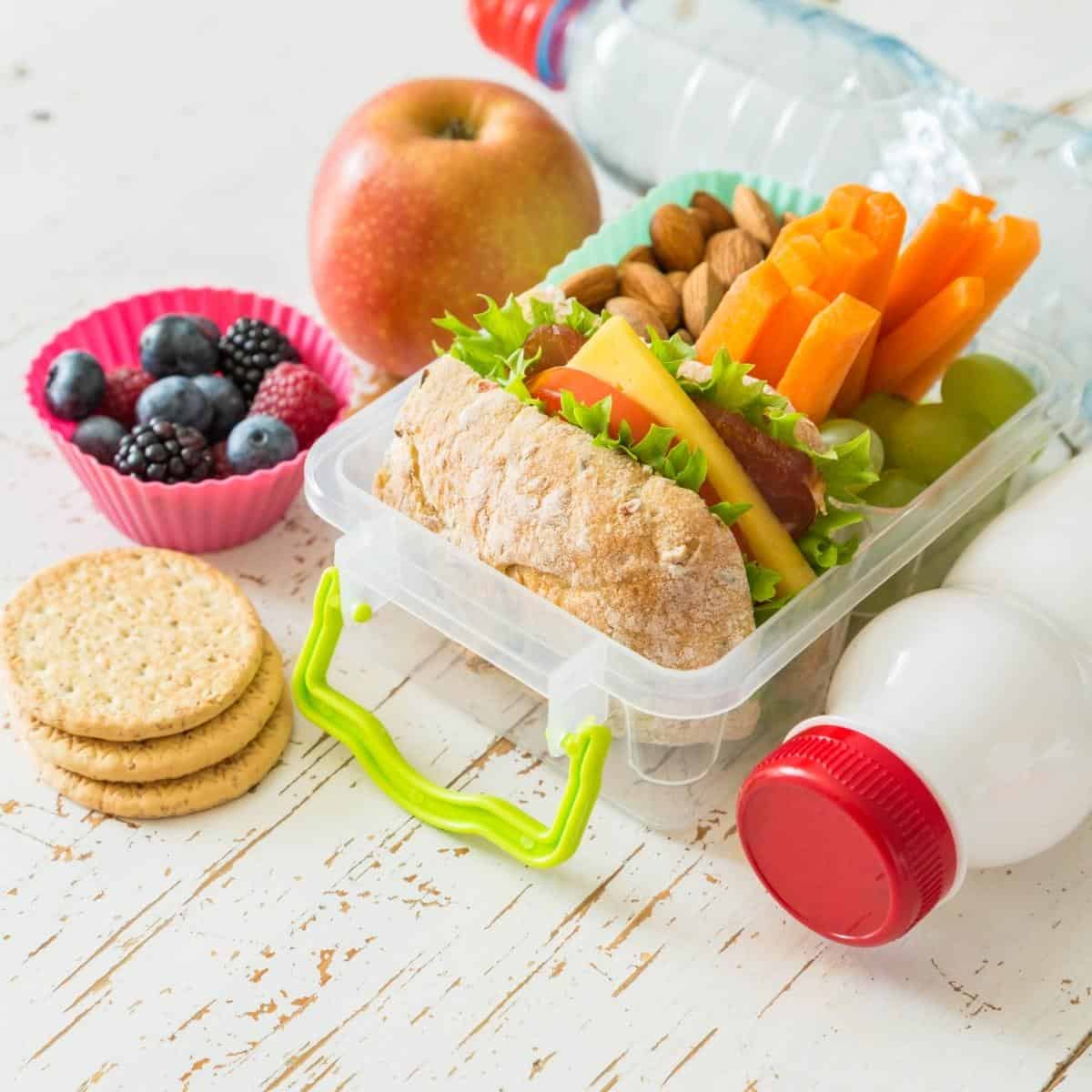 Bento lunches are great for picky eaters and the whole family alike, as there certainly will not be any shortage of options to nibble at with these delicious meal ideas!
Bentgo Snack Ideas
Apart from the fabulous Bentgo lunch ideas below, here are some of our favorite snacks to put in the smaller compartments of bento boxes.
Baby carrots or celery sticks.
Blueberries, raspberries or strawberries.
Yogurt pretzels.
Cherry tomatoes, bell pepper slices or sugar snap peas.
Tortilla chips and a dip like guacamole or salsa.
Pickles.
Kiwi slices.
Nut butter or seed butter and rice cakes.
20 Bentgo Lunch Ideas
Ready to spice up lunch? These spicy chicken bowls are packed with roasted green beans, broccoli, mashed cauliflower, and spicy chicken. It's a healthy combo of flavors that's great for low-carb diets.
A quick and healthy lunch idea that's also delicious and full of flavor. These wraps are made with turkey, hummus, and avocado.
Light and refreshing, these cucumber sandwiches can be added to your bento box and paired with a variety of different sides you will enjoy for lunch.
Pinwheel sandwiches make the perfect Bento box addition because they are small, and filling, and you can customize them to your liking. These vegetable cream cheese roll-ups are the way to go if you like veggies.
The perfect balance of cheese and fruit is what you will get with this Bento lunch idea. Crackers, grapes, nuts, and 3 different kinds of cheese are included.
Change up your typical taco salad lunch with this turkey taco salad. Easily prep this ahead of time and you'll have a delicious lunch waiting for you when you are ready.
Serve this tuna egg salad on its own or throw in a few pieces of bread and pair it with some fruit on the side and you have a delicious make-ahead lunch idea.
Whether you are planning out lunch ideas for yourself or for the kids, these homemade ranch delight Bento boxes are both healthy and delicious.
The perfect solution for lunch when you want something that's both healthy and filling. These protein boxes are a copycat of the Starbucks turkey bistro boxes we all love.
This tasty Bento box idea pairs a variety of different fruits and veggies with simple pinwheels. The pinwheels are made with spinach, turkey, and hummus, but you can customize it to fit your flavor preference.
Kids and adults can enjoy these cheese quesadilla lunch boxes. Serve the quesadillas with your favorite toppings and some fruit on the side and you have a delicious and filling meal.
Create your own homemade lunchables at home with your favorite meat, cheese, and sides. This example shows you how to make a filling ham lunchable even the kids will love.
This is an idea for the kids! Mix up your typical PB&J sandwich by making it a fun lunch for the kids. Pair it with some fruits and veggies and you have a fun Bento box lunch idea.
If you love garlic, you are going to be over the moon with this tasty lunch idea. It's a garlic parmesan kale pasta that you can take anywhere and is garlicy-delicious.
Just because it's lunch or you're on the go doesn't mean you can't have some comfort food to enjoy. Pair the loaf with your favorite sides and you have a filling meal.
A tasty salad option that you will love to enjoy at lunch! This is a Greek pasta salad that's mixed with veggies, cheese, chicken and a delicious Greek dressing.
A quick 15-minute meal that you can prep for lunch throughout the week, this chicken and sausage pasta dish is hearty and delicious.
Instead of ordering out for lunch, make yourself a chicken fried rice dish that'll satisfy your craving for Chinese food.
Add some extra flavor to lunch by making your own English muffin mini pizzas. Add your favorite toppings and enjoy it with some veggies for extra fun.
Talk about a Bento box lunch idea that's full of flavor! Grilled chicken is smothered in a teriyaki sauce and paired with rice and veggies for a delicious lunch you'll enjoy any day of the week.
The Goods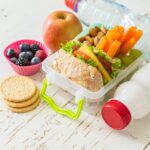 20 Bentgo Lunch Ideas
We appreciate you taking the time to rate!
In need of Bentgo Lunch Ideas? Look no further! This collection of Bentgo lunch box ideas and recipes are perfect for kids and adults alike.
Recipes
Spicy Chicken Bowls

Avocado Turkey Hummus Wraps

Cucumber Sandwiches

Veggie Cream Cheese Roll Ups

DIY Cheese and Fruit Box

Turkey Taco Salad

Tuna Egg Salad & Fruit Bowls

Homemade Ranch Delight Bento Ideas

Turkey Protein Boxes

Rainbow Bento Box

Cheese Quesadillas

Homemade Ham Lunchables

Peanut Butter & Jelly Boxes

Garlic Parmesan Kale Pasta

Garden Vegetable Turkey Loaf

Greek Pasta Salad

Chicken Sausage Pasta

Chicken Fried Rice

English Muffin Mini Pizzas

Teriyaki Grilled Chicken
Instructions
Choose a recipe to try.

Gather the ingredients needed.

Cook and enjoy!