Wondering what to do with the kielbasa you have on hand? Look no further than this collection of delicious kielbasa recipes.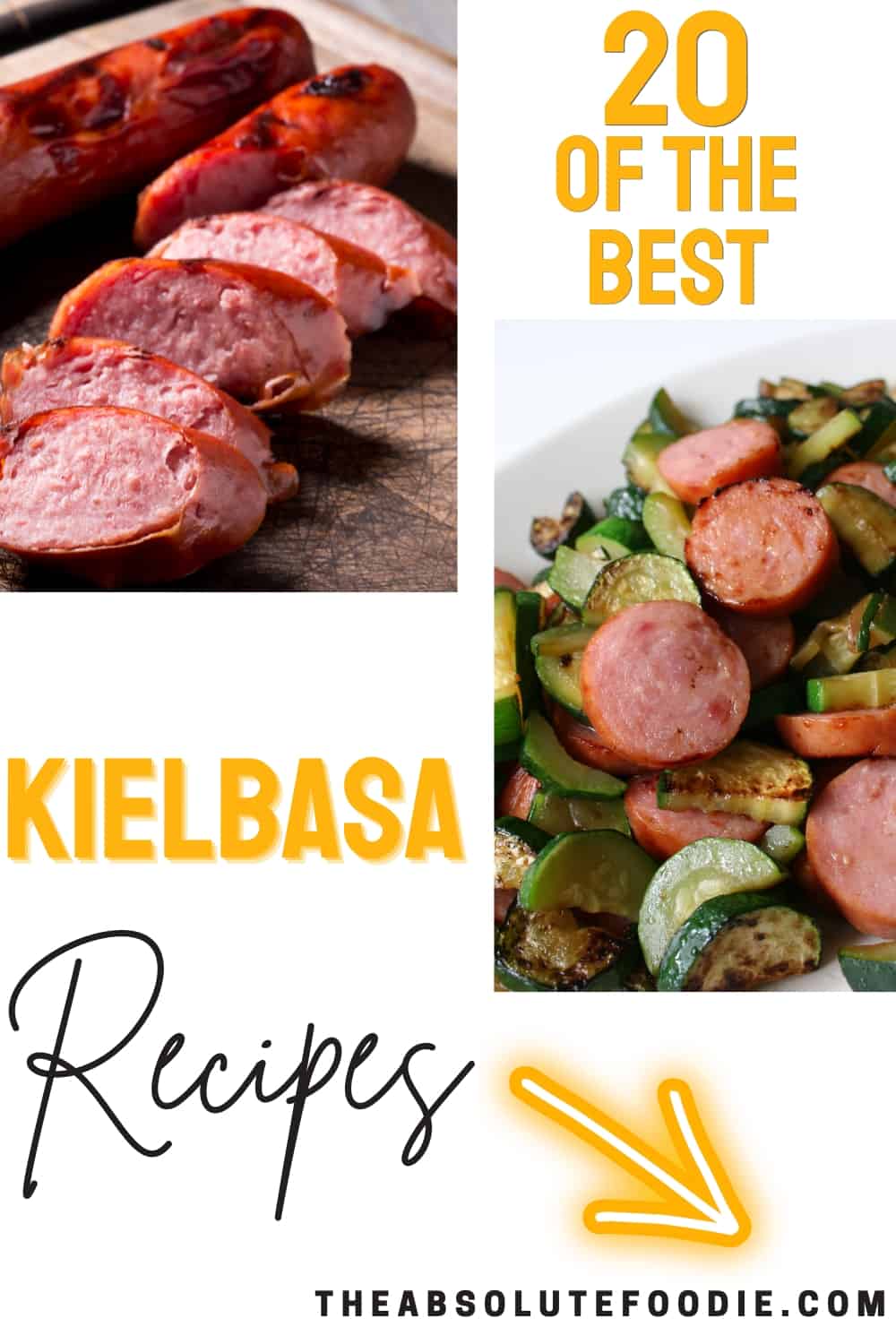 Kielbasa is a versatile meat that you can do a lot with. You can mix it with just about anything. It's also affordable and you can create a filling meal the family will love when you mix it with other flavors and with just a few ingredients.
Jump to:
To make a filling and flavorful dinner the family will love, you can mix the kielbasa with pasta, vegetables, rice, and other things.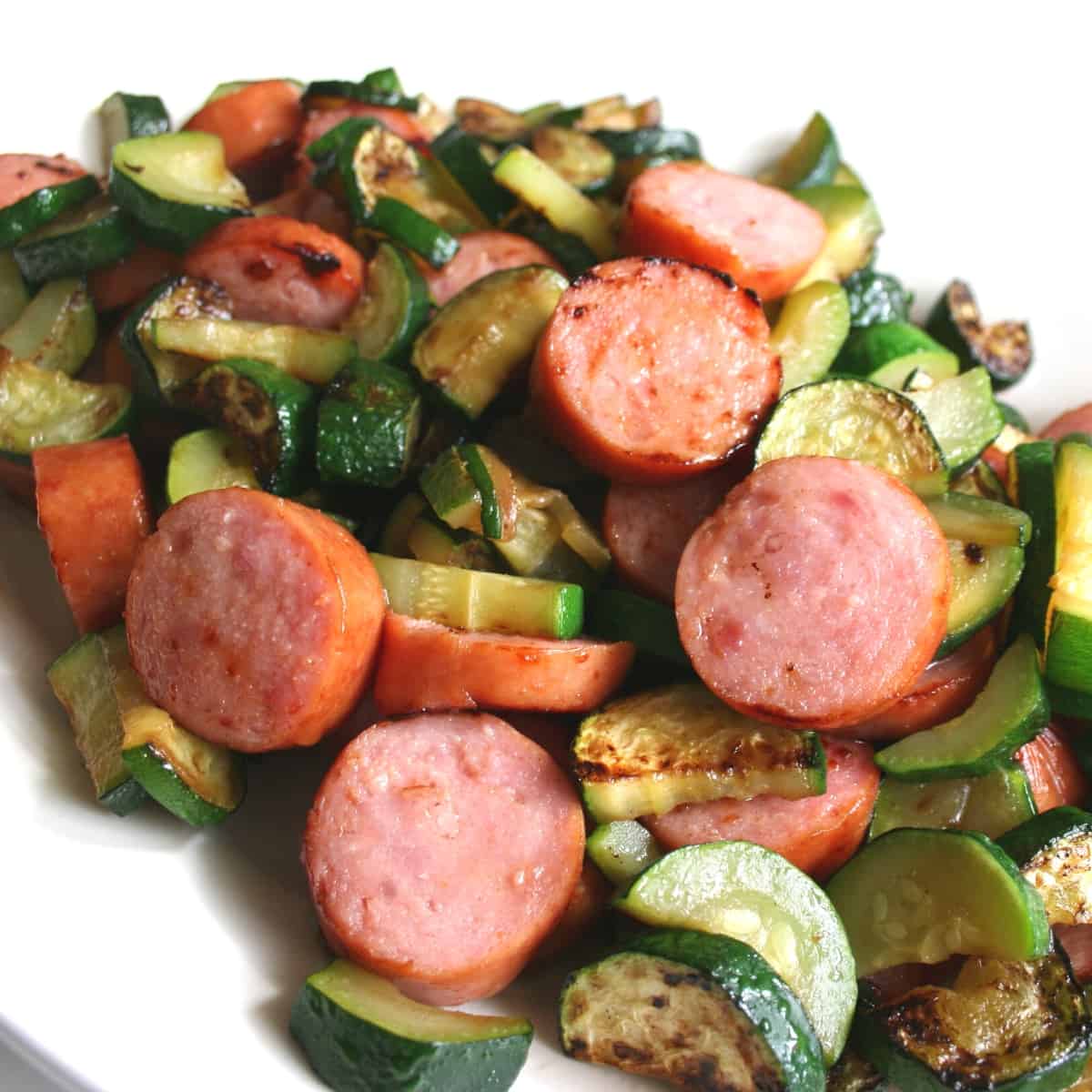 These easy-to-make kielbasa recipes are delicious. Each has its own flavors and gives you some ideas on ways you can put kielbasa together with other ingredients to create a filling, affordable, and flavorful meal the family will love.
20 Kielbasa Recipes
Kielbasa is cut hasselback-style and then baked in the oven with sliced onions and peppers for an easy dish that's flavorful and pure comfort food.
Kielbasa bites are cooked in a sweet brown sugar glaze and wrapped in bacon for the perfect sweet and salty combination.
Use fresh or frozen vegetables for this dish and you have a colorful and tasty one-pan meal made in a large skillet the family will love.
Brussel sprouts and kielbasa are roasted to create a sheet pan dinner that's ready to serve in just 20 minutes.
Creamy and comforting, this bean soup with kielbasa sausage is ready in 30 minutes and is perfect for when you need a warm fill-me-up dinner.
Top these kielbasa sandwiches with sweet caramelized onions, bell peppers, and lots of cheese to create a sandwich that's packed full of flavor.
Juicy and sweet, kielbasa is slowly cooked with chunks of pineapple to give you that sweet glazed dish everyone will love.
Ready for a cozy meal that is sweet and salty? This kielbasa and apple onion skillet is filling and delicious.
A filling dinner that is easy to make, this potato soup has chunks of potatoes and Polish sausage kielbasa and is full of flavor.
A go-to meal that's perfect for winter and fall, the family will love this easy-to-make sheet pan meal.
When you want a filling side or main dish, these hearty and flavorful kielbasa baked beans are the way to go. With the perfect amount of spices, top it over rice for an extra-filling meal.
Potatoes are roasted until crispy and cooked until the kielbasa is brown for this delicious and easy weeknight dinner idea.
Mix sliced-up kielbasa and some bow-tie pasta and you have an affordable meal that will feed the family.
An easy meal that can be prepped in no time, this sheet pan dish is full of flavor because the veggies and kielbasa are drizzled with a honey and garlic mixture.
A gluten-free breakfast recipe that's easy to make and filling, this hearty and savory kielbasa hash will be a hit at the breakfast table.
Perfect for lunch or dinner, this cheesy kielbasa rice and broccoli skillet with cheddar cheese is a one-pan meal that you can make for the family.
A tasty appetizer for game days or parties, this sliced kielbasa is browned and served with a Dijon mustard dipping sauce.
An easy dinner that the family will love, this filling meal combines the flavors and is sweet and spicy when you mix the kielbasa and rice.
Only 4 ingredients are needed to create this tasty dish. Serve it as an appetizer or snack that you can make in the slow cooker.
Comfort in a bowl, this creamy soup brings together the flavors of kielbasa, kale, and potatoes to create a soup the family will love.
The Goods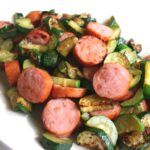 20 Kielbasa Recipes
We appreciate you taking the time to rate!
Wondering what to do with the kielbasa you have on hand? Look no further than this collection of delicious kielbasa recipes.
Recipes
Hasselback Kielbasa

Bacon Wrapped Kielbasa Bites with Brown Sugar Glaze

Confetti Kielbasa Skillet

Roasted Brussel Sprouts and Kielbasa

Creamy Bean Soup with Sausage

Kielbasa Cheesesteak Sandwiches

Kielbasa and Pineapple Spiced Candy

Light Kielbasa Apple Onion Skillet

Polish Kielbasa and Potato Soup

Kielbasa and Pierogies Sheet Pan Meal

Kielbasa Baked Beans

Roasted Potatoes and Kielbasa

One Pot Kielbasa Pasta

Sheet Pan Honey Garlic Kielbasa Veggie Mixture

Sausage Pepper and Mushroom Hash

Cheesy Kielbasa Rice and Broccoli Skillet

Kielbasa with Mustard Dip

Sweet and Spicy Kielbasa and Rice

Crockpot Bourbon Glazed Kielbasa

Creamy Potato Kielbasa and Kale Soup
Instructions
Choose a recipe to try.

Gather the ingredients needed.

Cook and enjoy!