A collection of the best Empress Gin Cocktails using botanicals, garnishes and other fun ingredients. These cocktail recipes are easy, too!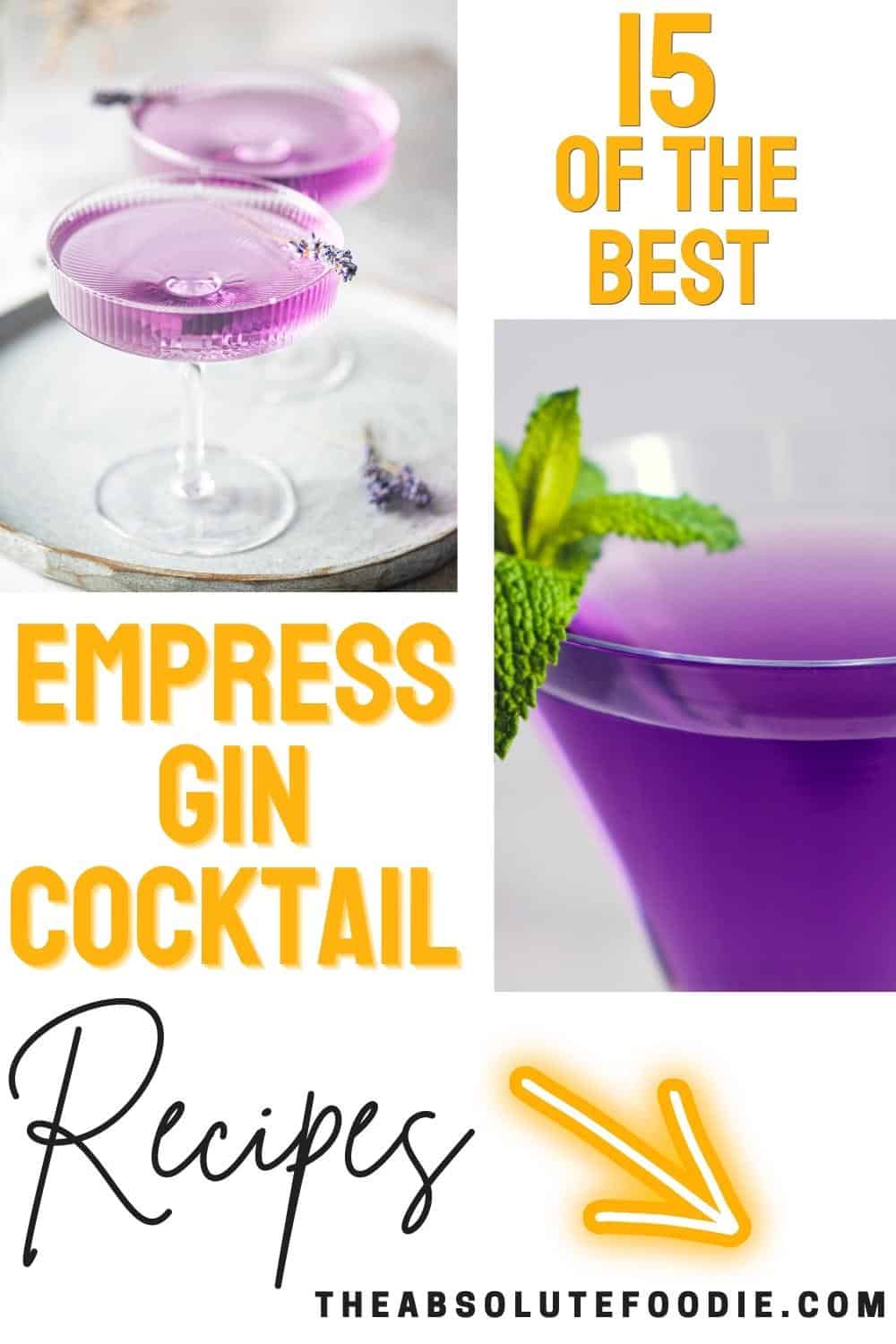 Empress gin cocktails are typically sweet and because the gin itself has those spicy floral flavors to it, it pairs well together with fruit and other refreshing flavors.
Jump to:
Empress gin also creates these beautiful drinks because it's made with the butterfly pea flower which gives it a distinct indigo hue. When you combine it with different colors or ingredients, it gives you a beautifully impressive drink that's full of flavor. It almost looks too pretty to drink!
If you love the flavor of Empress Gin or have had your eye on trying it, these Empress Gin cocktail recipes are for you. Each has its own flavor and distinct look.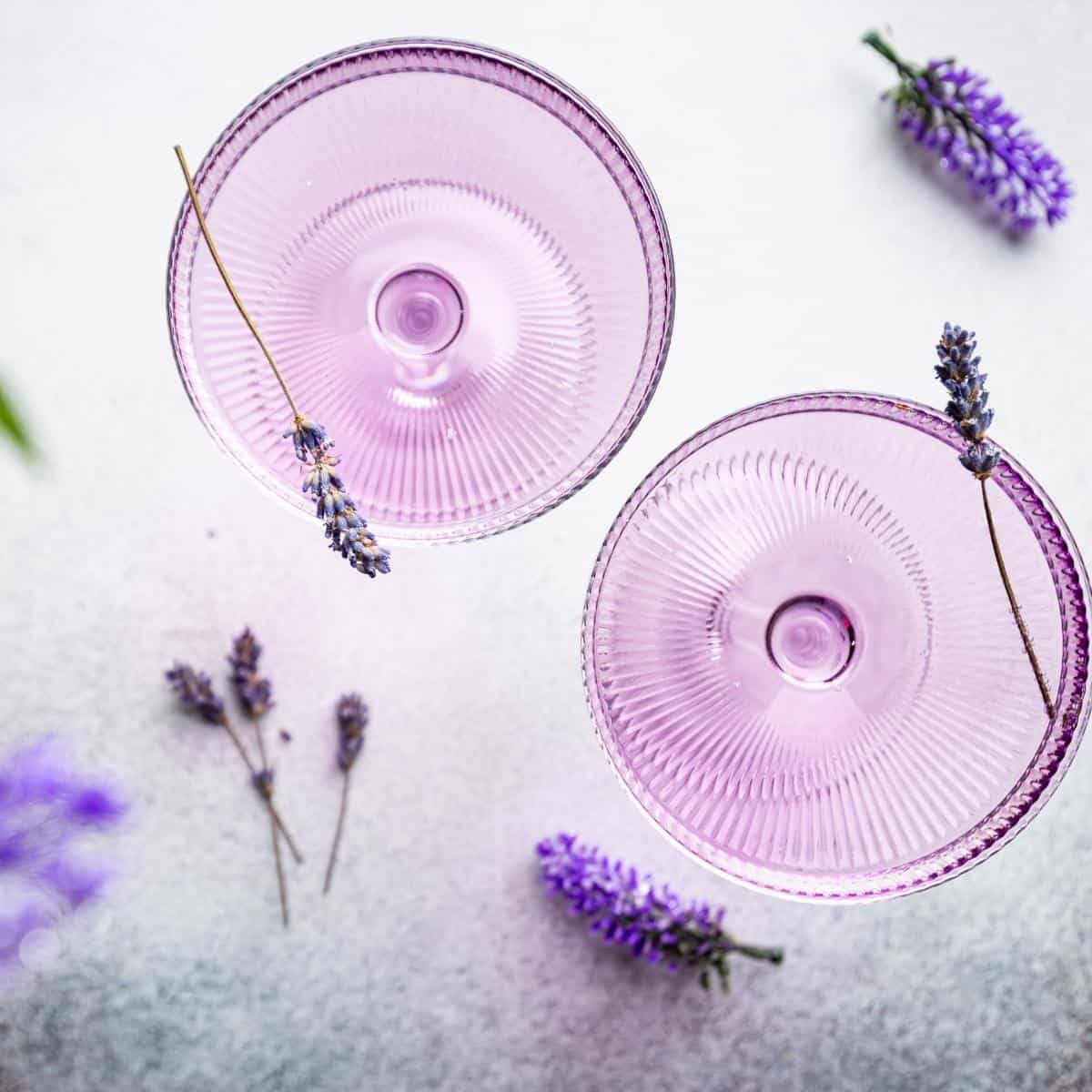 What is Empress Gin good with?
Empress Gin has notes of citrus, juniper, rose petal, ginger root, cinnamon bark, black tea (Fairmont Empress Tea) and coriander seed. Therefore, it pairs best with refreshing ingredients like tropical fruit or light citrus like grapefruit, lime or bergamot.
Empress Gin Garnish Ideas
Grapefruit peel shavings.
A simple mint leaf with a muddle.
A small rosemary sprig.
15 Empress Gin Cocktail Recipes
This delicious smash cocktail combines the sweet flavor of strawberries with basil and lemon juice. When you add the lemon juice and the gin, it creates a fun gradient effect that'll certainly impress with both color and taste.
If you're in the mood for a tropical drink that reminds you of summer, this Royal Hawaiian is like a sip of the tropics.
A pretty gin cocktail that only takes 3 ingredients, this Bee's Knees cocktail will be the perfect summer drink.
Light and refreshing, the Empress lavender lemonade cocktail is sure to be a hit with friends and family.
Also known as the Empress Q1908 cocktail, those who love a good lavender-flavored drink will love this irresistible gin cocktail.
A copycat of the signature cocktail from the Fairmont Empress Hotel in Victoria, this Empress gin sour cocktail uses the signature Empress gin to make a delicious pour.
Featuring the tangy taste of grapefruit soda and a bit of honey, the Spring Fever cocktail is perfect for some summer fun.
Inspired by the fall season, this cocktail uses pear, rosemary, and Empress gin to create a warm holiday favorite everyone will enjoy.
This gin cocktail is delicious and fun for summer. Canned lychees and some simple syrup paired with fresh lime juice make this drink irresistible.
Spice up Valentine's Day with a little bit of this antique rose, a tasty cocktail made with Empress Gin and the flavors of citrus, rose, and a light spice. Serve in champagne flutes for extra pizzazz.
Nothing says summer like enjoying a refreshing blueberry drink and this blueberry gin mojito will be the perfect end to a warm summer day (don't forget the fresh ice!).
A delicious gin cocktail recipe that has a Pacific Northwest twist to it, this gin and tonic is a cocktail that will please your taste buds.
Fresh blackberries, honey, lemon, and Greek yogurt are combined to make this refreshingly smooth cocktail for the summer.
A handcrafted cocktail that's made for the holidays, this festive Empress fizz cocktail will be the hit of the party.
A twist on the classic Empress 75, the Cranberry 75 adds the tart flavor of cranberries to create a delicious pink cocktail.
The Goods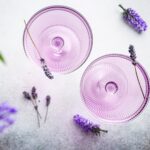 15 Empress Gin Cocktails
We appreciate you taking the time to rate!
A collection of the best Empress Gin Cocktails using botanicals, garnishes and other fun ingredients. These cocktail recipes are easy, too!
Recipes
Empress Gin Strawberry Basil Smash

Royal Hawaiian

Bee's Knees Cocktail

Empress Lavender Lemonade

Irresistible Empress Gin Cocktail

The Fairmont Gin Sour

Spring Fever

Empress Pear Rosemary Cocktail

Gin and Lychee Gimlet Cocktail

Antique Rose

Blueberry Gin Mojito

Pacific Empress

Blackberry Crush Cocktail

Festive Empress Fizz

Cranberry 75