Wondering how to use that feijoa fruit you now have on hand? Look no further than these delicious feijoa recipes!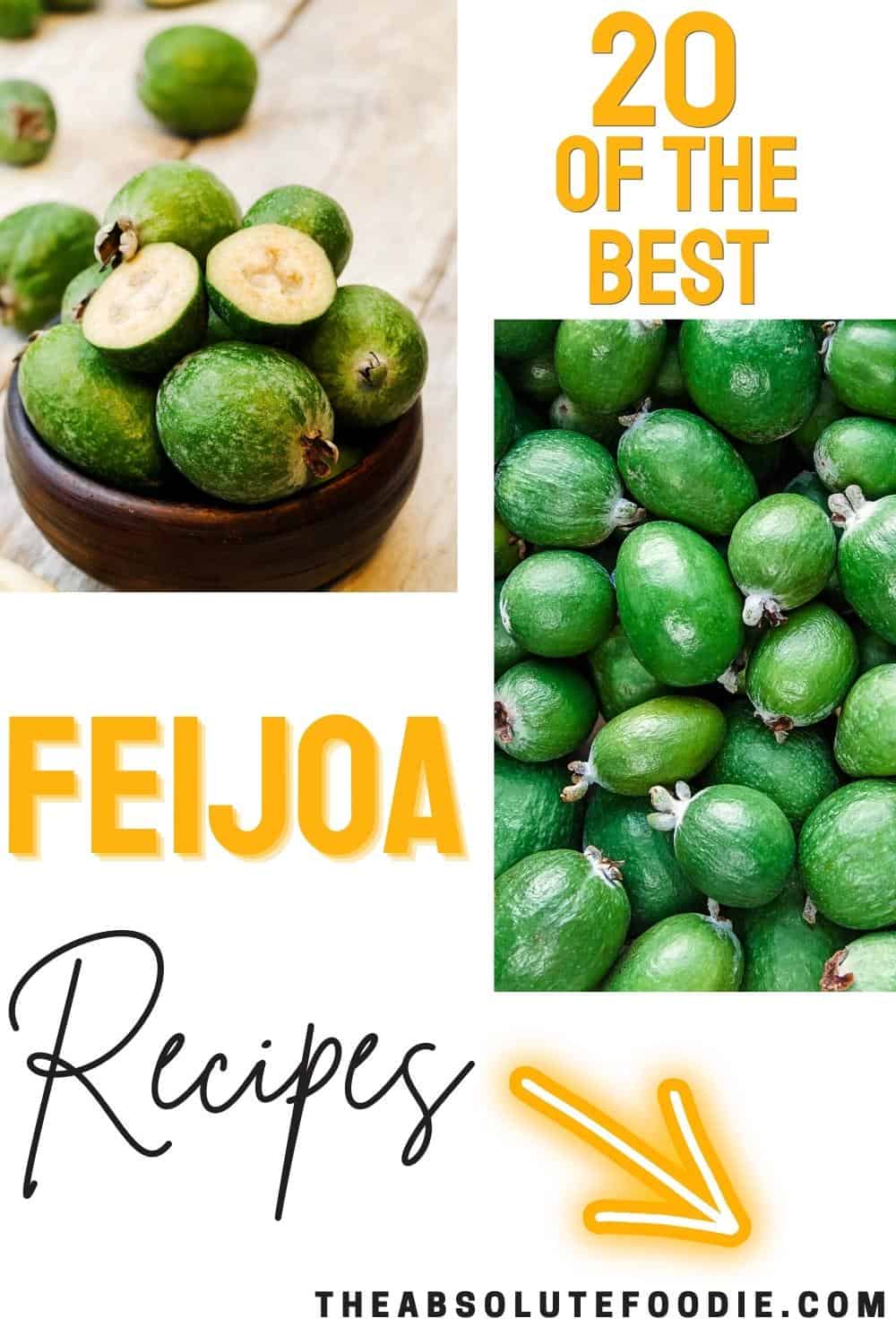 Do you have a surplus of feijoas sitting there needing to be used or have you recently come across the delicious flavor of feijoa fruit (also known as pineapple guava) and want to try out some new recipes with it?
Jump to:
Feijoa fruit looks like guava, is the size of an egg, is green, and has a grainy mixture. But don't let looks deceive you! This tasty fruit has a sweet and juicy flavor that tastes like a mixture of apple, mint, and pineapple making it perfect for desserts and sweet recipes.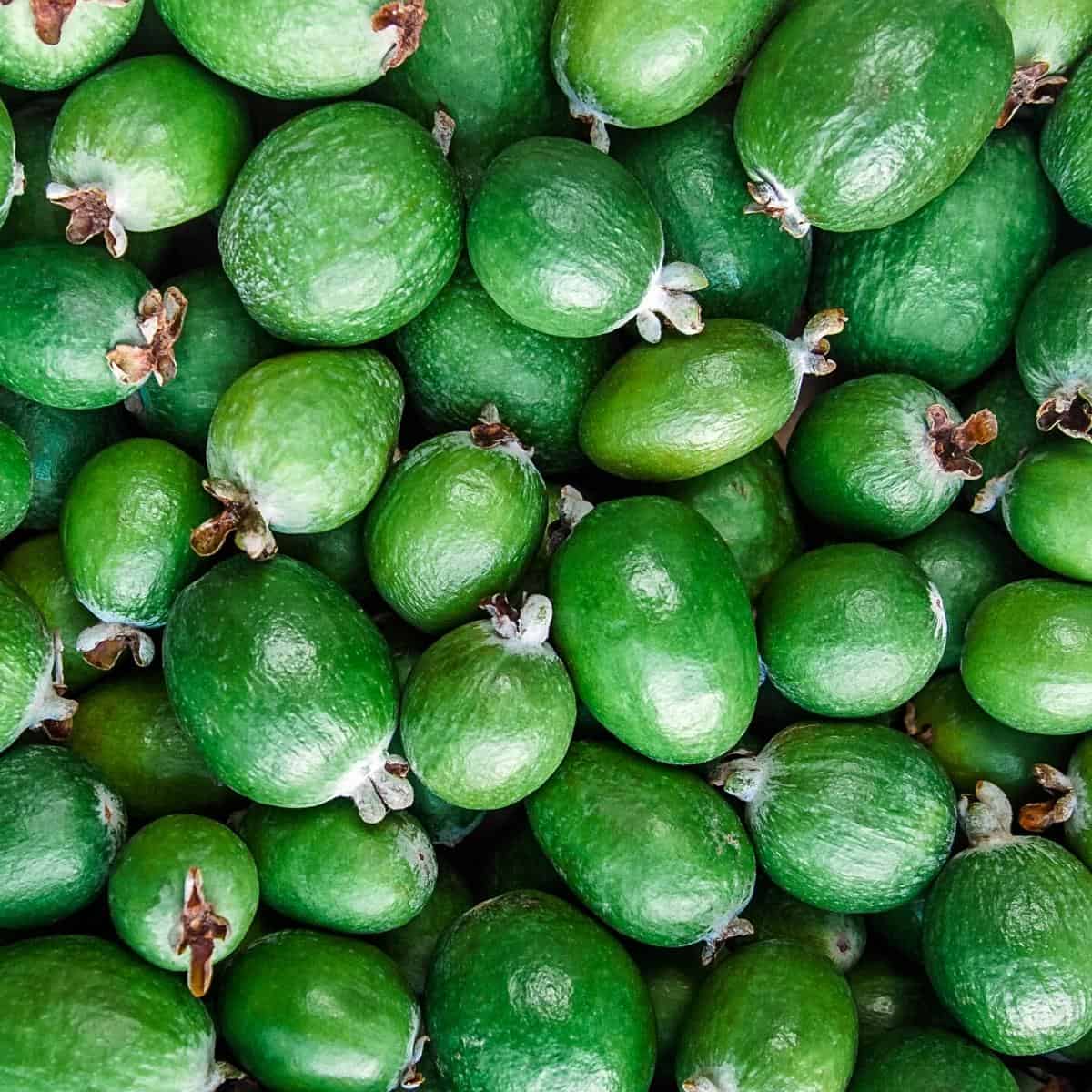 Whether you love feijoas or have recently discovered them, these feijoa recipes are sure to delight you.
20 Feijoa Recipes
Crispy steaky bacon and oven-roasted feijoa come together to create a light but filling lunch that's sure to satisfy your tastebuds.
Featuring a sweet and sticky feijoa filling between two layers of shortcake, this spiced dessert is perfect for the fall season.
A delicious way to use up lots of leftover feijoas, this feijoa chutney is easy to make, sweet, and delicious – packed with fresh feijoa taste!
A quick and easy ice cream recipe that stars the feijoa flavor, this creamy treat will go well with desserts or on its own.
Pickle your feijoas with a savory brine so that you can easily pair them with roasted pork or ham for a delicious dinner idea.
A sensational cake that is sure to delight your taste buds, this coconut feijoa cake is sweet and delicious.
A breakfast treat that won't last long, these feijoa cream cheese muffins are delicious. They're also filling and an easy to make bake!
Feijoa skins (feijoa flesh) are used to make this delicious and fizzy alcoholic drink that's perfect for summer or fall.
An easy fruit salsa that you can throw together in no time, serve these with your favorite sweet chips and you have a tasty snack.
Combine the flavors of chocolate and feijoa together and you have a delicious chocolatey dessert that everyone will enjoy.
Make this feijoa jam with your surplus of feijoas and you will have a delicious topping for your toast and other jam worthy foods.
No mixer needed for this tasty pastry dish! Made with grinded hazelnuts and feijoas, these little treats will be a hit.
A feijoa loaf is perfect for breakfast or when you want a filling snack. Simply make them ahead of time and you'll have a quick and easy snack even the kids will enjoy.
Feijoa zest is used to make these meringues. Crunchy on the outside and moist on the inside, these meringues are a delicious treat to enjoy.
Filled with a cinnamon spiced feijoa and apple filling then baked until golden brown, these dessert pies are both sweet and easy to make.
A sugar free breakfast treat or snack idea, this banana and feijoa loaf is delicious and healthy. Kids will love it!
Cheesecake lovers can embrace the feijoa flavors and still enjoy their favorite dessert with this cheesecake recipe.
A dessert that will certainly impress, this feijoa lumberjack cake is an easy to make treat the whole family will love.
Another must try feijoa dessert, this one combines the flavors of chocolate, walnut, and feijoa to make a fun and delicious treat.
The perfect balanced breakfast that is loaded with fruits and a crunchy topping, these feijoa muffins are easy and delicious.
The Goods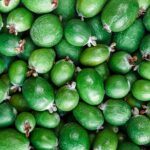 20 Feijoa Recipes
We appreciate you taking the time to rate!
Wondering how to use that feijoa fruit you now have on hand? Look no further than these delicious feijoa recipes!
Recipes
Roasted Feijoa Salad with Bacon

Spiced Feijoa Shortcake

Feijoa Chutney

Feijoa Ice Cream

Sweet Hot Pickled Feijoas

Coconut Feijoa Cake

Feijoa Cream Cheese Muffins

Feijoa Fizz

Feijoa Salsa

Chocolate Feijoa Cake

Feijoa Jam

Feijoa Friands

Feijoa Loaf

Feijoa Zest Meringues

Mini Feijoa Pies with Puff Pastry

Feijoa and Banana Loaf

Feijoa Cheesecake

Lumberjack Cake

Chocolate Walnut and Feijoa Cake

Feijoa Crunch Muffins
Instructions
Choose a recipe to try.

Gather the ingredients needed.

Cook and enjoy!