These easy high protein meal prep recipes have a ton of nutrients and can help give you some energy throughout the day.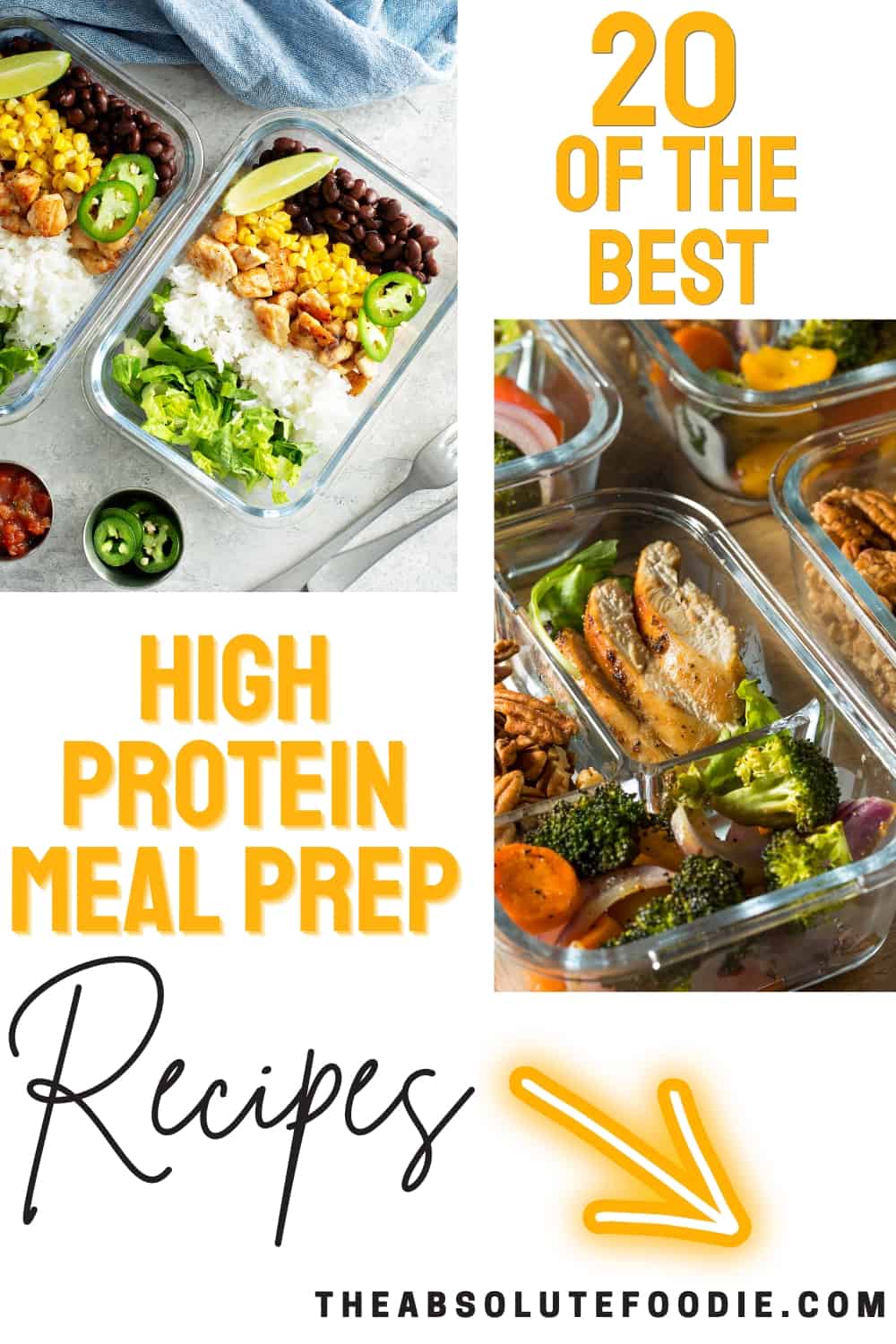 They are also healthy and can help you stay full while on a diet. Yay! Because these are healthy and packed with protein, they can help you lose weight, build muscle, and add some more protein to your diet if you are looking to do so. Many of these are also considered low-carb.
Jump to: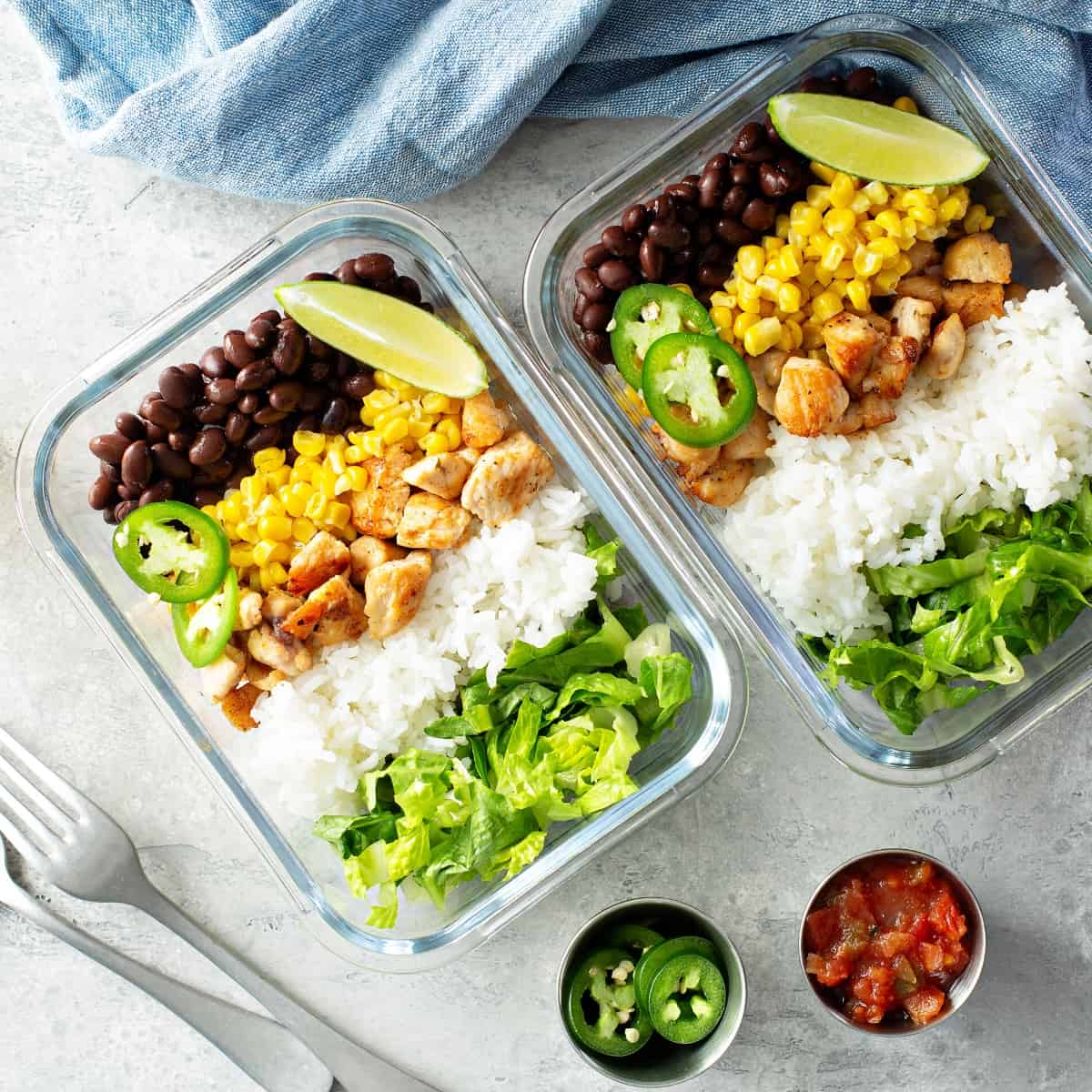 Since we can't be slaving over the stove each and every day, meal prep recipes can come in handy. You can simply make them ahead of time and enjoy them throughout the week whether it be for lunch, dinner, or a pick-me-up snack.
20 High-Protein Recipes
An easy high-protein meal prep that is both sweet and savory, you can serve this with fresh greens for added flavor. 32 grams of protein per serving!
Full of flavor, quick, and easy, this spicy salmon black bean salad is a healthy weekday lunch or dinner idea you can prep beforehand.
The perfect lunch bowl to give you some pick-me-up, these honey sesame chicken bowls are delicious and high in protein.
Easy to make and delicious, this chicken pasta bake will be the perfect quick lunch or dinner meal prep to enjoy throughout the week.
It only takes 20 minutes to whip up with quick and flavorful weekday lunch or dinner idea! It's a high-protein dish that you're sure to love!
Chicken breasts, beans, and other healthy veggies come together to create these delicious chicken burrito bowls.
Spicy turkey and veggies are paired with a side of rice to make these delicious high-protein meal prep bowls.
Pair these teriyaki-flavored chicken meatballs with some broccoli and cauliflower rice for a filling protein-packed lunch or dinner.
Enjoy the chicken fajita flavors without all of the hard work! These healthy chicken fajitas bowls can be prepped ahead of time and enjoyed throughout the week.
Filled with jerk spiced chicken, black beans, pineapple salsa, and yellow rice. Make once and have four delicious meals you can enjoy throughout the week.
A healthy meal prep recipe that's high in protein and easy to make, these Cuban-style tuna meal bowls are gluten-free, paleo, and delicious.
These Greek chicken meal prep bowls include baked chicken breast, zucchini, bell pepper, and a homemade authentic tzatziki sauce for a delicious dish.
These are packed with blackened shrimp, cilantro lime brown rice, and creamy, mouth-watering avocado salsa.
Salmon, cauliflower, and mushrooms come together to create this easy high-protein dinner or prep for the week ahead.
The best thing about this smokey chicken and sweet potato meal prep dish is that you can easily change out the options to make it a combo you will love.
A simple cashew chicken stir fry packed with veggies, sprinkled with cashews, and tossed in a sticky maple ginger stir fry sauce
A quick and easy meal prep recipe that takes less than 30 minutes, these Asian chicken lettuce wraps are delicious and full of protein.
A quick, light, healthy and tasty peanut chicken quinoa bowl that you can make ahead and enjoy throughout the week.
A salad inspired by the ingredients of Vietnamese summer rolls with shrimp and rice noodles along with plenty of vegetables and herbs in a peanut or nuoc cham dressing.
A no-cook burrito bowl recipe that you can have ready in no time and enjoy throughout the week.
The Goods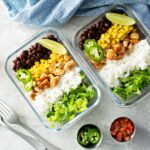 20 High Protein Meal Prep Recipes
We appreciate you taking the time to rate!
These easy high protein meal prep recipes have a ton of nutrients and can help give you some energy throughout the day.
Recipes
Chicken Thighs with Roasted Grapes and Blue Cheese

Spicy Salmon Black Bean Salad

Honey Sesame Chicken Bowls

High Protein Chicken Pasta Bake

High Protein Spicy Chickpea Bowl

Chicken Burrito Bowls

Spicy Turkey Bowls

Teriyaki Chicken Meatballs

Healthy Chicken Fajitas

Jerk Chicken Meal Prep Bowls

Cuban Style Tuna Meal Prep Bowls

Greek Chicken Meal Prep Bowls

Blackened Shrimp Meal Prep

Keto Salmon Sheet Pan Meal Prep with Cauliflower and Mushrooms

Smoky Chicken and Cinnamon Roasted Sweet Potato Meal Prep

Maple Ginger Cashew Chicken Stir Fry

Asian Chicken Lettuce Wraps

Thai Peanut Chicken Buddha Bowls

Vietnamese Summer Roll Salad

No-Cook Meal Prep Burrito Bowls
Instructions
Choose a recipe to try.

Gather the ingredients needed.

Cook and enjoy!