20 amazingly delicious wrap recipes whether you need a fun lunch or an easy grab-and-go meal. Enjoy!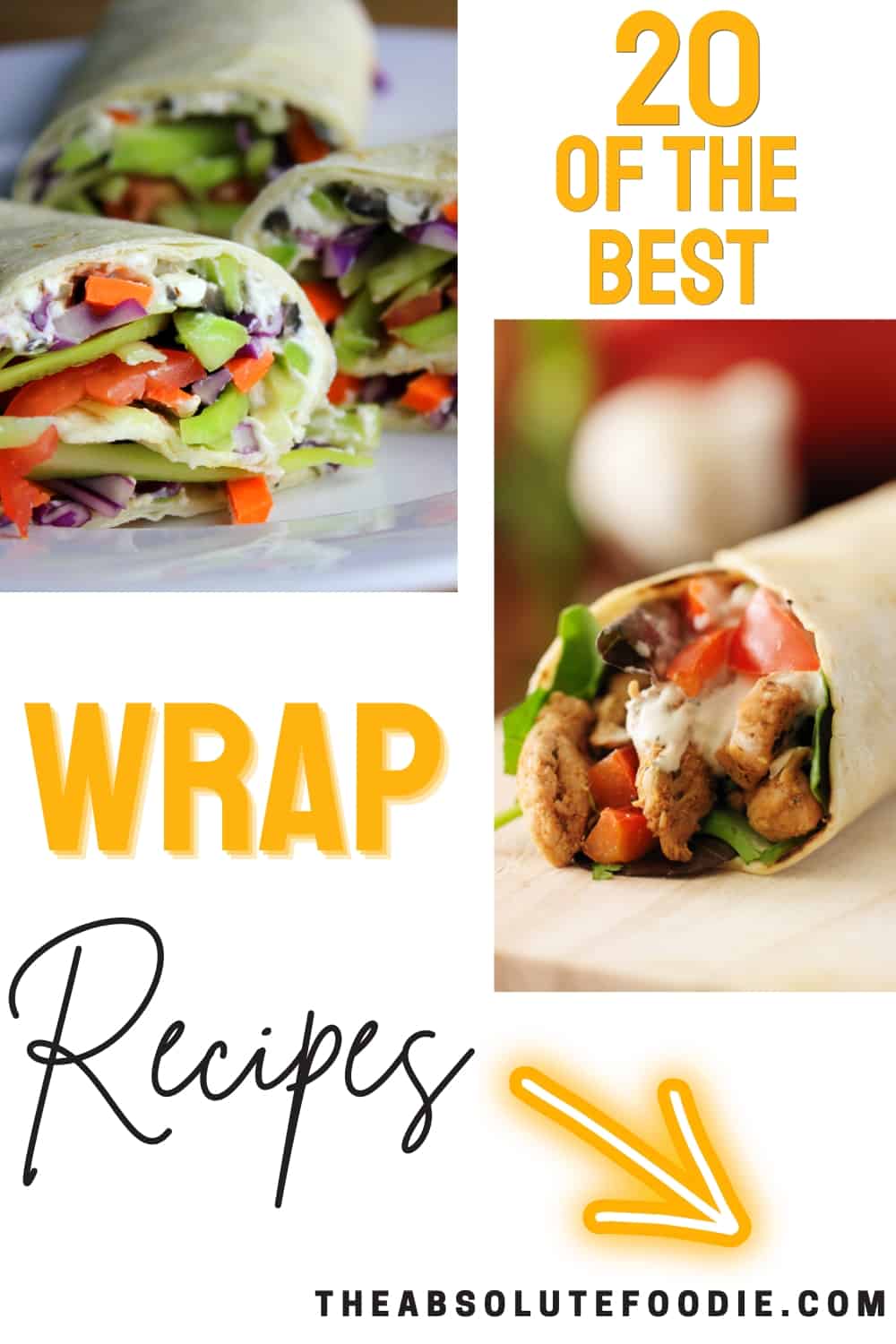 Wraps are an easy-to-make snack or lunch idea when you want something flavorful and filling. Anything you can think of can be added to a wrap giving you a filling and delicious lunch, on-the-go snack, or dinner idea you will enjoy.
Jump to:
You can even make them ahead of time and take them with you wherever you go. Kids can also enjoy them in their lunch boxes when you need something easy for them to enjoy.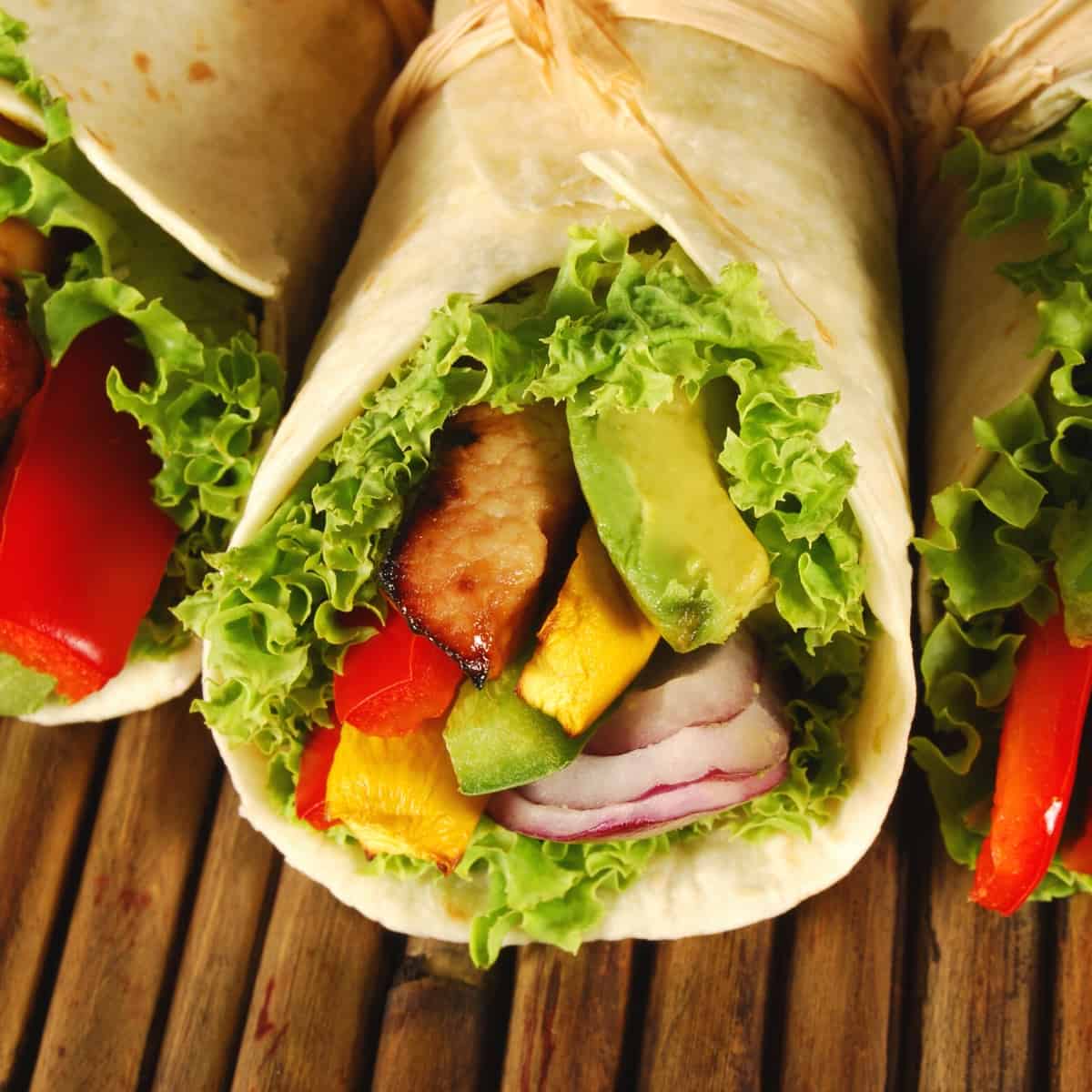 If you are looking for some flavorful and easy-to-make wrap recipes, these are sure to hit the spot. Each has its own flavor and will make the perfect lunch or snack.
20 Wrap Recipes
An easy vegan wrap recipe recipe that brings together the flavors of spinach, peppers, and vegan cashew cheese for a little extra protein to create a delicious and healthy grab-and-go lunch.
Made with boneless skinless chicken breasts, ranch, slaw mix, and Mexican cheese, this wrap is easy to make and delicious.
A super simple lunch wrap, these chicken bacon ranch wraps are creamy, filled with crisp bacon, and delicious.
One of the healthy wrap recipes in this collection is this spinach and beet hummus wrap that's a perfect healthy lunch idea.
Insanely delicious healthy wraps filled with basil pesto quinoa, soy-glazed mushrooms, crunchy fried onions, and avocado for an out-of-this-world taste!
These easy and delicious wrap sandwiches can be prepped ahead of time and make the perfect weekday lunch or dinner idea.
Stuffed with ground beef, bacon, lettuce, and lots of cheese, cheeseburger wraps are sure to be a hit with the family.
Grilled chicken is wrapped up with Caesar salad tossed greens, bacon, avocado, and basil pesto to make these irresistible wraps.
Packed with crispy chicken, fresh vegetables, black beans, and a delicious southwest dressing, this wrap is ready to serve in just 25 minutes.
Bring the flavors of a California taco to you when you make this easy and delicious wrap for lunch or dinner.
Spicy Sriracha tuna flour tortilla wraps make a great alternative to spicy tuna rolls and are light and refreshing. They're perfect for lunch and come together in just 5 minutes.
A quick & easy chicken wrap featuring simple ingredients like shredded cooked chicken, hummus, chopped veggies, an addicting homemade chimichurri sauce, and crumbled goat cheese.
These easy, peanut chicken wraps with carrot are a simple and healthy lunch recipe, but they're delicious any time of day.
Chicken and mango are made to create a delicious and easy-to-make rainbow veggie wrap with a bit of crunch from bell peppers that you won't be able to resist.
Spicy buffalo chicken wraps with ranch dressing, these flavor-bursting wraps are easy to make and delicious.
Enjoy that tasty chicken Caesar salad wrap! Enjoy them when you want a quick lunch or on-the-go snack.
Enjoy fresh for lunch or make them ahead of time when you want a filling and flavorful on-the-go treat to enjoy throughout the day.
Stuffed with roasted red peppers, tomatoes, provolone cheese, arugula, and kalamata olives, these easy wraps are delicious.
Quick and flavorful, these nutritious Mediterranean wraps with feta cheese are not only easy to make but they are also filling.
A 5-minute meal prep recipe with extra veggies and avocado. These quick, easy, turkey wraps are perfect for those on the go!
The Goods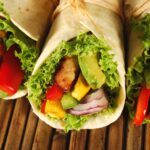 20 Wrap Recipes
We appreciate you taking the time to rate!
20 amazingly delicious wrap recipes whether you need a fun lunch or an easy grab-and-go meal. Enjoy!
Recipes
Spinach Wraps with Cashew Cheese

Mexican Grilled Chicken Wrap

Chicken Bacon Ranch Wraps

Spinach Wrap with Beet Hummus

Pesto Quinoa Wraps

Creamy Tzatziki Grilled Chicken Wraps

Burrito Style Cheeseburger Wraps

Pesto Chicken and Avocado Bacon Salad Wraps

Southwest Chicken Wrap

Easy California Taco Wrap

Spicy Sriracha Tuna Wraps

Chicken Wraps with Hummus

Goat Cheese & Chimichurri Sauce

Peanut Chicken Wraps

Chicken and Mango Rainbow Veggie Wraps

5

Minute Buffalo Chicken Wraps

Chicken Caesar Wraps

Crispy Fajita Chicken Wraps

Italian Chicken Wrap

Mediterranean Wraps

Turkey BLT Wraps
Instructions
Choose a recipe to try.

Gather the ingredients needed.

Cook and enjoy!