This collection of easy and delicious Spanish tapas recipes makes it easy to enjoy Spanish-style food for entertaining purposes or a dinner that's a little different than the standard fare.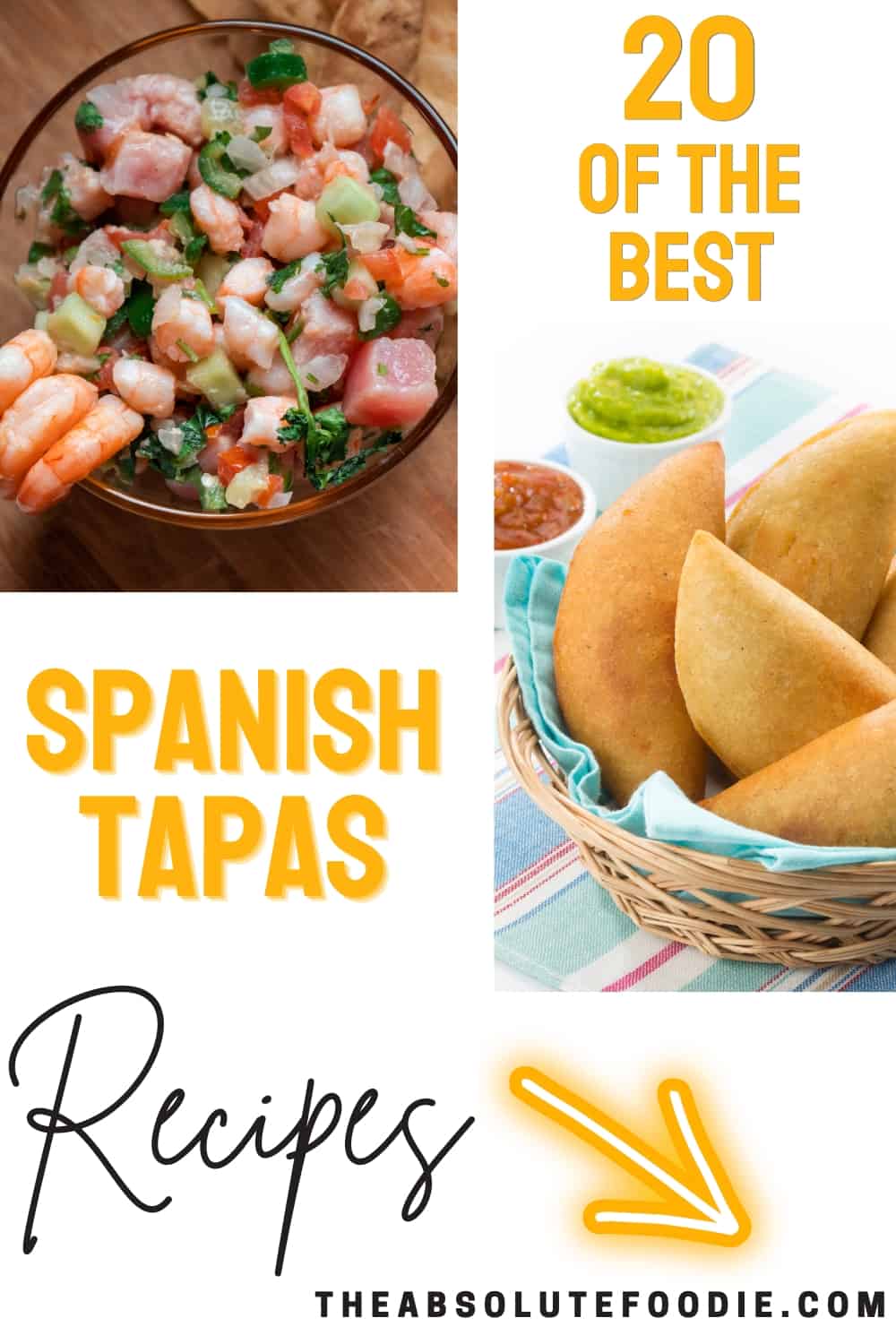 If you are new to Spanish cooking or making signature Spanish dishes, you are probably asking yourself what tapas are.
Spanish tapas are Spain's signature snacks and appetizer dishes. You'll often find them served on small plates making them perfect for parties and gatherings. However, you can mix these little bites with other dishes to make a full meal.
Jump to: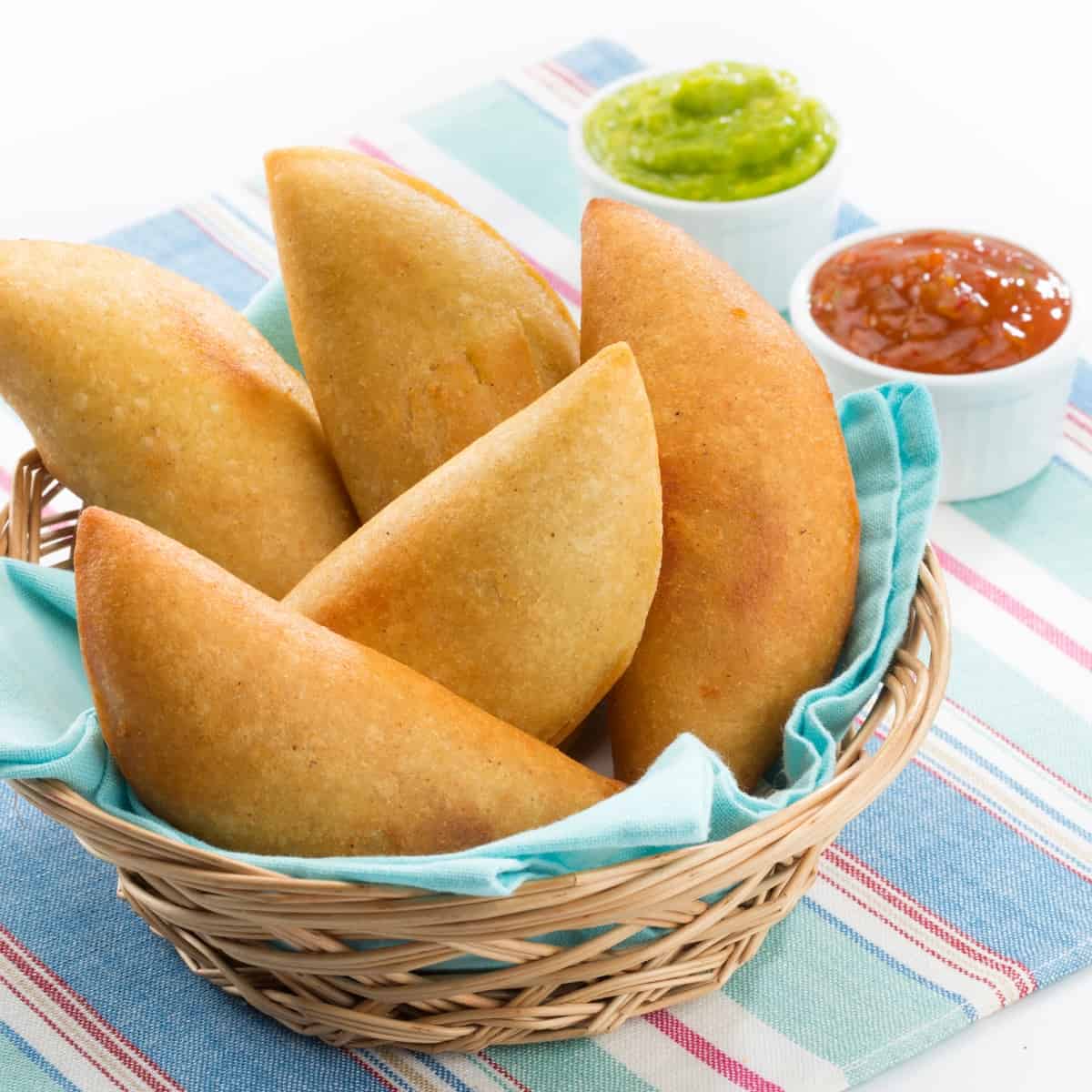 While they vary through the region, tapas can range from a simple bowl of goodies like olives or cheese to dishes like cooked beef or shrimp. With most, you will find a lot of high-quality items in tapas. Ingredients like local cheeses and fresh seafood are some of the most popular.
20 Tapas Recipes
Also known as Spanish garlic shrimp, this dish is bursting with plump shrimp that's been sizzled in an insanely delicious sauce for extra flavor.
Refreshing and flavorful, you can serve this shrimp dish as a chip dip or over tostada shells or rice for a main dish everyone will love. This is the standard fare you're likely to find on any tapas menu.
An impressive Spanish dish that's made in just one pot, this delicious dish features a variety of different meats.
Loaded with bacon and stuffed with two different kinds of cheese, these potato croquettes are crispy on the outside and gooey on the inside.
These empanadas are made with tuna and are often called empanadillas de bonito! They will be the hit of the party or dinner.
Easy to make and delicious, one of the most authentic Spanish tapas recipes is all about spicy potatoes and restaurant-quality flavors. Like a warm potato salad but ten times better!
Served as party food, these quick and easy-to-make Spanish garlic mushrooms are a delicious dish that guests will love. This is a great dish to serve over top of a traditional Spanish tortilla!
Impress friends and guests with these crab-stuffed mushrooms! Large mushrooms are hollowed out and filled with a rich and creamy crabmeat mixture.
Pair this delicious butter bean dip with a bag of pita chips or bread and you have a delicious Spanish-style appetizer guests will love.
An easy-baked appetizer that's full of feta cheese, olives, and fresh herbs. Serve this appetizer with toasted bread and you have the perfect dish.
Take your dinner to the next level with these olive tapas. Guests will love the flavors and you will love how easy these skewers are to make!
Easy to make and flavorful, these authentic Padron peppers are a classic Spanish tapa that everyone will enjoy. Serve with a touch of goat cheese for a cooling component.
Think of this like a Spanish charcuterie or cheese board that you can enjoy with friends and family as a snack or party appetizer.
A copycat of those delicious meatballs that you will find in Spain, these restaurant-quality Spanish meatballs use everyday ingredients so you can make them at home.
Spanish clams are simmered with cannellini beans, chorizo sausage, and other spices to give you a flavorful Spanish tapas dish that's perfect for the weekday.
Made with fresh juicy tomatoes, toasted bread, olive oil, garlic, and salt, this pan con tomate is inspired by the Cataluña region of Spain and beats a standard tomato sauce anyday!
Chorizo al vino Tinto is a simple Spanish tapas dish that includes slices of chorizo cooked in red wine giving them a wonderful extra boost of flavor.
A no-fuss tapas appetizer that's full of flavor and is sure to impress, this Catalan Tomato Bread with Spanish Anchovies is the way to go.
Delicious, easy to make, and perfect for the appetizer section, these olive skewers are full of flavor.
An easy Spanish tapas-style appetizer recipe with potatoes, Manchego cheese, and chorizo. Perfect for entertaining or as a snack.
The Goods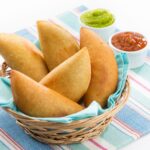 20 Tapas Recipes
We appreciate you taking the time to rate!
This collection of easy and delicious Spanish tapas recipes makes it easy to enjoy Spanish-style food for entertaining purposes or a dinner that's a little different than the standard fare.
Recipes
Shrimp Ceviche

Seafood Paella

Potato Croquettes

Spanish Empanadas

Patatas Bravas

Spanish Garlic Mushrooms

Crab Stuffed Mushrooms

Spanish Style Tomato and Butter Bean Dip

Baked Feta Cheese with Olives and Lemon

Spanish Olive Appetizer

Padron Peppers Spanish Tapa

Spanish Tapas Board

Spanish Meatballs

Spanish Claims with Chorizo

Pan con Tomate

Chorizo al vino Tinto

Catalan Tomato Bread with Spanish Anchovies

Chorizo Manchego and Olive Skewers

Tortilla Española
Instructions
Choose a recipe to try.

Gather the ingredients needed.

Cook and enjoy!