Looking for a collection of the best Blackstone recipes? If so, we have you covered! These dishes include mains and sides that you can easily make on your Blackstone griddle.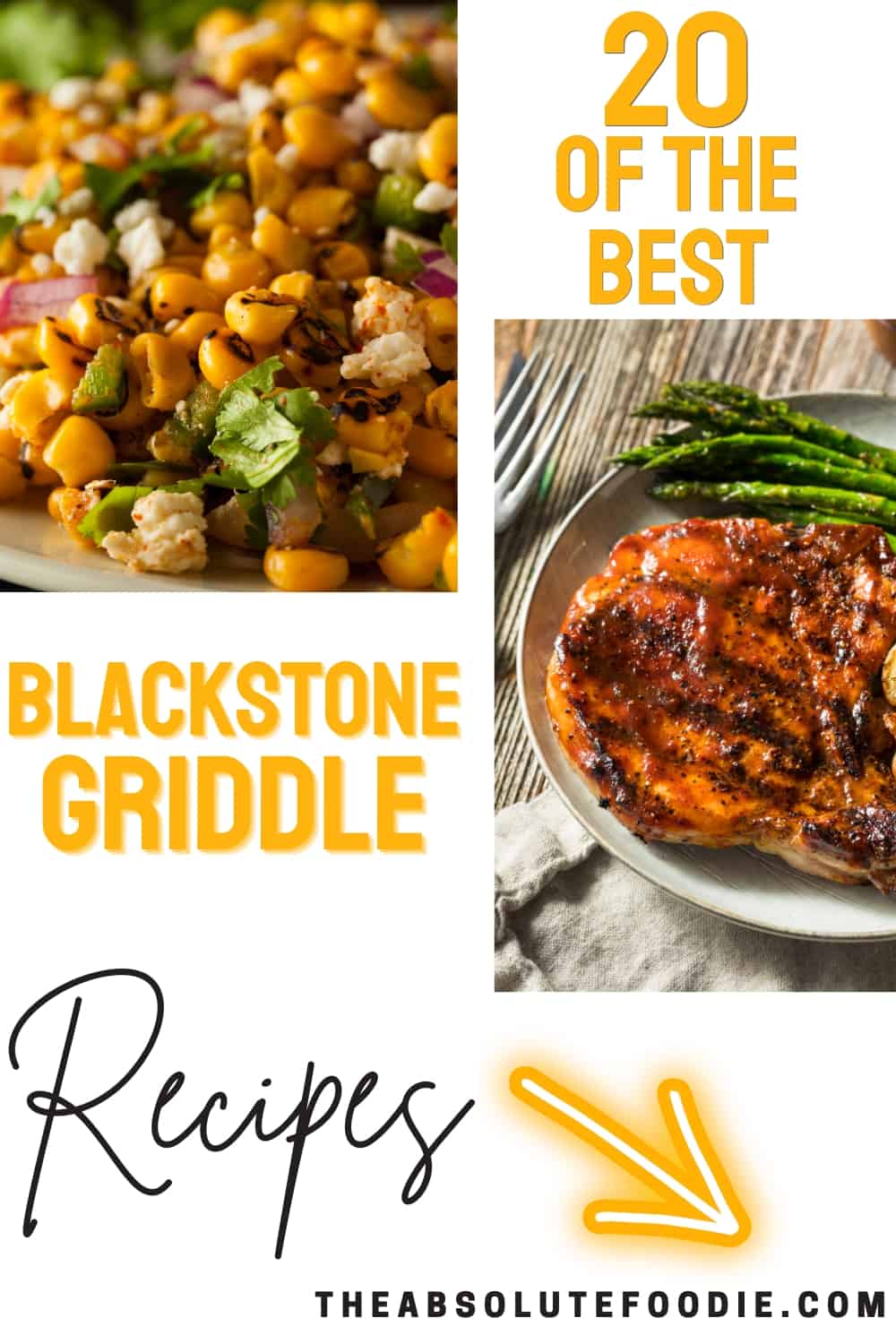 These recipes are perfect for new Blackstone users who want to get started or for those who are more experienced and just want to try something different.
Jump to: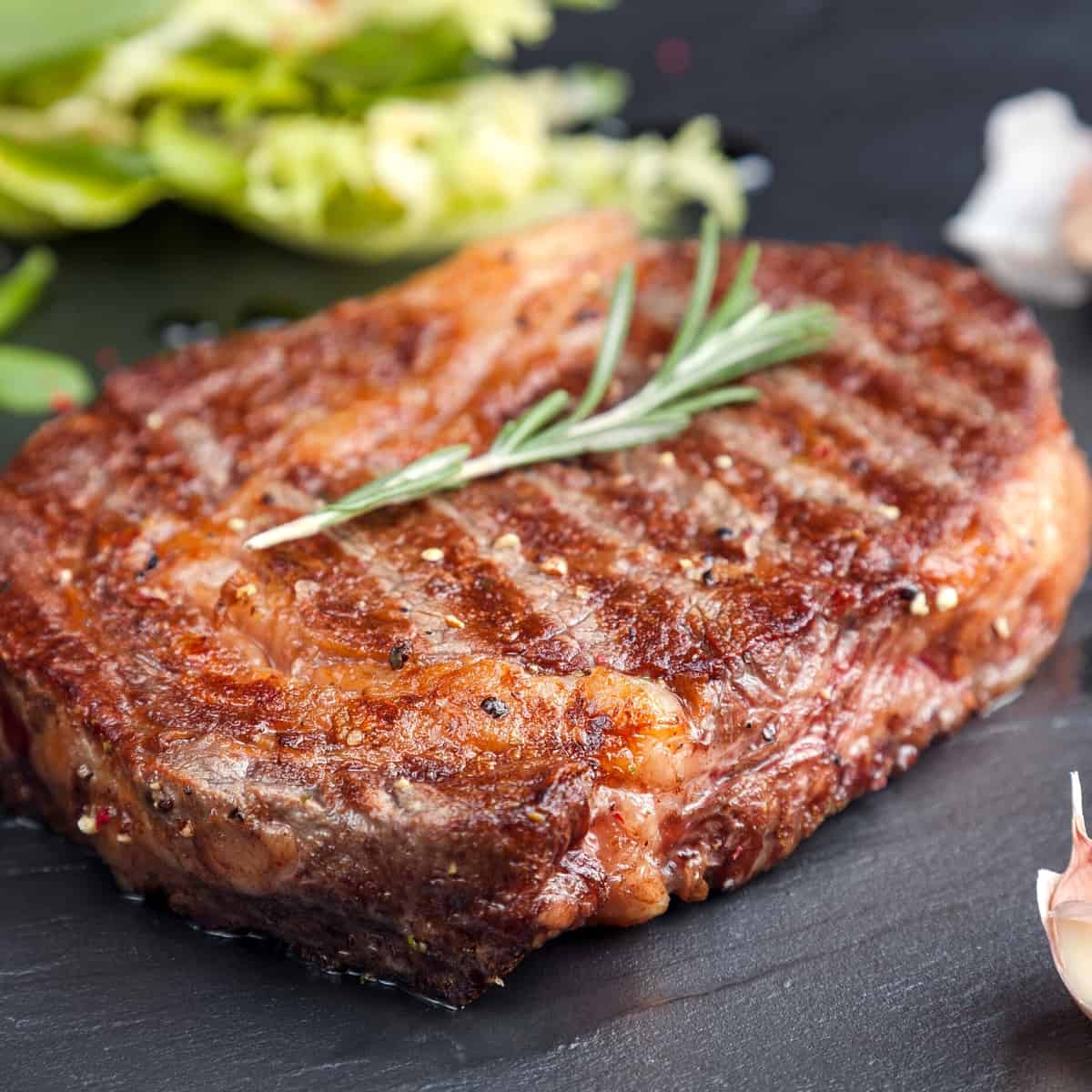 Since you can cook just about anything on a Blackstone griddle (aka flat top grill), we have included everything from steak dinners and other main dishes to sides and party appetizers in this collection. Each one of these recipes is full of flavor, easy to make, and will be a hit with the family.
20 Best Blackstone Griddle Recipes
Tender bite-sized pieces of steak marinated in an Asian-inspired sauce and cooked on a Blackstone griddle in no time at all! Just add some vegetables and you have a well-rounded meal the whole family can enjoy.
Topped with crumbled bits of bacon, cheese, and a drizzle of sour cream (optional), these loaded potato chips are perfect as a side or appetizer.
Simple yet delicious, this Mexican street corn off the cob is made on your Blackstone griddle to give you an easy weeknight side dish.
Seared to perfection, these ribeye steaks will be a hit and you may enjoy them so much that you won't cook them any other way.
Butter, garlic, prosciutto, and seared scallops are topped on Brussels sprouts and then garnished with lemon zest and Romano cheese.
Ground beef, black beans, chunks of sweet potatoes, and cheese are combined to create a filling and delicious dinner. Talk about an easy recipe!
Gluten-free and delicious, these classic pork chops are made on the Blackstone griddle for a tasty dinner main you can serve with your favorite veggies.
With only 9 ingredients, these sausage-stuffed hashbrowns will be an easy and delicious breakfast idea the family will love. Move over pancakes!
Crispy cheese is topped with jalapenos and bits of bacon for a delicious appetizer, snack, or side dish.
This 30-minute dinner idea is perfect for busy weeknights when you want a filling meal. You can customize the fillings to fit your style and use premade pizza dough.
If you love the flavor of a delicious egg roll, you are going to love this egg roll in a bowl recipe!
Only 2 ingredients are needed to make this easy Blackstone dessert or snack. Cinnamon and fresh pineapple will be a new favorite treat!
Top these ribeye steaks with grilled onions and mushrooms and serve with griddled fried corn for a filling dinner.
A delicious side dish that you can make on the Blackstone griddle with the rest of dinner, these fried potatoes are easy to make.
Just a few minutes and as few as five ingredients are needed to make these wet burritos on your flat top griddle. Seasoned ground beef is wrapped into a tortilla shell and topped with enchilada sauce for this tasty recipe.
A unique, authentic taco made with the tortilla dipped in the birria broth, filled with birria meat, cheese, and cilantro. This has got to be one of the best recipe ideas for the Blackstone!
A treat worth trying, these frosted flake Monte Cristo sandwiches are full of flavor and easy to make.
The perfect party appetizer or individual dinner ideas that even the kids won't be able to get enough of!
Thinly sliced onions are mixed into the ground beef before cooking to give you that caramelized flavor that pairs so well with the ground beef.
Make your fries on the Blackstone griddle to get a crunchy side dish that you can serve with dinner.
The Goods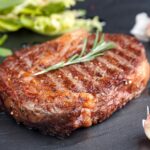 20 Blackstone Recipes
We appreciate you taking the time to rate!
Looking for a collection of easy-to-make Blackstone recipes? If so, we have you covered! These dishes include mains and sides that you can easily make on your Blackstone griddle.
Recipes
Blackstone Steak Bites

Loaded Potato Chips

Mexican Street Corn

Blackstone Ribeye Steaks

Jumbo Scallops with Shredded Sprouts and Prosciutto

Southwestern Sweet Potato Dinner

Pork Chops

Sausage Stuffed Hashbrowns

Jalapeno Cheese Crisps

Stromboli and Cheese

Blackstone Egg Roll in a Bowl

Fresh Griddled Pineapple

Ribeye and Bacon Fried Corn

Fried Potatoes

Blackstone Wet Burrito

Blackstone Griddle Birria Tacos

Frosted Flake Monte Cristo Sandwiches

Blackstone Cheeseburger Sliders

Oklahoma Fried Onion Burgers

French Fries on Blackstone
Instructions
Choose a recipe to try.

Gather the ingredients needed.

Cook and enjoy!