A collection of the best high-calorie breakfast ideas and recipes for when you're in need of gaining weight. These easy recipes do not skimp on flavor!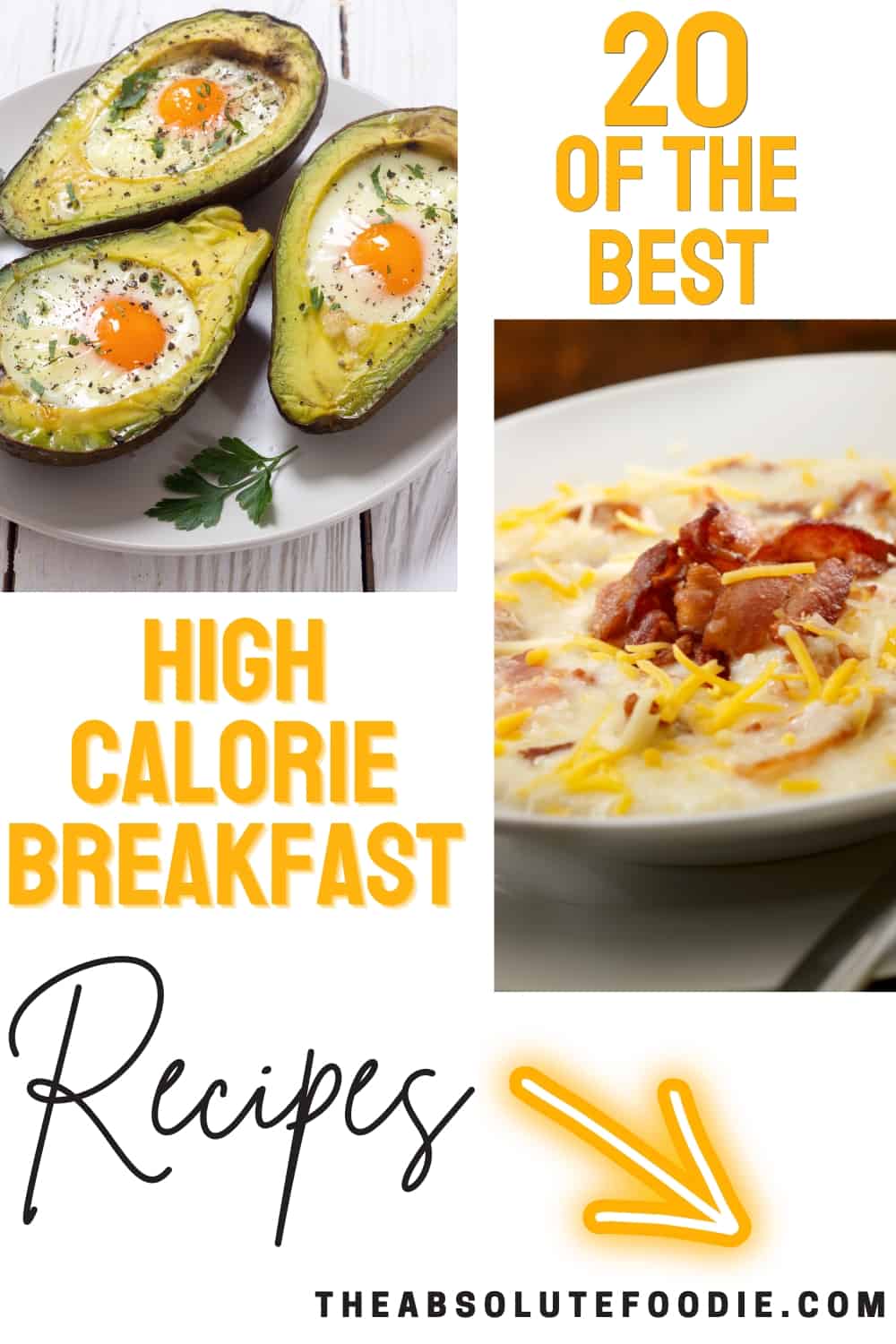 These high-calorie breakfast ideas will be perfect if you are trying to gain weight in a healthy way. They are rich in flavor, you can meal prep them ahead of time, and they are easy to make. They are also delicious so for those who need to go with a high-calorie breakfast, these are a must-try.
Jump to: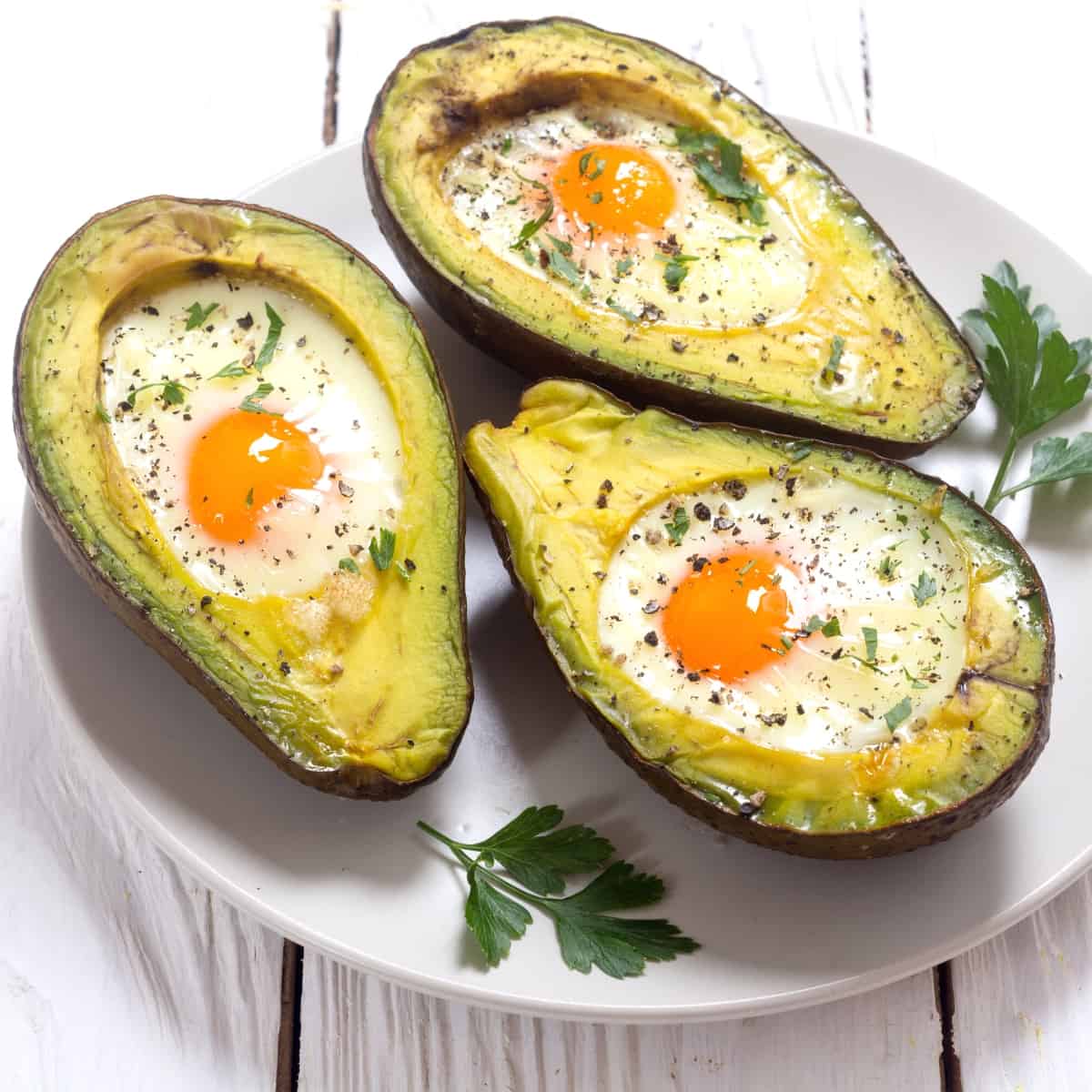 If you are looking to gain weight, the breakfast foods you will be wanting to eat are those that are high in healthy fats and protein. Food like eggs, avocados or avocado oil, peanut butter, wheat cereal, mangos, etc. These foods are all recommended for a high-calorie breakfast and if you are looking for some recipes with them, we've added some below. Bonus: many of these recipes are naturally high-protein, too.
While you are here, you might also like to check out these smoothie recipes for weight gain!
20 High-Calorie Breakfast Recipes
High in calories, this sausage and cheese omelet has over 400 calories and only takes around 15 minutes to make.
A great high-protein breakfast option when you are trying to gain weight, these banana cream overnight oats are delicious and packed with fiber.
Simple ingredients like potatoes, spinach, and cheese are used to make these delicious breakfast quesadillas, which are naturally rich in carbs, too.
A 500-calorie breakfast idea that you can make at home with nutritious ingredients, these cheesy breakfast grits are bursting with flavor (thanks, bacon!).
Delicious mangos and blueberries are combined to make this easy and delicious high-calorie breakfast idea for weight gain. You can easily mix it into some protein powder for an additional boost of nutrition.
Smoked tofu and eggs are made into muffin form so that you can enjoy a delicious breakfast on the go when you're in a hurry.
Avocado, soy milk, soy yogurt, oats, and a few other ingredients make this high-calorie shake a delicious breakfast treat perfect for building muscle mass, too.
Bake up this delicious date and walnut bread loaf and enjoy it with your favorite toppings (hello, nut butter!) when you are trying to gain weight in a healthy way.
Peanut butter is high in fat and naturally a high-calorie food and if you love a good peanut butter sandwich, why not try adding some peanut butter and jelly to your oatmeal.
These cottage cheese pancakes are topped with sweet raspberry jelly and contain over 400 calories to add to your diet, making them a great high calorie breakfast food.
A tasty way to start the day, these baked whole eggs in avocado are easy to make and delicious when you are looking for a high-calorie breakfast that is also rich in vitamins.
Flaked coconut and coconut milk mixed with pistachios and rolled oats come together to create this easy-to-make oatmeal breakfast topped with a touch of maple syrup.
A high-calorie breakfast that peanut butter lovers must try is this peanut butter-stuffed French toast. It's full of healthy fats, protein, and flavor.
This delicious granola recipe is made up of bananas, raspberries, granola, and Greek yogurt for a delicious breakfast.
One of the best high-protein breakfast ideas and a delicious vegan breakfast that's loaded with proteins and plant-based proteins, this tofu scramble is easy to make.
This high-calorie smoothie is a great option for your morning breakfast when you are looking to gain weight or maintain a healthy weight. It doubles as a protein shake!
This smooth and creamy whipped cottage cheese bowl is topped with a good helping of almond butter, slices of banana, and nutritious toppings.
A hearty breakfast that's easy to make is something you can't go wrong with, and this breakfast quesadilla will be a great way to start your morning.
Soy yogurt, coconut milk, and chia seeds make this a high-calorie breakfast that you can enjoy. Top with your favorite fruit to add more flavor.
Breakfast burritos are easy to make and their often freezer friendly so you can make them ahead of time and warm them up when you are ready to enjoy them. Packed with corn, onion, bell pepper, and black beans!
The Goods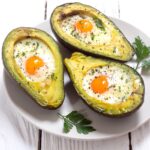 20 High Calorie Breakfast Ideas
We appreciate you taking the time to rate!
A collection of the best high-calorie breakfast ideas and recipes for when you're in need of gaining weight. These easy recipes do not skimp on flavor!
Recipes
Sausage and Cheese Omelet

Banana Cream Overnight Oats

Grilled Potato Spinach Quesadilla

Cheesy Breakfast Grits

Mango and Blueberry Smoothie

Smoked Tofu Egg Muffins

Weight Gain Smoothie

Date and Walnut Loaf

Peanut Butter and Jelly Oatmeal

Cottage Cheese Pancakes with Raspberry Jelly

Baked Eggs in Avocado

Pistachio Coconut Oatmeal

Peanut Butter French Toast

Maple Cinnamon Granola

Tofu Scramble

Peanut Butter Smoothie

Whipped Cottage Cheese with Almond Butter and Banana

Breakfast Quesadilla

High Calorie Vegan Breakfast Chia Pudding Parfait

Avocado Breakfast Burrito
Instructions
Choose a recipe to try.

Gather the ingredients needed.

Cook and enjoy!