We've got you covered if you are looking for some of the best smoothie recipes for weight gain! These weight gainer smoothie recipes are healthy, nutritious, filling and will help you pack on the pounds.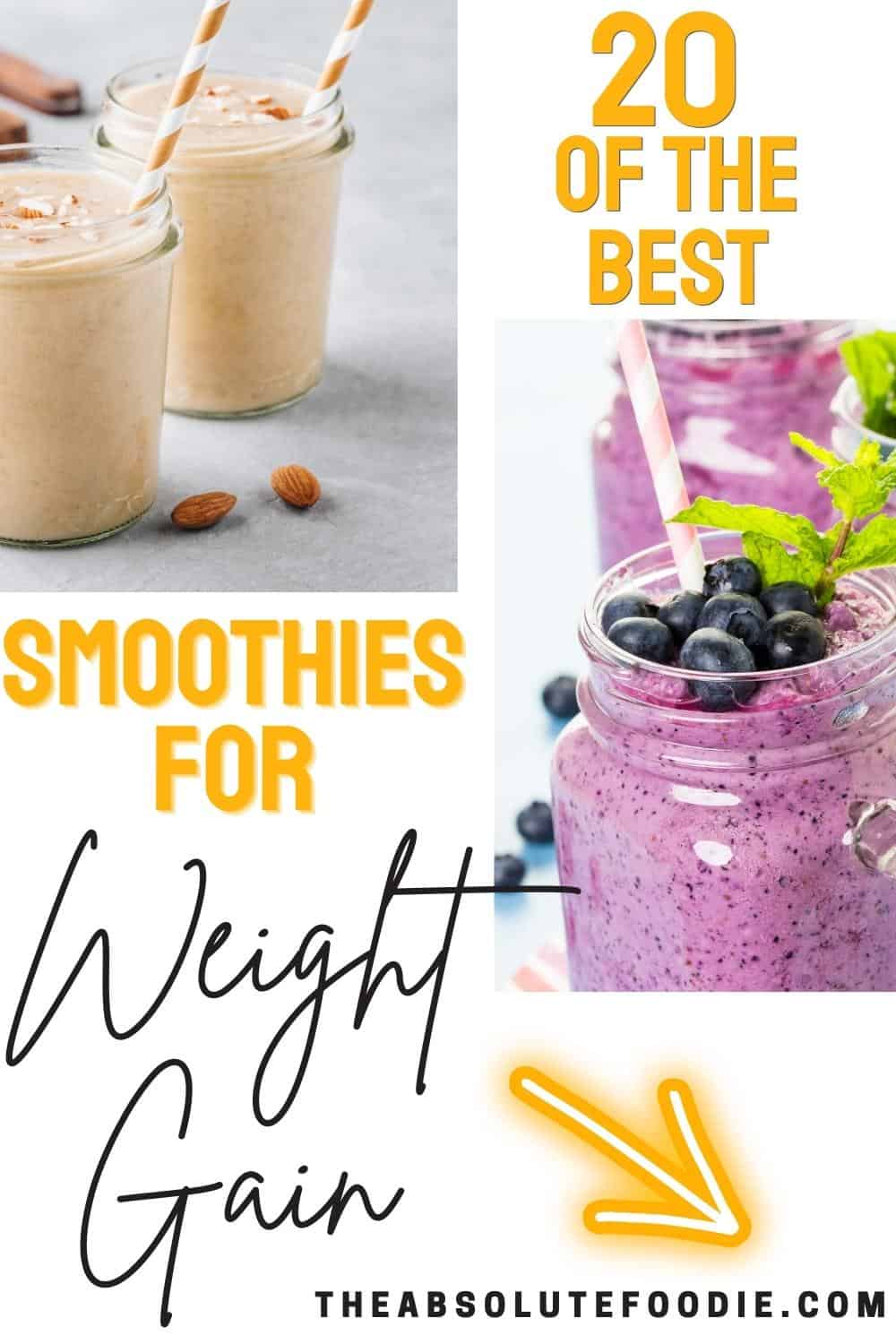 While you can easily purchase high-calorie smoothie mixes and pre-made shakes at your local store, they are often not healthy and taste fairly bland. Making your own weight gain smoothie recipes gives you the option to make more flavorful smoothies that you will actually enjoy. If you are looking for high-calorie smoothies to help you gain some extra weight and up your calorie intake, these are some of the best smoothie recipes for weight gain and nutrition alike.
Jump to: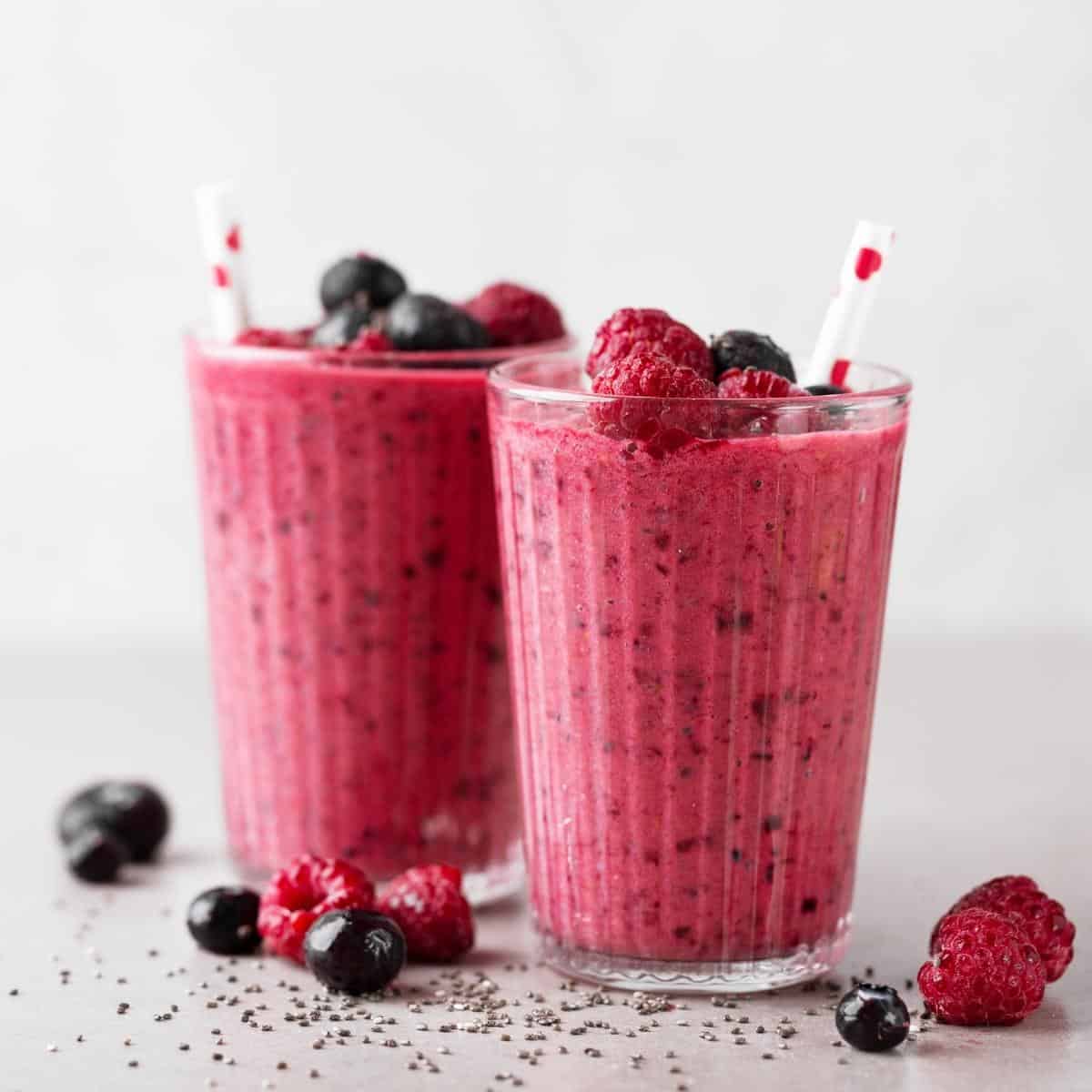 These smoothies are packed with flavor and healthy ingredients to help you gain weight the right way. So, let's grab our blender and get blending, shall we?
20 Weight Gainer Smoothie Recipes
Made with peanut butter, Medjool dates, avocado, and cocoa powder, this high-calorie smoothie recipe will help you gain weight and is packed with healthy fats. Oh, and the chocolate flavor is certainly an added bonus!
A quick and refreshing smoothie that's full of protein powder, fiber and pineapple flavor, this pineapple smoothie is a delicious way to start the day.
This creamy classic peanut butter and jelly smoothie is packed with protein and contains flavor, veggies, berries, and peptides for a high-calorie snack. Top with hemp seeds and fresh raspberries for that extra touch.
This strawberry banana smoothie with orange juice is packed with powerful fruits and Greek yogurt, and is the perfect pick-me-up snack for your day.
Full of flavor and packed with nutritional ingredients, vitamins and minerals, this classic green smoothie is vegan, filling, and delicious.
Nutritious and delicious, this protein packed smoothie with blueberries doesn't have any added sugar and makes the perfect breakfast. It tastes like ice cream!
Even though this high calorie smoothie has spinach in it, you won't want to miss out on this delicious and filling treat.
A keto friendly smoothie that's packed with flavor and calories, this blueberry smoothie is a delicious and easy to blend smoothie.
Only three ingredients are needed to make this delicious smoothie. It's perfect for breakfast or when you want a fruit treat throughout the day. Frozen strawberries are a must!
Cooling and refreshing, this blueberry smoothie adds chia seeds to create a delicious superfood loaded smoothie you can enjoy. This beats any average protein shake!
Creamy and smooth and packed with heart-healthy oats and antioxidants, this peaches and cream oatmeal smoothie is both easy to make and delicious.
Made with bananas, juicy oranges, and avocados, this smoothie is packed with nutrients and flavor. The avocados will give it a high calorie boost.
Light and refreshing, this banana coffee smoothie has coconut milk for a high calorie treat you can have in the morning. It makes a great new way to have your morning coffee and has a nice protein boost from almond butter to boot. Add 1 tsp of ground cinnamon if you want some spice and warmth.
If you are looking for a tasty coconut milk smoothie that will knock your socks off, this easy to make smoothie is delicious and makes a great way to build some muscle and fat.
Gain some energy with this delicious banana cashew butter chia seed smoothie. It's a tasty way to start the morning and the chia seeds are helpful for weight gain.
A great way to start the day, this tropical breakfast smoothie is a delightful breakfast that includes a scoop of organic protein powder for healthy weight gain.
17. Coconut Pineapple Orange Smoothie
Full-fat canned coconut milk is a great way to make a delicious high calorie smoothie that'll help you gain weight. Add a touch of vanilla extract if you want a creamsicle feel.
Another delicious smoothie that's perfect for a morning pick-me-up, this tasty treat is delicious, easy to make and packed with Vitamin C.
Kale and coconut come together to create a delicious smoothie that's healthy. Use full fat coconut milk to give it extra calories.
Made with avocados, bananas, and coconut milk, this smoothie is a delicious high calorie treat to enjoy for breakfast.
The Goods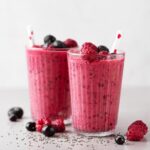 20 Smoothie Recipes for Weight Gain
We appreciate you taking the time to rate!
We've got you covered if you are looking for some of the best smoothie recipes for weight gain! These weight gainer smoothie recipes are healthy, nutritious, filling and will help you pack on the pounds.
Recipes
Peanut Butter Avocado Smoothie

Pineapple Smoothie

Peanut Butter and Jelly Smoothie

Strawberry Banana Orange Power Smoothie

Green Smoothie

Blueberry Coconut Water Smoothie

Spinach Banana Smoothie

Blueberry Smoothie

Keto Strawberry Smoothie

Blueberry Chia Smoothie

Peaches and Cream Oatmeal Smoothie

Orange Avocado Smoothie

Banana Coffee Smoothie

Coconut Milk Smoothie

Banana Cashew Butter Chia Seed Smoothie

Tropical Breakfast Smoothie

Coconut Pineapple Orange Smoothie

Clementine Avocado Smoothie

Kale and Coconut Shake

Banana Avocado Smoothie
Instructions
Choose a recipe to try.

Gather the ingredients needed.

Cook and enjoy!