A collection of the best Smoothie King recipes! These copycat Smoothie King smoothies are easy to whip up at home.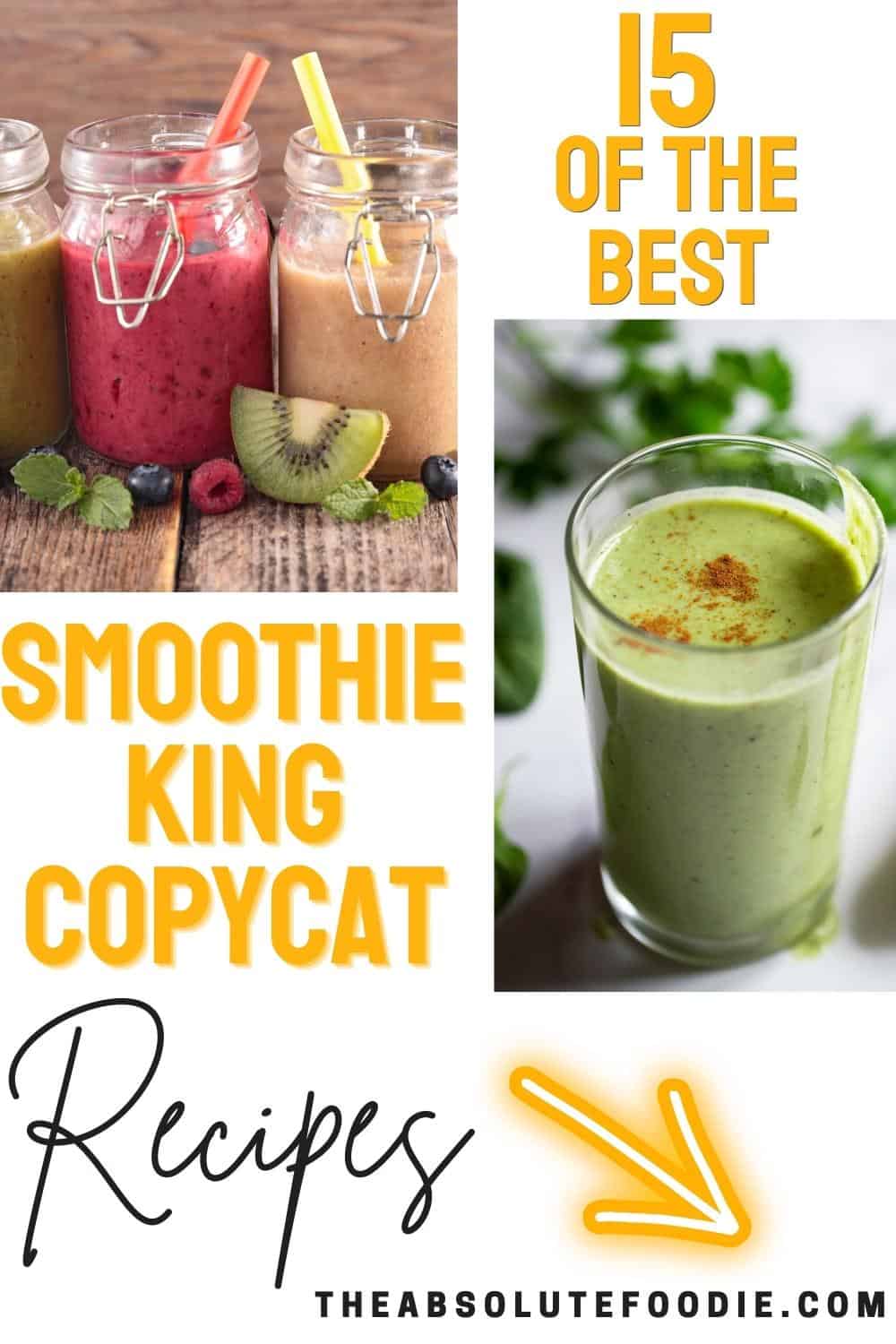 Want to enjoy your favorite Smoothie King smoothies any day of the week? These copycat Smoothie King recipes will allow you to make your own flavorful smoothie recipes at home any time you'd like without having to get out of the house.
Jump to:
They also cost a fraction of the price you would pay at the restaurant, so you are even saving money while enjoying your favorite healthy treat at home.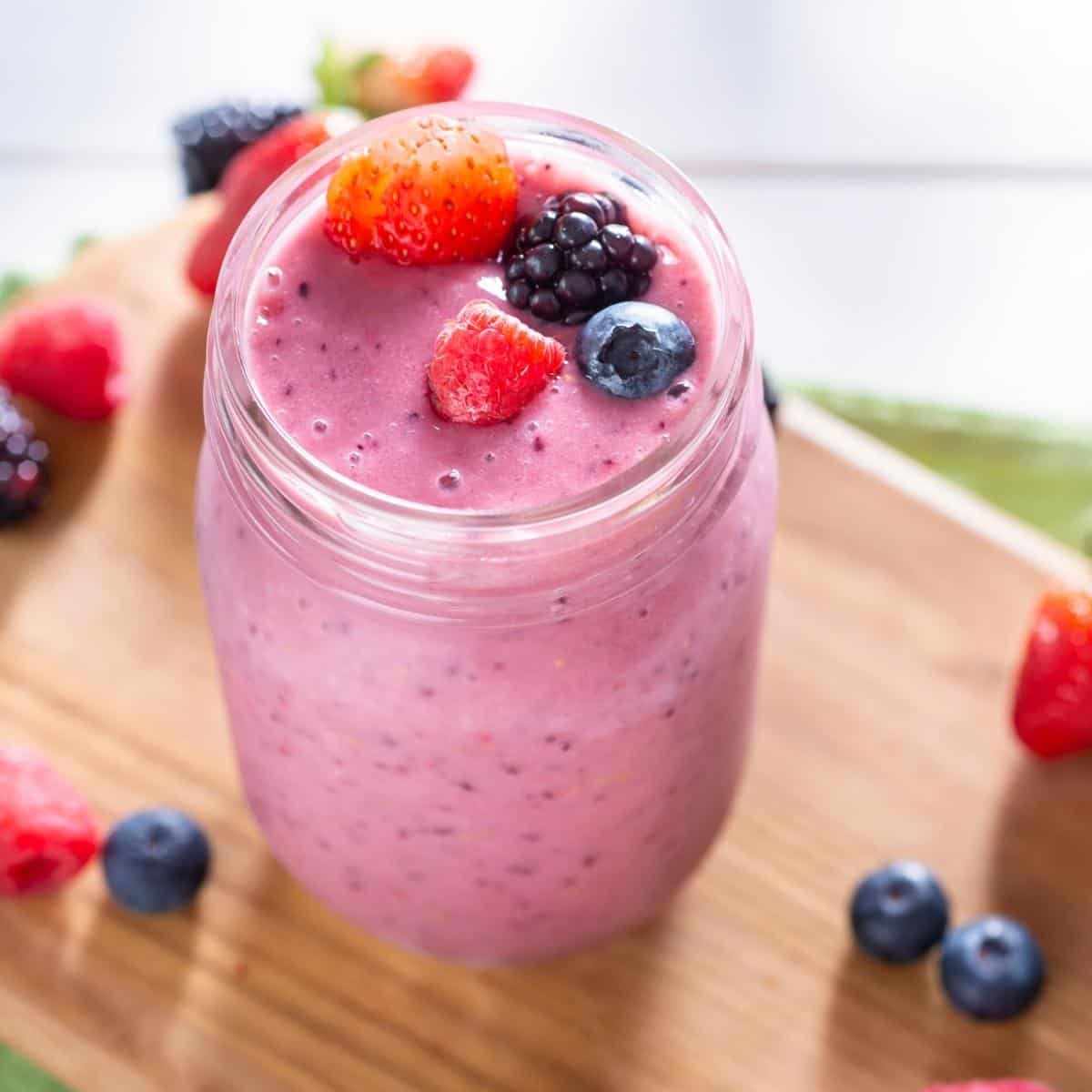 From old Smoothie King recipes to some of the newer flavors, these tasty treats are perfect for a pick-me-up throughout the day or for a quick breakfast for lunch. So let's grab some frozen fruits, nut butters, fruit juice and maybe a little vanilla extract and get started, shall we?
15 Smoothie King Recipes
Enjoy Smoothie King's delicious angel food smoothie treat any time by making it at home with a few simple ingredients.
Creamy and healthy, this strawberry and orange smoothie is made with Greek yogurt for a wonderful consistency and a delicious copycat of your favorite smoothie.
Packed with protein and fiber, this tasty chocolate, and peanut butter smoothie is the perfect way to enjoy a healthy sweet treat during the day. Swap the peanut butter with almond butter or another nut butter when ready to mix it up!
Easy to make and tastes just like the real thing, this copycat Smoothie King pineapple surf smoothie is a tasty treat you can enjoy during the summer. It includes apple pineapple juice and coconut water! Yum.
Sneak some greens into your day with this healthy copycat green smoothie recipe made with almond milk. The perfect way to start your day on a good note.
Made with bananas, strawberries, turbinado sugar and papaya nectar, this copycat smoothie recipe is just like the Smoothie King Caribbean Way.
A cheaper and healthier version of Smoothie King's Mangofest smoothie, this delicious and tasty smoothie is easy to make, with frozen mango chunks.
When you are in the mood for a tropical treat, this copycat tropical smoothie is an easy and affordable smoothie to make at home – just a simple blend in a blender is needed!
Enjoy a delicious morning pick me up with this copycat mocha smoothie recipe your taste buds will thank you for. It also has protein powder making it a great pre or post high intensity workout smoothie!
A dairy free copycat of the delicious gluten free peanut butter and jelly smoothie that you find at Smoothie King.
If you loved the strawberry kiwi smoothie that Smoothie King offered, now you can make your own at home with this copycat recipe made with kiwi apple juice.
Make your own blueberry strawberry smoothie at home with all of the flavor! This blueberry strawberry smoothie recipe is easy and delicious.
A refreshing smoothie that's made with pineapple and kale, this simple ingredient smoothie is a healthy and tasty breakfast or snack and great way to fit some veggies in!
A sweeter version of the tart cherry smoothie from Smoothie King, this tasty snack is easy to make and delicious. Use dairy free milk and yogurt to make it vegan!
A 5-ingredient smoothie recipe that's similar to Smoothie King's pineapple spinach smoothie, this one is easy to make at home and takes only a few minutes to put together.
The Goods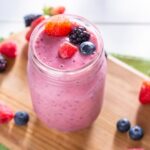 15 Smoothie King Recipes
We appreciate you taking the time to rate!
A collection of the best Smoothie King recipes! These copycat Smoothie King smoothies are easy to whip up at home.
Recipes
Angel Food Smoothie King Recipe

Strawberry Orange Smoothie

Chocolate Peanut Butter Smoothie

Pineapple Surf Smoothie

Green Smoothie Monster

Smoothie King Caribbean Way

Mangofest Smoothie

Tropical Smoothie

Mocha Smoothie

PB & J Smoothie

Strawberry Kiwi Breeze

Blueberry Strawberry Smoothie

Pineapple Kale Smoothie

Tart Cherry Smoothie

Pineapple Spinach Smoothie