A collection of the best lazy keto breakfast ideas and recipes that are quick, low carb friendly and delicious!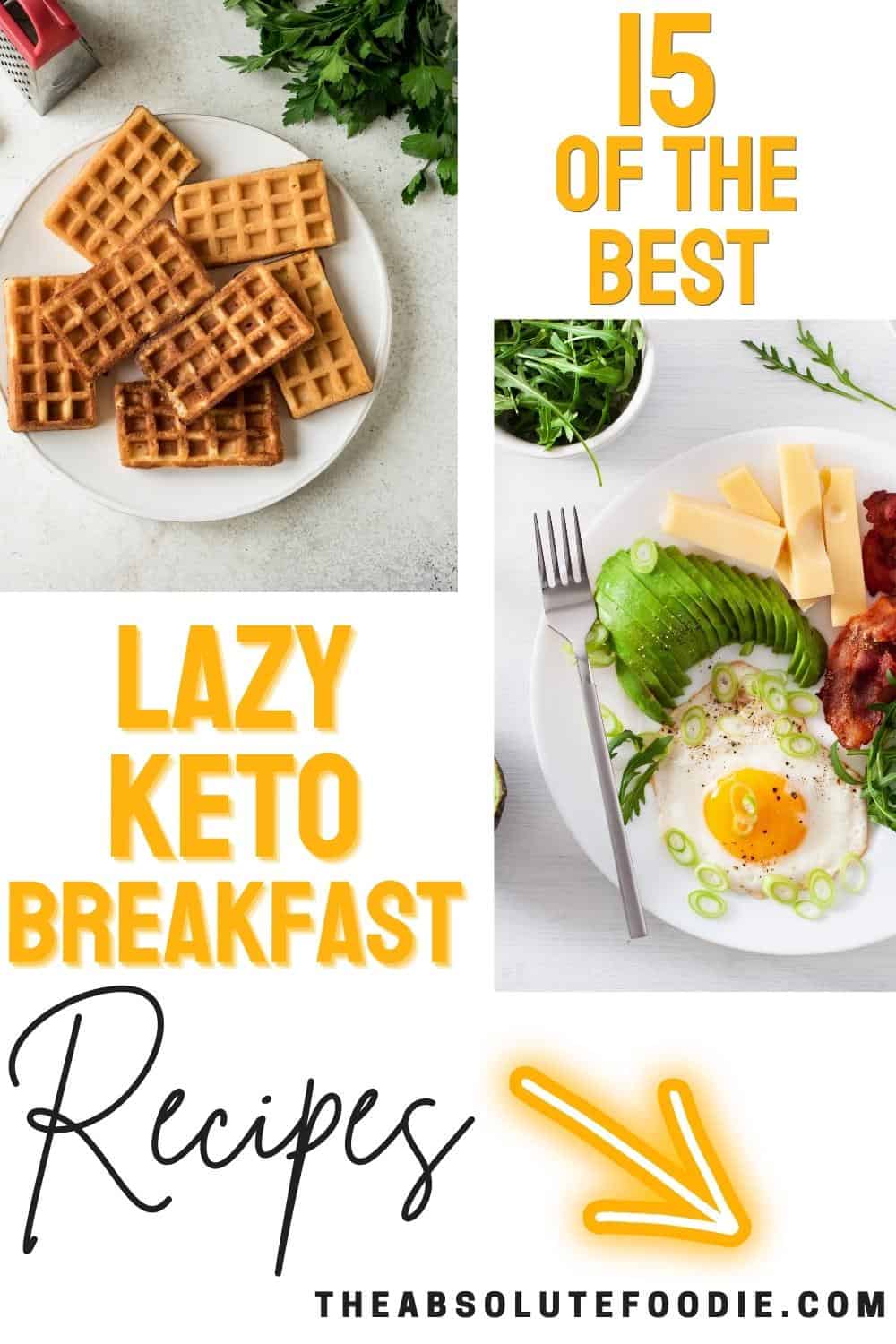 Do you consider yourself to be on the lazy keto diet? Then we hope these easy keto breakfast ideas and recipes inspire you in the kitchen! Protein usually isn't an issue on any keto diet, but how about taste, flavors, healthy fats and ease? These lazy keto meals will work well for a quick keto breakfast or for a ketogenic diet meal prep routine alike. All of these easy keto recipes are gluten-free, too!
Jump to:
Lazy Keto Breakfast Ideas
Keto pancakes, keto waffles or keto biscuits made with almond flour and/or coconut flour.
Breakfast sandwiches made with keto bread.
Keto sausages sautéed with peppers in coconut oil.
Chia pudding made with unsweetened almond milk.
Smoothies made with keto ingredients like blueberries and peanut butter.
Fresh berries topped with cream cheese.
Omelettes or scrambled eggs made with cheddar cheese, spinach, kale, mushroom, ham and vegetables safe for a keto diet.
Ground beef and asparagus in a keto friendly cauliflower tortilla.
A few handfuls of nuts and brie cheese.
Store-bought keto cinnamon rolls.
15 Lazy Keto Breakfast Recipes
Made with almond flour and a few high protein ingredients, these keto cinnamon roll twist have that classic cinnamon roll flavor.
This super easy lazy keto skillet recipe is made with only THREE ingredients! Does it get any lazier that that?!
You only need a few simple ingredients and 20 minutes for this easy high-protein keto breakfast.
Satisfy your breakfast bread cravings with this super quick keto english muffin recipe! Great as is, with butter, cream cheese or topped with a fried egg.
A hearty and filling low carb breakfast that takes no time at all!
What's not to love about this cute little creation made in very little time at all?!
Satisfy your Tex-Mex cravings with this ingenious keto quesadilla recipe.
Prep this easy breakfast the night before for a healthy and filling breakfast dish.
It doesn't get much easier than a skillet meal! This one is packed with protein to boot.
Satisfy all your sweet breakfast or brunch cravings with this decadent yet fast keto french toast recipe.
Simply mix a batter, pour into muffin tins and bake in the oven for an easy grab and go keto breakfast option.
I think we've all heard of chaffles by now, but one that tastes like an everything bagel?? Yes, please!!
If you're really striving for comfort AND flavor, you can't go wrong with this low carb biscuit recipe.
Prep this keto casserole the night before for ease and convenience!
Satisfy your big hearty pancake cravings with this keto take on a dutch baby.
The Goods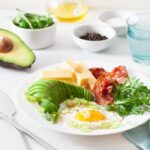 15 Lazy Keto Breakfast Ideas
We appreciate you taking the time to rate!
A collection of the best lazy keto breakfast ideas and recipes that are quick, low carb friendly and delicious!
Recipes
Keto Cinnamon Roll Twists

Lazy Keto Breakfast Skillet

Keto Egg Bites

Two Minute Keto English Muffins

Keto Breakfast Burrito Bowl

Keto Bacon, Cheese, Avocado and Egg Bites

Keto Bacon and Egg Breakfast Quesadilla

Keto Chia Seed Pudding with Almond Milk

Keto Cowboy Breakfast Skillet

90 Second Keto French Toast Recipe

Keto Breakfast Muffins

Keto Everything Bagel Chaffles

Lazy Keto Breakfast Biscuits

Keto Breakfast Casserole

Keto Dutch Baby Pancakes