Ever wonder what makes a great side for fish tacos? Look no further then this compilation of delicious side dishes for fish tacos!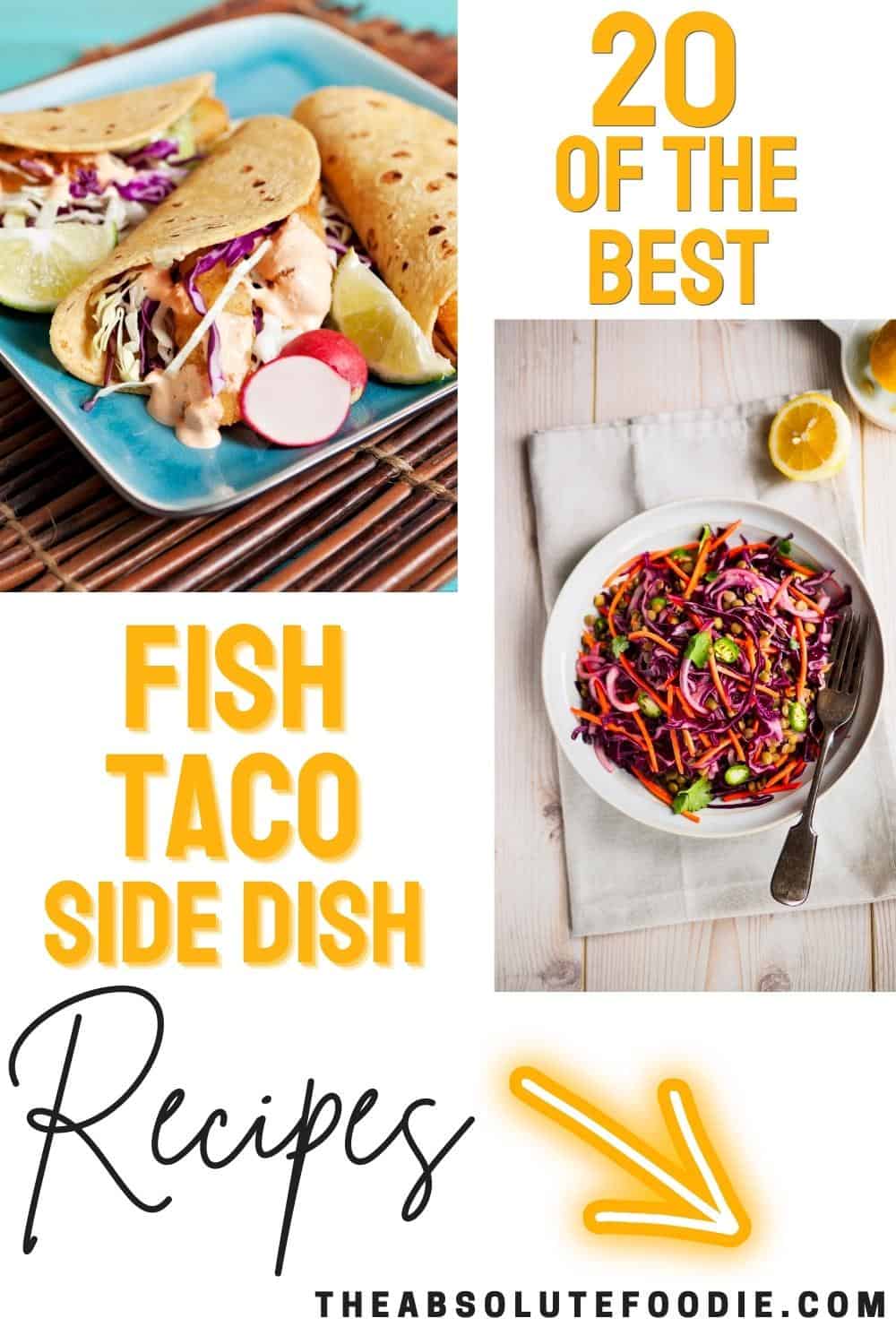 Fish tacos are a unique fresh-flavored main course that deserves to paired up with something just as unique. Enter these amazing fish taco side dishes. Never find yourself wondering what to serve with fish tacos again! Whether you opt for white fish, code, halibut, mahi-mahi, tilapia, salmon, or shrimp tacos or grab the corn tortillas or flour tortillas, you are certain to find that all of these sides are complementary. Grab a cocktail (or two) with tequila and you're in for one proper taco night! Enjoy.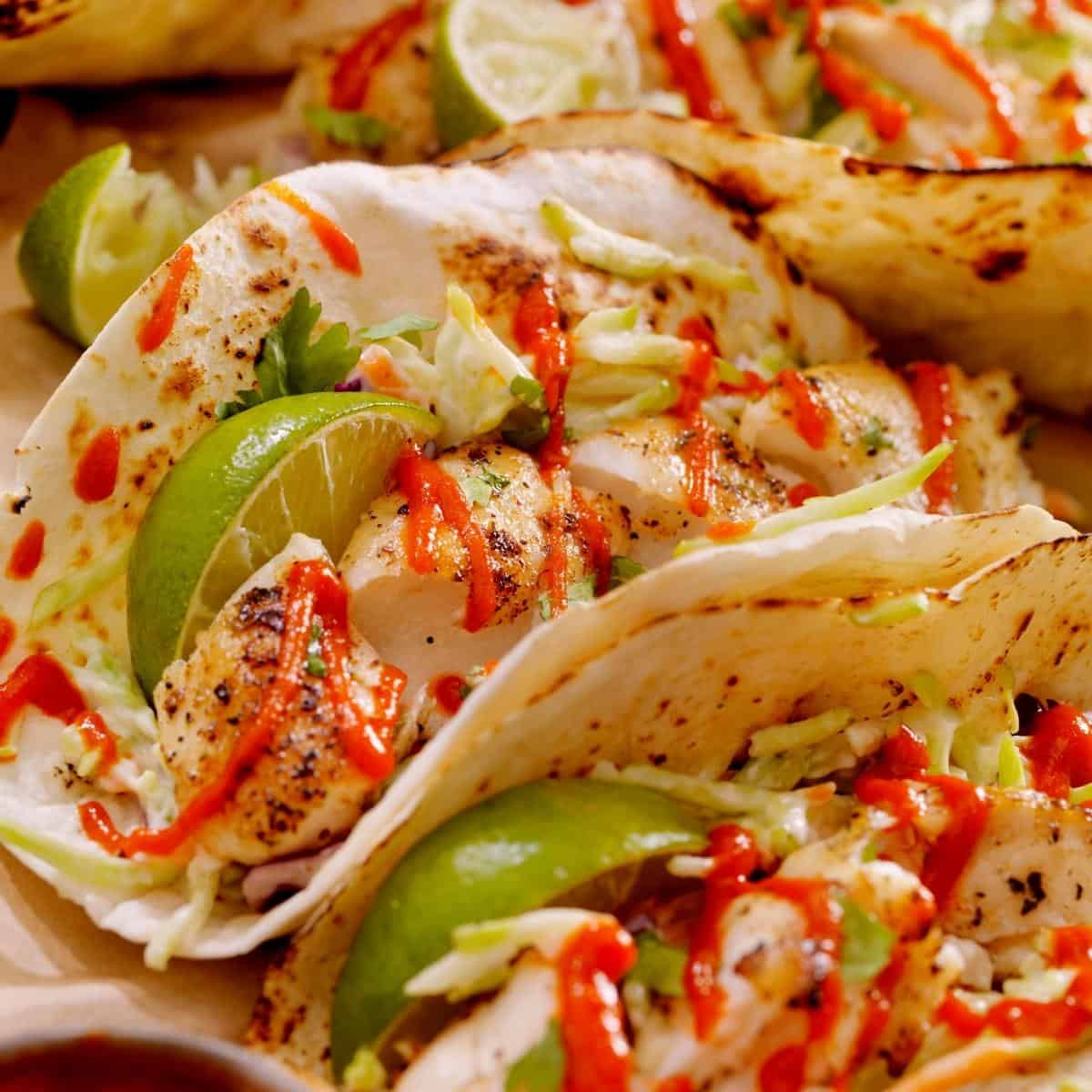 Jump to:
20 Fish Taco Sides
Fresh tropical fruit like pineapple pairs extraordinarily well with fish tacos and this crisp, refreshing slaw is no exception.
Flavorful Mexican rice made with garlic, onion, tomatoes, and the perfect blend of spices for a filling and flavorful side.
Fresh and tangy quick pickled cabbage is great way to top off a fish taco!
For a hearty, protein-rich side for fish tacos, this quick and easy refried beans recipe gets the job done.
A super fresh cucumber salad with fresh lime juice and fresh cilantro, makes a great easy side dish for your favorite fish taco recipes.
Mexican street corn salad makes the perfect side dish for fish tacos with its rich medley of textures and flavors.
Crisp and flavorful quick radish and cucumber salsa adds a fresh component when served with fish tacos.
Mangoes are another tropical fruit that tastes amazing alongside a fish taco. This pickled mango recipes make a for a unique fruity, tangy twist.
If you have a little time, you'll get some big flavor in return with this fermented hot sauce recipe with jalapeño peppers and honey. Drizzle on a taco and dig in!
Simple, fresh marinated tomatoes make a great healthy side dish for fish taco night.
Serve a bowl of guacamole alongside a fish taco, some tortilla chips and a margarita and you're set!
Quick and easy black beans with cumin, scallions, garlic, salt, oregano and bay makes for fun creamy and flavorful side.
This creamy avocado dip is a great sour cream based condiment that works well drizzled on a fish taco or served with tortilla chips on the side.
Pickled onions are so easy to make and pack a real punch of flavor for such simple ingredients. They make the perfect fish taco topper!
Creamy, cheesy queso dip with cotija cheese is great scooped on top off a fish taco or served with chips on the side.
Fruity pineapple salsa balances those quintessential fish taco flavors for a true explosion of flavor.
The perfect fresh pairing for fish tacos with a simple marinade.
Sweet potatoes paired with quinoa and black beans packed for a nutrient-dense side dish for taco night.
One of the more unique recipes in this collection, this pickled avocado recipe makes the perfect complement to the flavors and textures of a fish taco.
Bright cilantro lime flavors mingle with chilled pasta for a satisfying fish taco side dish.
The Goods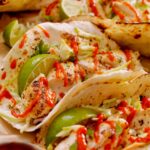 20 Sides for Fish Tacos
We appreciate you taking the time to rate!
Ever wonder what makes a great side for fish tacos? Look no further then this compilation of delicious side dishes for fish tacos!
Recipes
Pineapple Coleslaw

Mexican Rice

Quick Pickled Cabbage

Easy Refried Beans

Cilantro Lime Cucumber Salad

Mexican Street Corn Salad

Cucumber Radish Salsa

Pickled Mangoes

Fermented Jalapeno Hot Sauce

Marinated Tomatoes

Guacamole

Quick Cuban Black Beans

Creamy Avocado Dip

Quick Pickled Red Onions

Cotija Cheese Queso Dip

Pineapple Salsa

Marinated Vegetable Salad

Roasted Sweet Potato Black Bean Quinoa Salad

Pickled Avocado

Cilantro Lime Pasta Salad
Instructions
Choose a recipe to try.

Gather the ingredients needed.

Cook and enjoy!