Wondering what to serve with chicken cordon bleu? Look no further than these perfect chicken cordon bleu side dishes!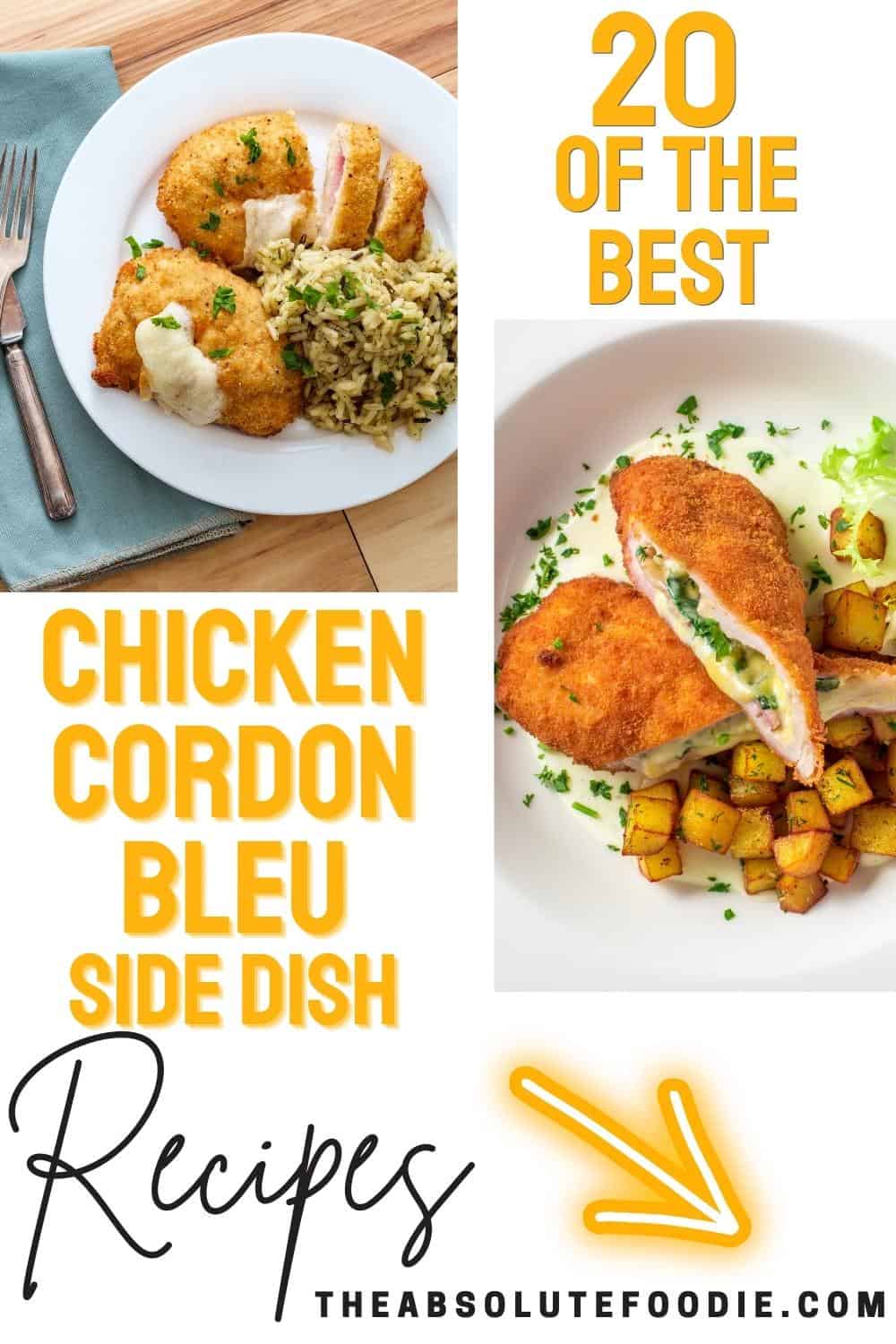 Chicken cordon bleu (cordon bleu = "blue ribbon" in French) is a dish that we love to enjoy throughout the year. Sometimes, finding the perfect side dish can be difficult, but luckily pairing it up with some flavorful veggies and pasta makes for an easy dinner.
Jump to:
While we have gathered some traditional cordon bleu sides that we think you will love, we have also included some nontraditional side dishes that many enjoy along with their dish.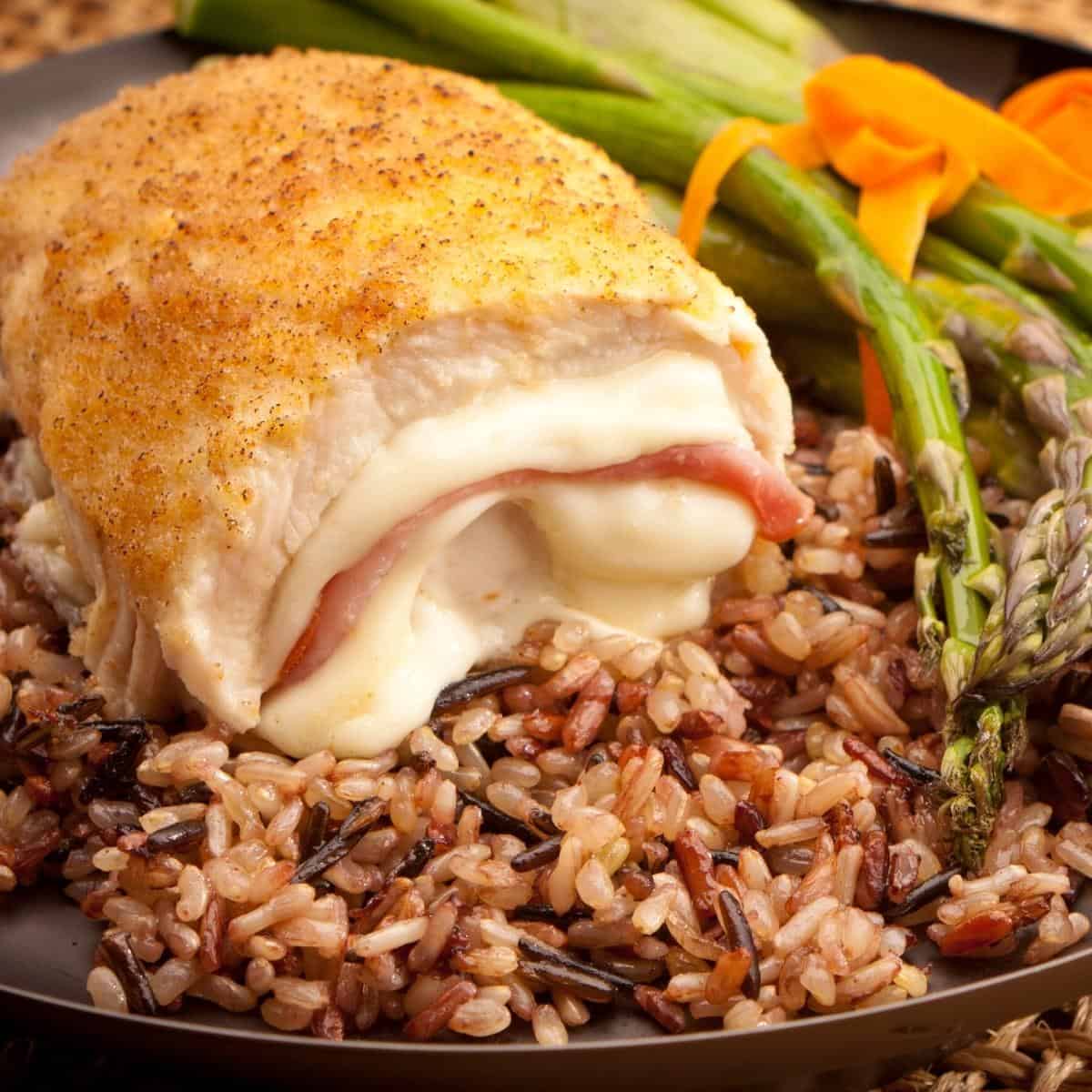 From traditional veggie sides to pasta dishes that will compliment and surprise you, these delicious side dishes for chicken cordon bleu are sure to be a hit with the family.
20 Side Dishes to Serve With Chicken Cordon Bleu
Simple but comforting, this easy-to-make great side dish is full of flavor. The best part is that you can have it ready to eat in about 25 minutes. Serve with a squeeze of fresh lemon juice for an even fresher take.
Garlic herb roasted potatoes are mixed with carrots and zucchini to make a side dish that pairs with just about everything and is a wonderful medley of textures.
An easy side dish that's made with Gruyere cheese, asparagus, olive oil, bacon, and garlic, this is sure to be a side dish that everyone will enjoy.
Many serve this with grilled chicken or steak, but a few of us enjoy it as a side to just about everything, especially during the summer. It's a wonderful fresh salad with a tangy vinaigrette!
A quick and easy side that's made with staples you probably already have in the fridge and pantry.
A filling side dish that veggie lovers will enjoy, this mac and cheese is sure to be a pleasure. Enjoy it as a side with your cordon bleu. Just look at those crunchy breadcrumbs!
Ready to try one of the most popular and simplest white rice dishes? Butter rice is full of flavor and makes the perfect side, with a total comfort food taste.
An epic and unforgettable way to enjoy green beans, these are roasted with garlic and parmesan for a tasty side. Use French green beans for a sophisticated touch.
Scalloped potatoes are a classic side dish that we can't seem to get enough of. This tasty dish is made with layers of tender potatoes that are smothered in a rich creamy sauce. It's a heavenly treat freshly pulled from the oven!
Sometimes you want a simple vegetable side to serve with dinner and these simple garlic roasted veggies are an easy and delicious roast.
Packed with flavor, a good baked butternut squash side can be served with cordon bleu in the fall to make a complete meal. You can even swap the squash for sweet potatoes if you prefer.
No need to head to the restaurant to enjoy a delicious side, make these steakhouse mashed potatoes at home to enjoy with your cordon bleu.
Add a little bit of sweetness to your dinner plate with this maple roasted beets and carrots side dish.
Add this parmesan garlic butter pasta to your chicken cordon bleu dinner and you have the perfect meal to fill you up.
Made in the air fryer for a quick and easy side dish, you can pair this corn on the cop with your chicken cordon bleu for a filling dinner.
A healthy zucchini side dish that'll dress up any meal, this parmesan zucchini and corn side is simple and full of flavor.
Sometimes simple is all you need to add to your dinner plate and these simple sautéed vegetables are easy and delicious with just a touch of salt and pepper.
Parmesan cheese and garlic give this rice side an amazing flavor that you can pair with your chicken cordon bleu.
Classic flavors like balsamic vinegar are combined to create this delicious side dish. You'll enjoy the sweet and crispy brussels sprouts with dinner.
A creamy and delicious mushroom risotto with red onion, pairs perfectly with chicken mains and this easy to make recipe is going to be a hit.
The Goods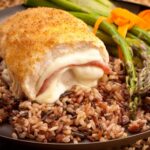 20 Chicken Cordon Bleu Sides
We appreciate you taking the time to rate!
Wondering what to serve with chicken cordon bleu? Look no further than these perfect chicken cordon bleu side dishes!
Recipes
Rice with Veggies

Garlic Herb Roasted Potatoes

Gruyere Cheese and Bacon Asparagus

Tomato Avocado Salad

Creamy Garlic Shells

Spicy Roasted Vegetable Mac & Cheese

Butter Rice

Garlic Parmesan Roasted Green Beans

Cheesy Scalloped Potatoes

Simple Roasted Veggies

Baked Butternut Squash

Steakhouse Style Garlic Mashed Potatoes

Maple Roasted Beets and Carrots

Parmesan Garlic Butter Pasta

Air Fryer Corn on the Cob

Parmesan Zucchini and Corn

Simple Sautéed Vegetables

Creamy Parmesan Rice

Roasted Brussel Sprouts

Creamy Mushroom Risotto
Instructions
Choose a recipe to try.

Gather the ingredients needed.

Cook and enjoy!